The full line-up of Critics' Week world premieres at the 69th Cannes Film Festival with details on each title including sales contacts.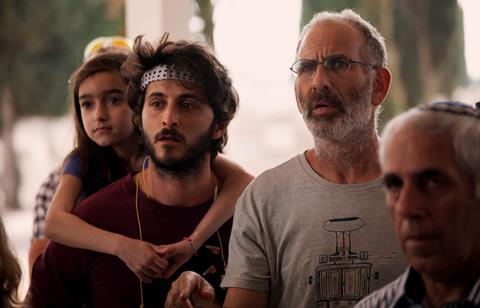 Albüm (Tur-Fr-Rom)
Dir Mehmet Can Mertoglu
Mertoglu's short The Slope screened at festivals including Rotterdam and Edinburgh and now the Turkish film-maker is in Cannes with debut feature Albüm. Developed at the Sundance Screenwriters Lab, the film is about an Antalya-based couple who fake a pregnancy to keep their future adoption a secret. Istanbul-based Kamara produces with partners ASAP from France and Romania's Parada Film. Backing came from Arte and Eurimages.
Contact The Match Factory info@matchfactory.de
Apnée (Fr)
Dir Jean-Christophe Meurisse
This offbeat comedy, led by the troupe of the Les Chiens de Navarre theatre company, marks the feature debut of Meurisse. The film stars Céline Fuhrer, Thomas Scimeca and Maxence Tual whose characters all decide to marry each other, before setting off on a cross-country adventure. Meurisse, who began his career as an actor, directed theatrical productions with Les Chiens de Navarre and made medium-length film Il Est Des Notres in 2012. Apnée is produced by Ecce Films' Emmanuel Chaumet.
Contact Ecce Films rinaldi@eccefilms.fr
Diamond Island (Camb-Fr-Ger-Thai-Qat)
Dir Davy Chou
A drama that grapples with Cambodia's journey to industrialisation, Diamond Island chronicles the journey of a teenager from his small village to the big city to take a construction job, reuniting with his estranged older brother in the process. The film is the feature debut of Chou, who directed the 2011 documentary Golden Slumbers, which celebrated Cambodia's once-robust film industry and screened at the Berlinale. Diamond Island is produced by Charlotte Vincent of Paris-based Aurora Films, with Germany's Vandertastic. The project was developed at the Torino FilmLab and its backers include Rotterdam's Hubert Bals Fund.
Contact Les Films du Losange bvincent@filmsdulosange.fr
Happy Times Will Come Soon (It-Fr)
Dir Alessandro Comodin
The first narrative feature from Italian film-maker Comodin is set in a dense forest, the scene of a series of wolf attacks. Two men are running for their lives and a young woman is mystified by a strange hole in the ground. Comodin's short documentary, Jagdfieber, was selected for Directors' Fortnight in 2008, while his debut feature, l'Estate Di Giacomo, won Locarno's Golden Leopard for Filmmakers of the Present in 2011. Happy Times Will Come Soon is a co-production between Italy's Okta Film and France's Shellac Sud. Arte France and Rai Cinema backed the film.
Contact The Match Factory info@matchfactory.de
In Bed With Victoria (Fr)
Dir Justine Triet
Triet's comedy drama is about a work-hard, play-hard Parisian criminal lawyer who decides to strike a balance between her professional and personal life. Belgium's Virginie Efira stars in the film which is the second feature from French film-maker Triet. Her César-nominated Age Of Panic screened in Cannes' ACID section in 2013. Ecce Films produced both features.
Contact Indie Sales nesbach@indiesales.eu
Mimosas (Sp-Mor-Fr-Qat)
Dir Oliver Laxe
The France-born, Spain-based Laxe follows his acclaimed debut You Are All Captains with this Morocco-shot project, which has been more than four years in the making. The story follows a caravan escorting a dying sheikh across the Atlas mountains to fulfil his dying wish. Doha Film Institute, the Kingdom of Morocco and Torino FilmLab are among the backers of this Spain-Morocco-France-Qatar co-production and the film took part in Qumra 2016. Mimosas is produced by Zeitun Films and co-financed by France's Rouge International and Morocco's LaProd.
Contact Luxbox fiorella@luxboxfilms.com
One Week And A Day (Isr)
Dir Asaph Polonsky
This black comedy marks the feature debut of Israeli-US film-maker Polonsky. One Week And A Day (Shavua Ve Yom) is about a grieving father, who finishes the week of mourning for his late son and is urged by his wife to return to normal life. Instead he gets high with a young neighbour. Polonsky is an AFI graduate, whose graduation film Samnang was nominated for an Academy Award in 2013. Produced by Tel Aviv's Black Sheep Film Productions, it screened as a work-in-progress at Haifa International Film Festival.
Contact New Europe Film Sales jan@neweuropefilmsales.com
Raw (Fr-Bel)
Dir Julia Ducournau
The feature debut of French director Ducournau, who won a Critics' Week prize for her short Junior in 2011, promises a heady mix of teen drama and horror. Newcomer Garance Marillier plays a 16-year-old girl who strays from her family's vegetarian principles after eating meat during her first day at vet school and turns to cannibalism. Ella Rumpf, Rabah Naït Oufella and Laurent Lucas co-star.
Contact Wild Bunch edavos@wildbunch.eu
Tramontane (Leb-Fr-UAE-Qat)
Dir Vatche Boulghourjian
First-time film-maker Boulghourjian wrote and directed this drama about a young blind man, played by Barakat Jabbour, who travels through rural Lebanon to obtain his birth certificate. Boulghourjian's short films include The Fifth Column, which screened at Cannes in 2010. Making his big-screen acting debut, Jabbour is a blind musician who has featured on Lebanese television. Tramontane is produced by Caroline Oliveira, with Boulghourjian's own Beirut outfit Rebus Film Productions and Beirut-based Abbout Productions' Georges Schoucair. It is co-produced by Paris-based Le Bureau.
Contact The Bureau Sales rh@lebureaufilms.com
A Yellow Bird (Sing-Fr)
Dir K Rajagopal
The debut feature from Singaporean director K Rajagopal is about a 38-year-old Singaporean Indian man — the Yellow Bird of the title — who struggles to rebuild his life following his release from prison after serving an eight-year sentence for smuggling. The director was selected for Cannes' l'Atelier during the festival in 2014. It was also one of the selected projects at both Ties That Bind and Paris Projects in 2013. A Yellow Bird is produced by Akanga Film Asia's Fran Borgia and Jeremy Chua (Chua also co-wrote the script), and Claire Lajoumard of France's Acrobates Films.
Contact Alpha Violet virginie@alphaviolet.com