The full line-up of Directors' Fortnight world premieres at the 69th Cannes Film Festival with details on each title including sales contacts.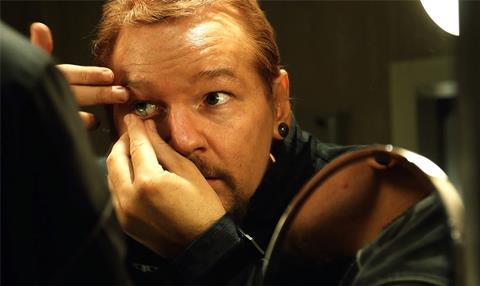 After Love (Fr-Bel)
Dir Joachim Lafosse
Bérénice Bejo and director/actor Cédric Kahn star in this French-language drama about a couple who decide to divorce after 15 years but continue to share their home for financial reasons. The Belgian director's credits include Venice competitor Private Property, Toronto selection The White Knights and Our Children, which won Un Certain Regard's best actress prize for Emilie Dequenne in 2012. Les Films du Worso's Sylvie Pialat (Timbuktu, Stranger By The Lake) produced, in co-production with Belgium's Versus.
Contact Le Pacte c.neel@le-pacte.com
Divines (Fr-Mor-Qat)
Dir Houda Benyamina
This French-language debut feature is set on a housing estate in the suburbs of Paris, where 15-year-old Dounia wants to follow in the footsteps of a respected drug dealer. But her life takes a surprising turn when she meets a young dancer. Benyamina's award-winning shorts include The Road To Paradise and My Giant Trash Can. Divines is co-written by Romain Compingt and was presented (under the former title Bastard) as a picture-lock project at Qumra 2016. Doha Film Institute backed the film; Diaphana will release in France.
Contact Films Boutique info@filmsboutique.com
Dog Eat Dog (US)
Dir Paul Schrader
It is hard to think of a more combustible combination than the Taxi Driver screenwriter and his two leads, Nicolas Cage and Willem Dafoe. Adding more fuel to the fire, the script is based on a story by Edward Bunker. Dog Eat Dog takes place in California before the repeal of the three-strikes law, as three ex-cons on thin ice attempt to pull off one last job. Metropolitan FilmExport has French rights.
Contact Arclight Films ghamilton@arclightfilms.com
Endless Poetry (Chile-Jap-Fr)
Dir Alejandro Jodorowsky
Endless Poetry is a follow-up to Jodorowsky's 2013 Directors' Fortnight title, the autobiographical drama The Dance Of Reality. His new film traces the young Alejandro (played by Jodorowsky's son Adan) in the 1940s and '50s as he lives in the vibrant city of Santiago and is inspired to become a poet. Endless Poetry was part financed by the crowdsourcing sites Kickstarter and Indiegogo.
Contact Le Pacte contact@le-pacte.com
Fiore (It-Fr)
Dir Claudio Giovannesi
Giovannesi has turned to romance for his latest feature, which is set in a southern Italian juvenile detention centre where men and women are not permitted to mix. Daphne, in prison for theft, communicates with fellow inmate Josh through secret letters and fleeting conversations. Produced by Pupkin Production, IBC Movie and Rai Cinema, the film's cast includes Valerio Mastandrea, who also stars in Directors' Fortnight opener Sweet Dreams. Giovannesi came to international attention in 2012 with coming-of-age drama Ali Blue Eyes, which won the special jury prize at Rome.
Contact Rai Com cristina.cavaliere@rai.it
Like Crazy (It-Fr)
Dir Paolo Virzi
The Italian director of Human Capital and The First Beautiful Thing returns with a comedy about two patients who escape a psychiatric institution and hit the road. Valeria Bruni Tedeschi plays Beatrice, who claims to be a billionaire countess, while Micaela Ramazzotti (Virzi's wife) is Donatella, who keeps her delusions to herself. Tedeschi also stars in Competition title Slack Bay. Like Crazy is a co-production between Italy's Lotus Production and France's Manny Films.
Contact Bac Films sales@bacfilms.fr
The Lives Of Therese (Fr)
Dir Sébastien Lifshitz
This 55-minute documentary is about the life and impact of feminist campaigner Thérese Clerc, who died in February aged 88. Clerc appeared in the director's previous film, The Invisible Ones, which centred on elderly gay and lesbian couples and received a special screening at Cannes in 2012 before going on to win a César for best documentary. The film is produced by the doc collective Agat Films & Cie/Ex Nihilo.
Contact Doc & Film International sales@docandfilm.com
Mean Dreams (Can)
Dir Nathan Morlando
The second feature from Canadian director Morlando is a crime thriller about two youngsters (Josh Wiggins and Sophie Nélisse) who escape their abusive families by stealing drug money from the boy's father, a crooked cop (Bill Paxton). Morlando's debut Citizen Gangster premiered at Toronto in 2011. Mean Dreams is produced by Woods Entertainment's William Woods and Euclid431 Pictures' Allison Black.
International contact Mister Smith Entertainment LGrange@mistersmithent.com
US contact United Talent Agency ronson_r@unitedtalent.com
Mercenary (Fr)
Dir Sacha Wolff
The debut feature from La Fémis graduate Wolff is the story of a young man from the Pacific island of New Caledonia, who defies his father to travel to France in an attempt to become a professional rugby player. As he forges a new life, he has to confront the guilt over leaving his loved ones. Mercenary stars real-life rugby players Toki Pilioko and Laurent Pakihivatau and is produced by Claire Bodechon for Timshel Productions and Jean Bréhat for 3B Productions.
Contact Be For Films info@beforfilms.com
My Life As A Courgette (Fr-Swi)
Dir Claude Barras
Written by Céline Sciamma, the director of Water Lilies and Girlhood, My Life As A Courgette is based on the children's book of the same name by Gilles Paris. The stop-motion animation is the story of a nine-year-old boy, nicknamed Zucchini, who is sent to a foster home after his mother dies. It is the debut feature of animated short film director Barras and produced by Rita Productions, Blue Spirit Productions and Gebeka Films.
Contact Indie Sales info@indiesales.eu
Neruda (Chile-Fr-Sp-Arg-US)
Dir Pablo Larrain
Larrain returns to the Croisette after his 2012 Competition selection No and is back in Directors' Fortnight following the 2007 premiere of the film that launched his international career, Tony Manero. Luis Gnecco stars as the Nobel Prize-winning Chilean poet and politician who takes on the government in Cold War 1948 and engages in a game of cat-and-mouse with a police inspector (Gael Garcia Bernal). This is the second film under co-financier and US rights holder Participant Media's Latin American initiative, Participant PanAmerica, with Larrain's Fabula, among others. Fox will distribute in Chile and Wild Bunch in France.
Contact Funny Balloons contact@funny-balloons.com
Psycho Raman (Ind)
Dir Anurag Kashyap
Leading Indian independent film-maker Kashyap has reunited with Gangs Of Wasseypur star Nawazuddin Siddiqui to tell the story of real-life serial killer Raman Raghav, who terrorised Mumbai in the 1960s. It will be the third time in Directors' Fortnight for Kashyap following crime epic Gangs Of Wasseypur in 2012 and brutal child-kidnapping thriller Ugly in 2013. Psycho Raman (aka Raman Raghav 2.0) is produced by Kashyap's Phantom Films, the joint venture with Reliance that he runs with director Vikramaditya Motwane, producer Madhu Mantena and former head of UTV Spotboy Vikas Bahl.
Contact Stray Dogs nathan@stray-dogs.com
Risk (US)
Dir Laura Poitras
Risk sees intrepid film-maker Poitras switch focus from government whistleblower Edward Snowden, the subject of her 2014 Oscar-winning documentary Citizenfour, to Julian Assange. Poitras has been embedded with the Wikileaks founder for the last five years and chronicles the organisation's ongoing fight to expose the kind of information from whistleblowers that makes multinationals and governments go weak at the knees. Support comes from First Look Media's documentary outpost, Field Of Vision (of which Poitras is a founder), which championed best picture Oscar winner Spotlight.
Contact Submarine josh@submarine.com
Sweet Dreams (It-Fr)
Dir Marco Bellocchio
Having vied for the Palme d'Or six times, from A Leap In The Dark in 1980 to Vincere in 2009, Bellocchio spearheads Italy's hat-trick of films in Directors' Fortnight, making up for the absence in Competition this year. Valerio Mastandrea and Bérénice Bejo star in this adaptation of Massimo Gramellini's novel Sweet Dreams, Little One. Mastandrea plays a man emotionally scarred by the death of his mother during his childhood while Bejo plays a doctor who tries to help him confront his torment. Bellocchio's Blood Of My Blood played in competition at Venice last year. Sweet Dreams is produced by Beppe Caschetto's Bologna-based IBC Movie, Bellocchio's company Kavac Film and Rai Cinema.
Contact The Match Factory info@matchfactory.de
The Together Project (Fr-Ice)
Dir Solveig Anspach
This romantic comedy is the final film from the late Icelandic-French director Anspach, the La Fémis graduate who died in August 2015 at the age of 54. Her last two films in Cannes were 2001 Directors' Fortnight documentary Made In The USA and 2003 Un Certain Regard selection Stormy Weather. The Together Project stars Florence Loiret-Caille and Samir Guesmi. Iceland's Zik Zak produces with France's Ex Nihilo.
Contact Le Pacte c.neel@le-pacte.com
Tour De France (Fr)
Dir Rachid Djaidani
This comedy drama stars Gérard Depardieu as a close-minded conservative with a driver who is an up-and-coming rapper, played by hip-hop star Sadek. This second feature follows writer-director Djaidani's 2012 debut Hold Back, which premiered in Directors' Fortnight and won the Fipresci prize. Tour De France is produced by Anne-Dominique Toussaint's Les Films des Tournelles.
Contact Cité Films rberdugo@citefilms.com
Two Lovers And A Bear (Can)
Dir Kim Nguyen
The Montreal film-maker came to attention four years ago with his Oscar-nominated War Witch, and he debuts on the Croisette with Two Lovers And A Bear, an English-language romantic drama about two people in love who face separation due to the woman's tragic past. Orphan Black's Tatiana Maslany stars with Dane DeHaan. The film is produced by Robert Frappier's Max Films; Jonathan Bronfman and Ellen Hamilton co-produce.
Contact TF1 International sales@tf1.fr
Wolf And Sheep (Afgh-Den-Swe-Fr)
Dir Shahrbanoo Sadat
Afghan director Sadat was 20 when selected as the youngest participant of Cannes' Cinefondation Residency, where she began to develop this debut in 2010. Wolf And Sheep (Den) follows a group of Afghan shepherd boys and girls living in a remote village, where folklore helps explain the world's mysteries. The producer is Denmark-based Katja Adomeit. The film has Danish Film Institute backing and is co-produced by La Fabrica Nocturna, Wolf Pictures, Zentropa International Sweden and Film Vast.
Contact Alpha Violet virginie@alphaviolet.com