Competition titles include Nicolas Windng Refn's The Neon Demon [pictured], Jeff Nichols' Loving and Xavier Dolan It's Only The End Of The World.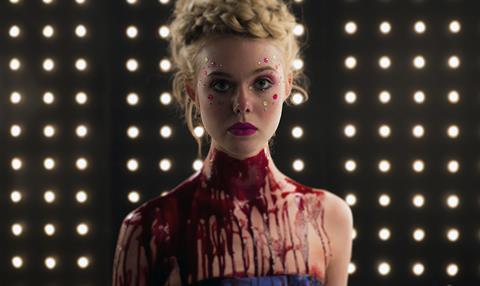 The Cannes Film Festival unveiled the Official Selection for its 69th edition today at a packed press conference in Paris.
European heavyweights Pedro Almodovar, the Dardenne brothers and Ken Loach are among 20 filmmakers set to compete for the Palme d'Or.
There were few surprises in Competition – aside from the inclusion of Maren Ade's Toni Erdmann, the first German film in Competition since Wim Wenders's Palermo Shooting in 2008 – and the news that this year's Palme d'Or winner will be the closing film.
The more exploratory Un Certain Regard section, however, welcomed a number of newcomers including Romanian director Bogdan Mirica's Dogs, US filmmaker Michael O'Shea's The Transfiguration, and Personal Affairs (Omor Shakhsiya) by Maha Haj, a Palestinian citizen of Israel.
Cannes Film Festival general delegate Thierry Fremaux revealed his choices at the UGC Normandie Cinema on the Champs Elysées in central Paris, though the event was slightly delayed by a protest from local industry and students over French labour legislation.
"We saw 1,869 features films to obtain a selection of 49 films. Last year, it was 1,850, 1,830 the year before, 1.500 in 2010 and a thousand 10, 15 years ago. With the digital era the number of films we receive increases each year," said Fremaux.
"The democratic principle on which Cannes rests is that everyone has the right to send a film and it will be screened. Out of these 1,869 films, not all were brilliant but they were all screened."
"There are 20 films on Competition, 17 in Un Certain Regard, five Out of Competition, two in Midnight screenings and five Special Screenings. A total of 28 countries are represented in the 49 films… which shows how much we care about the universality of cinema. Even though the festival takes place in France it is not a French festival. It is an international festival.
"There will be seven first films against eight last year and five, two years ago. The parallel selection of Directors' Fortnight and Critics' Week will also have a number of first time works," he continued.
In a sign that the proliferation of feature-length films does not necessarily indicate a healthy cinema industry, young professionals staged a protest announcement at the beginning of the conference, to highlight the increasing precarity of people working in film and protest proposed changes to France's labour law.
Palme d'Or returnees
As expected, the Competition was full of returnees.
Belgian directorial duo Jean-Pierre and Luc Dardenne will compete for the Palme d'Or for the fifth time with The Unknown Girl, starring Adele Haenel as a doctor wracked with guilt over the death of a girl she turned away from her surgery.
If the film were to win, it would be the brothers' third Palme d'Or after Rosetta (2002) and The Child (2009). Their hotly tipped Marion Cotillard-starrer Two Days, One Night failed to clinch the prize in 2014. They have shown films eight times in Cannes, kicking off with Falsch in 1987.
Spanish director Pedro Almodovar is back for a sixth time with Julieta, starring Adriana Ugarte and Emma Saurez, as the same woman at different stages of her life.
The film will screen May 17, on the eve of its French release. It has already opened in Almodovar's native Spain but the director belongs to that elite group of directors – alongside the likes of Nanni Moretti – who can release their films at home without dashing hopes of a Cannes slot.
The Palme d'Or has eluded Almodovar until now although he clinched awards for his Oscar-winning Volver (best screenplay) and All About My Mother (best director).
Another veteran Ken Loach also returns for the 12th time in Competition with his gritty Northern England-set drama I, Daniel Blake. He won the Palme d'Or exactly a decade ago with The Wind That Shakes The Barley but has clinched the Jury Prize three times last time in 2012 with The Angels's Share.
"He said his last film would be his last film. This is that last film but I think he's reflecting on whether it really will be his last film," said Fremaux.
Back in Competition for an eighth time, Jim Jarmusch will premiere Paterson. He is one of three US directors competing for the Palme d'Or alongside Sean Penn with The Last Face and Jeff Nichols with Loving.
US director Jeff Nichols will compete for a second time with Loving, based on the true story of inter-racial couple Richard and Mildred Loving, who were jailed in Virginia in 1958 for breaking state laws by getting married.
UK director Andrea Arnold will premiere her US road movie American Honey, starring newcomer Sasha Lane, opposite Shia LaBeouf, as a teenage girl who joins a travelling magazine sales crew and gets caught up in a whirlwind of hard-partying, law-bending and young love.
"It features a cast of unknowns alongside an actor known for his passionate artistic choices, Shia LaBeouf," said Fremaux.
Arnold has a long history with Cannes. She debuted her breakthrough short Milk at the festival in a parallel section in 1998 and previously competed for the Palme d'Or with Red Road (2006) and Fish Tank (2009), both of which won the Jury Prize.
Arnold is one of three women directors, alongside Germany's Ade and France's Nicole Garcia, in Competition. Three women director in Competition is up from two last year, but the number of films directed by women across the whole lineup was down on the same stage last year: 7/49, compared to last year's 8/49.
Other returnees include Canadian director Xavier Dolan It's Only The End Of The World. It stars Gaspard Ulliel as a terminally ill writer who returns to his estranged family to die opposite a stellar Francophone ensemble cast also featuring Marion Cotillard, Vincent Cassel and Nathalie Baye.
"I'd like to point out that it is only the second time that Xavier has been in Competition. There's always this idea that we've always got the same names," said Fremaux
Dolan made his competition debut in 2014 with Mommy, for which he won the Jury Prize in ex aequo with Jean-Luc Godard's Goodbye to Language.
Nicolas Windng Refn will also be back with Los Angeles-set The Neon Demon with a cast featuring Elle Fanning, Jena Malone, Keanu Reeves and Christina Hendricks, described by Fremaux as a "Danish cannibal horror film involving top models".
Paul Verhoeven, meanwhile, returns to competition with his first French-language film Elle – a thriller starring Isabelle Huppert. He last climbed the red steps of the Palais in the company of Sharon Stone in 2002, for the Competition premiere of Basic Instinct.
French presence
As per tradition, there is a strong French presence with four titles in Competition. They include Bruno Dumont's quirky period whodunit Slack Bay, starring Juliette Binoche, Fabrice Luchini and Valeria Bruni Tedeschi.
It will be Dumont's third time in Competition, after Humanité in 1999 and Flanders in 2006, which both won the Grand Prix. He was last in Official Selection in 2011 with Hors Satan, which premiered in Un Certain Regard. It will premiere on May 13, the same day as it is released in France, said Fremaux.
Dumont was last in Cannes, however, 2014 with his TV drama Lil' Quinquin which was given a special presentation in Directors' Fortnight.
Other French films in competition include Olivier Assayas's Kristen Stewart-starring fantasy drama Personal Shopper, Alain Guiraudie's Staying Vertical and Garcia's Mal de Pierre, starring Marion Cotillard torn between following her heart and the destiny pre-allotted her by society.
"Kristen Stewart will be one of the queens of Cannes," commented Thierry Fremaux.
Garcia returns to Competition for the first time in a decade. For Guiraudie, whose Stranger by the Lake premiered to critical acclaim in Un Certain Regard in 2013, it is the first time in Competition.
Strong Romanian presence
Romania will also put in a strong showing with Cristian Mungiu's Baccalauréat, re-named from the working of title of Family Photos, Cristi Puiu's Sieranevada as well as Bogdan Mirica's first feature Dogs, which is in Un Certain Regard.
Few Asia Titles
The Asian presence in the Competition is low-key this year with just two titles from the region, Phillipine director and Brillante Mendoza's Ma' Rosa and Korean filmmaker Park Chan-Wook's The Handmaiden.
There are also two Japanese titles in Un Certain Regard, Koju Fukada'sHarmonium and Hirokazu's After The Storm as well as Singapore filmmaker Boo Jungeng's Apprentice.
Competition Newcomers
Aongside Guiraudie and Puiu other directors screening in Competition for the first time, comprise Germany's Ade with Toni Erdmann and Brazil's Filho Kleber Mendonca's Aquarius
"I am happy to see Germany in Competition. It has been a long time," said Fremaux who said he had received calls from Wim Wenders and Volker Schlondorff expressing their pleasure at the inclusion of a German title.
Surprise absences
Films tipped for a Cannes premiere but not announced on Thursday included Bertrand Bonello's Nocturama (a.k.a Paris Is Happening), about the occupation of a Paris department store by a bunch of teenagers; Tran Anh Hung's period drama Eternity, the first French-language film for the French-Vietnamese director and Japanese Kiyoshi Kurosawa's first French-language film, the fantasy drama The Woman in the Silver Plate.
Fremaux said some of these titles were still in the post-production, including Martin Scorsese's Silence, which will be released in December.
"Kiyoshi Kurosawa's film is not totally ready and for Martin Scorsese's film, I've seen a few scenes but it's not ready either. He finished shooting last year and usually it takes him a year to edit but he has been tied up with other projects – including a TV series – so sadly 2016 will not be the year he returns to Official Selection."
Fremaux also confirmed that a handful of other titles would be confirmed in the lead up to the festival.
"Films arrive later and later and we haven't seen all of them yet," he said.
Iranian director Asghar Farhadi's upcoming untitled Farsi-language project, for example, is rumoured to have arrived at the Cannes offices this week, having finished post-production at the eleventh hour.
Oliver Stone's Snowden was another potential that wasn't announced today while Fremaux fielded questions from attending journalists on the sparsity of films from Italy, India and Arab filmmakers.
Iranian director Asghar Farhadi's upcoming untitled Farsi-language project, for example, is rumoured to have arrived at the Cannes offices this week, having finished post-production at the eleventh hour and Ben Wheatley's Free Fire has yet to receive a definitive answer.
Out of Competition
There is a strong presence US Out of Competition lead by Steven Spielberg's BFG, Jodie Foster's Money Monster and Shane Black's Los Angeles-set crime-caper The Nice Guys – starring Cannes habitué Ryan Gosling and Russell Crowe as two unorthodox detectives investigating the murder of young woman believed to involved in the porn world.
Black's debut feature Kiss Kiss, Bang Bang – starring Robert Downey Jr. as crook who unwitting gets cast in a Hollywood detective movie — premiered Out of Competition in 2005.
Opening and Closing Films
As previously announced, Woody Allen's Café Society, starring Kristen Stewart and Jesse Eisenberg, will open the festival on May 11.
"People might say 'Woody Allen again? It's like Molière at La Comédie Francaise but there are certain directors we like to remain faithful to. When they're there, people talk and when they're not, they talk too'," said Fremaux.
In a new initiative, there will no separate closing film but rather the Palme d'Or winner will close the festival.
"It's an experiment that we're going to run this year and the opening film for Un Certain Regard will be announced this coming week," he added.
Questions
After the announcements, Fremaux and Cannes Film Festival president Pierre Lescure fielded questions on security, in the light of recent terror attacks in France and Belgium, and pay-TV giant Canal+'s downsizing of its presence at the festival, as evidenced by its decision not to broadcast flagship programme Le Grand Journal from the Croisette as in previous years and also scale back its social activities such as its annual Cannes party.
On security, Lescure said the issue was being tackled at the three levels: in the Palais and its environs, by the festival; in Cannes and key festival sites such as the Croisette and its hotels by the local mayor David Lisnard and the Alpes-Maritimes Prefecture, and nationally by France's Minister of the Interior Bernard Cazeneuve.
"We control the security in the Palais and its immediate environs… We will have 500 security staff, led by experienced personnel, some with extremely high and reputed levels of experience," said Lescure, adding the aim was to strike a balance between security and freedom of movement in the festival.
Lisnard and Cazeneuve issued a joint statement on Tuesday (April 12) saying that "all the means necessary were being employed to secure the highest level of security" during the festival.
On Canal+'s reduced presence, Lescure responded that although its social events had been cut the broadcaster remained committed to covering the festival and had increased the resources available for the coverage of the opening and closing ceremonies as well as the red carpet events. "Its ambition has increased and we're convinced as ever about continuing this relationship," he said.