Woody Allen, Asif Kapadia, Natalie Portman and Pete Docter set for Out of Competition screenings.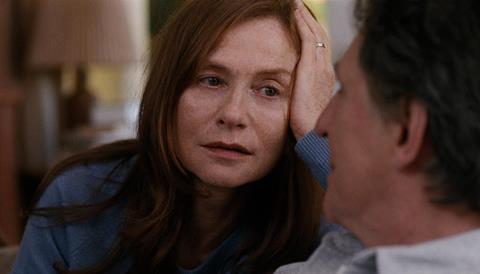 Cannes Film Festival delegate general Thierry Fremaux unveiled the Official Selection for its 68th edition (May 13-24) at a packed conference in Paris On Thursday morning.
"It's a beautiful, fresh line-up which formulates ideas, takes risks and says something about the state of creativity in cinema around the world," Fremaux told reporters at the UGC Normandie Cinema on the Champs Elysées
The selection is a sign that Fremaux and his programming team are attempting to shake things up with Cannes old-timers vying for the Palme d'Or against a slew of first-time contenders.
Jacques Audiard's provisionally titled Dheepan, Hou Hsiao Hsien's The Assassin and Nanni Moretti's Mia Madre will compete with French director Valérie Donzelli's Marguerite And Julien, Norwegian Joachim Trier's Louder Than Bombs, Greek filmmaker Yorgos Lanthimos' The Lobster and Macbeth from Australia's Justin Kurzel.
Some 1,854 films were submitted this year, all of which were screened.
"There are those who say, if you watch 1,800 films, how come the same names always get selected. This year they'll see it's not really the case," said Fremaux.
"Not everyone is there. Not everyone is ready," he added. "The presence of big auteurs at Cannes is often stigmatised… on the other hand when the big auteurs aren't ready for Cannes it's not so easy to find the young or unknown auteurs, who are talented enough, in a position or have the inclination to present a film in competition in the biggest film festival in the world."
Other newcomers who made the cut include Hungarian former Bela Tarr assistant László Nemes with Son Of Saul, about a prisoner who retrieves the body of a young boy from the fire pits of Auschwitz with the aim of giving him a proper burial.
French filmmaker Stéphane Brizé's A Simple Man (La Loi du Marché) follows his critically acclaimed A Few Hours Of Spring, and stars Vincent Lindon as a supermarket security guard who is compromised when he is asked to spy on his colleagues.
Brizé is a respected filmmaker in France but he has not been in Cannes since his Le Blue Des Villes premiered in Directors' Fortnight in 1999.
Donzelli will play in competition for the first time with her costume drama Marguerite And Julien, the true story of aristocratic siblings executed in the 17th century on charges of adutery and incest. It is based on an original screenplay by Francois Truffaut's late screnwriter Jean Gruault.
The filmmaker was last in Cannes in 2011 with her second film Declaration Of War, which premiered in Critics' Week.
Trier's Louder Than Bombs, starring Isabelle Huppert and Gabriel Byrne, is the Norwegian director's English-language debut following his critically acclaimed Oslo, August 31st.
The final new contender is established Canadian filmmaker Denis Villeneuve with his New Mexico drugs bust thriller Sicario. Surprisingly, the director has not been in Cannes since 1998 when Un 32 Aout Sur Terre premiered in Un Certain Regard.
Competition titles by other returning directors include Matteo Garrone's The Tale Of Tales, Todd Haynes' Carol, Paolo Sorrentino's Youth, Gus Van Sant's The Sea Of Trees, Hirokazu Kore-eda's Our Little Sister and Maiwenn's Mon Roi.
Arnaud Desplechin exclusion
The inclusion of new faces in competition came at the price of some established filmmakers. There was surprise, for example, at the absence of French director Arnaud Desplechin from the main competition.
The five-time Palme d'Or contender was expected to premiere his My Golden Years (aka Three Memories Of Childhood) in competition. The film revisits the childhood of Paul Dédalus, the protagonist in his 1997 film My Sex Life who also featured in A Christmas Tale, both of which premiered in competition.
"There are a number of films which we love a lot but we haven't selected," said Fremaux. "Arnaud Desplechin has been in official selection and in competition on numerous occasions and we took this into account when making the selection, with sadness. The film deserves to be in official selection and in competition. It's not."
Opening film
In another change in style, Fremaux noted that the choice of Emmanuelle Bercot's gritty social drama Standing Tall – about a troubled young man growing up within France's social care system — as the opening film marked a break with the more glamorous and spectacular fare.
"This film talks about education, society, transmission, justice, delinquency and these children who are born into difficult circumstances and neighbourhoods, which have been deserted by the Republic," said Fremaux, adding it was timely work.
Un Certain Regard
Fremaux unveiled 14 Un Certain Regard titles on Thursday, adding that another four to six films could be added before the festival.
The section, aimed at films with original and different styles and visions, also offers an eclectic mix of established names and new talent.
First features premiering in the section include Indian Anurag Kashyap protégé Neeraj Ghaywan's Masaan (Fly Away Solo), a choral work set in the holy city of Varanasi on the banks of the Ganges, Iranian Ida Panahandeh's Nahid and celebrated shorts maker French Laurent Lavière's Je Suis Un Soldat.
"The film hails from a new school of Indian filmmakers who don't really belong to Bollywood and aren't in the vein of the great Bengali auteurs either but rather belong to a third movement, which makes films inside Indian society, penetrating its houses, its families, its stories," said Fremaux of Fly Away Solo.
There are a number of second or third works by directors with growing reputations, including French director Anne Winocour's Maryland, Indian filmmaker Gurvinder Singh's The Fourth Way and Grimur Hakonarson's Rams from Iceland.
Features by more established filmmakers in the Un Certain Regard line-up include: Kiyoshi Kurosawa's supernatural love story Journey To The Shore; Italo-American Roberto Minervini's hybrid work The Other Side, capturing the drugs culture in the US; Romanian Corneliu Porumboiu's comedy The Treasure; and compatriot Radu Muntean's drama One Floor Below.
Out of competition

Fremaux revealed Woody Allen had opted for an out of competition slot for his latest film Irrational Man, despite being offered a chance to run for the Palme d'Or.
"Woody hasn't been for two or three films. He said he was coming too often and systematically but we're very happy to have him back… I didn't manage to convince him to come in competition. He sounded surprised on the phone that I would dare make such a suggestion," said the delegate general.
Also screening out of competition will be: Peter Docter and Ronaldo Del Carmen's feature-length Pixar animation Inside Out, set inside the brain of a pre-pubescent teenage girl; Mark Osborne's The Little Prince, a modern-day re-telling of the classic tale by Antoine de Saint-Exupéry in animation form; and George Miller's previously announced Mad Max: Fury Road.
Fremaux disputed rumours that the film had at one time been considered for opening night slot.
"There was never a question for Warner or for us that it would be the opening film," he said. "It is instead set for the first Thursday and we will be welcoming George Miller, Charlize Theron and Tom Hardy.
Midnight screenings
Asif Kapadia will be in Cannes with his documentary Amy, about tragic late singer Amy Winehouse. It is his first time at the festival since 1998, when he won the Cinefondation's second prize for The Sheep Thief.
Special screenings
Titles set to premiere in a special screening include Barbet Schroeder's intergenerational, Ibiza-shot tale Amnesia, inspired by the filmmaker's mother, and Natalie Portman's feature debut A Tale Of Love And Darkness, based on celebrated Israeli author Amos Oz's autobiographical novel.
Speaking about A Tale Of Love And Darkness, Fremaux said: "We decided to show in a special screening because when we show a film by a famous actor in Un Certain Regard or in Competition, as was the case with the films of James Franco and Ryan Gosling, we're suspected of wanting to include well-known names… When actors go behind the camera they're often capable of creating works which are both personal and singular — as is the case with the film of Natalie Portman."
More titles to come
A total of 44 films were announced and around 10 more are due in the coming days.
"We're announcing 90% of the line-up today. As you know, we like to make complementary additions to the line-up, which will selected at the beginning of next week," added Fremaux.
"It's always a very long process with a lightening finish… the digital revolution means films can be finished very quickly so we found ourselves in a jam around March with films suddenly coming together in recent days. We want to give ourselves a chance to see them."