Graduation, It's Only The End Of The World and The Unknown Girl all made their bows on today's Jury Grid.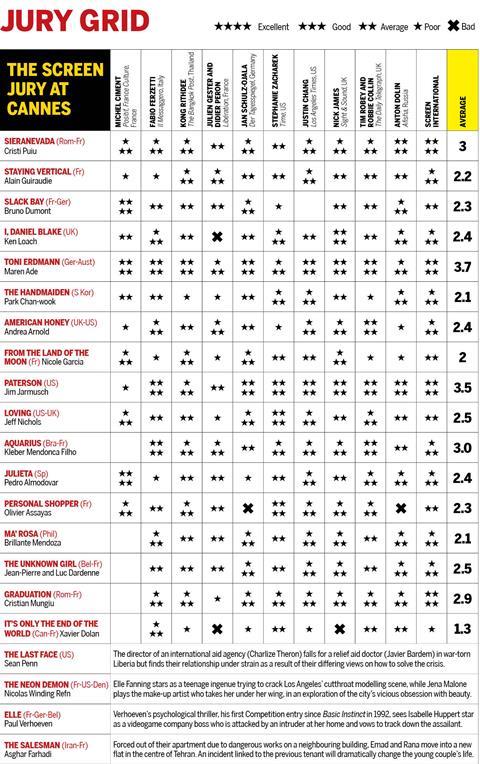 As Cannes 2016 enters its final stretch, three new films debuted on Screen's Jury Grid on day 9 of this year's festival.
Xavier Dolan's It's Only The End Of The World – the 27-year-old director's sixth feature, all but one of which (Tom At The Farm) have premiered at Cannes – registered a disappointing overall score of 1.3, leaving it bottom of the grid.
Usually a firm favourite at the festival, Dolan's latest particularly failed to impress France's Julien Gester and Didier Peron, and the UK's Nick James, who awarded it a no-score X rating. The film also attracted four solitary one-star scores, a joint low this year with Nicole Garcia's From The Land Of The Moon.
One of the day's other new entries – Cristian Mungiu's Graduation – fared significantly better, scoring a strong 2.9 from a possible 4. Buoyed by a maximum four-star rating from Screen International's critic, the film was held back by a one-star score from France's Julien Gester and Didier Peron.
The third new film to enter the Grid today was Jean-Pierre and Luc Dardenne's The Unknown Girl, which scored a middle-of-the-pack 2.5, placing it level with Jeff Nichol's Loving.
With the Jury Grid almost complete, will the films of Asghar Farhadi, Nicolas Winding Refn, Paul Verhoeven or Sean Penn be able to dethrone the record-breaking Toni Erdmann?