The new film from Cannes favourite Park Chan-wook is an adaptation of Sarah Waters' Victorian era-set lesbian crime novel Fingersmith, transplanted to 1930s Japan.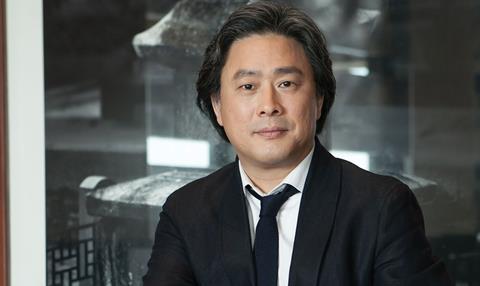 The Handmaiden is Park Chan-wook's return to Korean production following his English-language debut Stoker. The film plays in Competition at this year's Cannes Film Festival.
Produced by Moho Film and Yong Film Inc., the erotic thriller has pre-sold to 116 territories and tells the story of young Korean woman in the 1930s in league with an aristocratic swindler who is trying to fool a Japanese heiress into marrying him.
Park won the Grand Prix for Old Boy at Cannes in 2003 and the Jury Prize for Thirst in 2009.
Why did you want to make this film?
I read the novel four or five years ago. Stories with homosexual protagonists fighting against prejudice are, in a way, common, but a homosexual story that's also a genre story is something special. The plot twist is fabulous, too. I kept to the first part of the book, but changed the latter to be more suitable to genre cinema. After reading it, the author suggested we say the film's "inspired by" rather than "based on" her novel.
Why did you choose to set it in this period?
We needed an era with a caste system employing handmaidens, but also with the modern institution of insane asylums. My producer suggested bringing the story to Korea, during the era under Japanese imperialist rule. I thought I could do something that looked at the period from a different angle.
Why did you cast two of Korea's biggest actors, Kim Min-hee and Ha Jung-woo, as the heiress and swindler respectively?
I had known there would come a day when I would work with Kim Min-hee and Ha Jung-woo. I saw Kim in Helpless and Very Ordinary Couple, and it's needless to talk about Ha.
For his count character, I wanted someone who, when he's not being a swindler, wouldn't always seem aristocratic and elegant, but sort of lax and an ordinary good-for-nothing. The film I liked him best in was My Dear Enemy. Kim has an aristocratic elegance and poise, a kind of coldness - but also fragility. The character needed both.
Also, she had absolutely no qualms about playing a homosexual character, which in Korea actors can be considerably reluctant to do.
Why did you choose a new name for the role of the handmaiden?
I wasn't looking for a type. I don't when I look for a newcomer. I just kept asking Kim Tae-ri to do different things and the role naturally went to her. It was like with Kang Hye-jung on Old Boy. She has interesting features, never feels constrained or gets crestfallen. She's dignified and confident. I had the same crew that I always work with, but all the actors were new to me. But we got close right away.
How?
Over drinks, of course.
Tell us about the shoot.
We shot in three different locations in Japan for exteriors like the mansion, a temple, and some interiors in a traditional inn. For most of the interiors, we went to Dong-ah Institute of Media and Arts (DIMA), which has Korea's biggest sound stage.
We had 68 shooting days - which by American standards is a bit on the numerous side, but for a Korean film in the KW10bn ($8.6m) budget range, is not. Thirst had almost 100. My US experiences in that sense helped me make decisions faster on set. Korea also now has standard work contracts for crews, so if you go over 12 hours, or exceed the originally contracted period, the payroll costs go up tremendously.
What's the most important issue in the Korean film industry right now?
The Busan International Film Festival [and the issue of censorship and government influence which Korean filmmakers are threatening to boycott over]. It can't be [resolved with] a serviceable compromise, because we can't leave a precedent. It might be difficult, but you have to think about history and stand firm. You can't think [a boycott] will be the end of the festival forever. It could also make the mayor determine to normalise it. You have to take a long view.
What about international filmmakers? Should they attend Busan?
Of course they shouldn't. Until we can give them glad tidings that the festival is back to normal, as comrades in art who make films, we ask you to put off your participation at BIFF. We will fight, negotiate and try hard to be able to share the glad tidings.