The discussion at Screen's VoD panel centred on the relative virtues of different platforms and subscription models, and why the industry remains tight-lipped on viewing figures.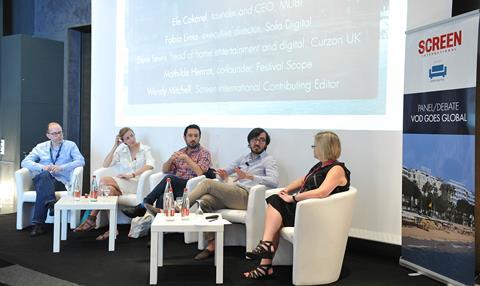 Many of the key issues surrounding VoD and the independent film industry were debated at length during Screen International's Sunday panel (May 15) at the 2016 Cannes Film Festival, 'VoD Goes Global'.
These ranged from the cost — and ingredients — of Heineken beer in Brazil to the all-pervasive influence of Netflix and Amazon; from the pricing for 'premium' VoD to the virtues of transactional VoD as opposed to subscription VoD — and just why operators are still so coy about their viewing figures.
Fabio Lima, executive director of aggregator Sofa Digital, predicted that, in the long run, consumers will spend more on transactional VoD than on SVoD. By contrast, fellow panellist Efe Cakarel, founder and CEO of MUBI, declared himself "a believer in SVoD," after MUBI switched from TVoD to a subscription model early in its existence.
Secret numbers
On the vexed issue of why VoD operators do not share their numbers, Steve Lewis, head of Home Entertainment and digital at Curzon UK, revealed that, in the UK, an EST (electronic sell through) chart is likely to be started at some stage this year, and potentially a VoD chart after. "I am sure that there comes a point where we do release figures but at this point, no-one does in the UK," Lewis said. "At this moment, there is a general nervousness about releasing those figures. Premium VoD is growing but it still has some way to go."
When Curzon releases films such as 45 Years (a notable success at the UK box office) or Son Of Saul, they are made available in cinemas and on premium VoD at the same time. The pioneering British company has made it clear that it regards premium VoD as an extension of the theatrical window. Curzon charges viewers around $14 (£10) to watch a new release on its home cinema platform — that is to say roughly the same amount as would be charged in cinemas.
"You are getting early access, on the same day as theatrical. Also, we have to be very mindful of exhibitors," Lewis said, justifying the price. The Curzon executive insisted the company was not "trying to cannibalise" exhibitors' audiences by releasing a film on VoD at the same moment it hits the big screen. It was simply a case of making well-reviewed films that would only play in a handful of cinemas available to as big an audience as possible. "If you don't live near to a metropolitan centre or an arthouse cinema that may be playing it, you may have read the fantastic review but you just can't see it."
Mathilde Henrot's Festival Scope, the pioneering online platform for film professionals, is now also venturing into transactional VoD aimed at general film lovers. At the Rotterdam and Venice film festivals, the platform will charge $4.50 (€4) for a film or $11 (€10) for a festival pass, while at other festivals it will be free.
Regional variations
Lima was the panellist who brought beer into the conversation. Sofa Digital is active in Latin America and is moving into southeast Asia. He pointed out Sofa charges different prices for different regions, relating to market conditions and demographics. Lima also predicted prices would come down. This is where the beer came in. "Heineken beer in Brazil tastes very good but in Mexico and the west, not actually," the Sofa executive reflected. When he studied the ingredients in the drink, he soon realised it was not the same beer sold in Brazil — "even if it has the same marketing. The Heineken not only tastes better in Brazil, it also costs a quarter of the price."
So what is the lesson for the film industry? Pricing and local tastes vary in different countries — and that is only to be expected. The idea that the price — and taste — of a cold beer in different territories may take over from that of the Big Mac as an economic indicator was welcomed by the panel.
Asia is seen as a new Klondike by many western distributors, especially those looking to break into China. But they are likely to face fierce competition. Lima pointed out there were three huge local VoD operators in China. With the competition between them, big Hollywood movies were available for less than a dollar. Cakarel suggested that when MUBI expands into China, 70% of its content will be local and the rest will be curated arthouse, film festival-type fare.
Cakarel revealed that when he launched his company, subscription was $4.30 (£2.99) a month — but the take-up actually increased when the price went up, first to $7.15 (£4.99) and then to $8.60 (£5.99).
"Based on the data we've seen, a new film is worth 10 times more to the consumer than a library title," Cakarel stated as he talked through "profit maximising" price point forecasting models that the company uses. He may run a VoD company but Cakarel, for one, insisted that "cinema is here to stay".