EXCLUSIVE: Company to launch Radu Mihaileanu's The History of Love and Studio Ghibli co-production The Red Turtle.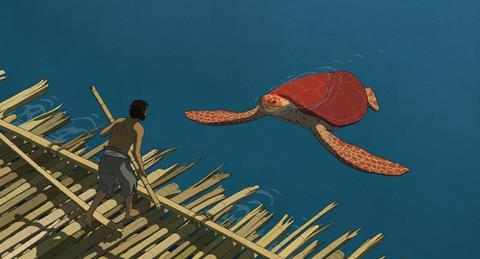 Paris-based sales powerhouse Wild Bunch will kick off sales on Radu Mihaileanu's saga The History of Love, starring John Hurt, Gemma Arterton and Sophie Nélisse at the Cannes Marché next month.
The mainly New York-set saga, spanning three continents and a period running from just before the Second World War to the present day, is based on US writer Nicole Krauss's international bestseller.
Hurt will play Leo, an elderly Polish Jewish immigrant still mourning the loss of his childhood sweetheart in the chaos of war, who is strangely linked to a teenage girl through a long, lost book on love… subtitled 'the most loved woman in the world'.
"It's a love story spanning 65 years… revolving around three friends in Poland whose destinies change forever when war breaks out," Wild Bunch chief Vincent Maraval told ScreenDaily.
It marks Mihaileanu's English-language debut, after French-language films including Oscar-nominated The Concert and The Source, which premiered in Cannes in 2011.
Marc-Antoine Robert and Xavier Rigault of Paris-based 2.4.7. Films are producing the film set to shoot in Canada, the US and Romania this summer. 2.4.7 is no stranger to literary adaptations having previously produced Audrey Tautou-starrer Delicacy, based on a novel by David Foenkinos.
Studio Ghibli co-pro
Wild Bunch will also launch sales on British-Dutch animator Michaël Dudok de Withighly anticipated The Red Turtle, his first feature animation after a series of critically acclaimed shorts including the Oscar-winning Father and Daughter.
"There's already a lot of buzz about the film in animation circles," said Maraval.
The fantastical tale revolves around a man marooned on a desert island whose attempts to escape on a raft are thwarted by a giant turtle that sinks the makeshift craft.
Dudok de Wit co-wrote the screenplay with respected director and screenwriter Pascale Ferran, best known for Lady Chatterley and was in Cannes last year with Bird People.
Maraval revealed that Wild Bunch first started working on the project seven years ago after Japanese animation maestro and Studio Ghibli co-founder Hayao Miyazaki asked for help to track down the artist.
"Around the time of Ponyo I visited Studio Ghibli," recounts Maraval, referring to Miyazaki's 2008 film. "Miyazaki showed me Father and Daughter and said 'I want you to find the director for me'. I said that would be complicated. He replied, 'If one day Studio Ghibli decides to produce an animator from outside the studio, it will be him'.
"On my return, the head of acquisitions tracked down Dudok de Wit and we visited him in London to ask if he would be interested in doing a feature. He said he wasn't but we added: 'Too bad, Studio Ghibli wants to produce it', and his eyes lit-up."
The resulting work is a co-production between Studio Ghibli – the only European work the company has ever supported, alongside Wild Bunch, Why Not Productions, Belvision, Arte France Cinema and CN4 Productions. Paris-based Prima Linea is overseeing the animation.
Not surprisingly, given the Studio Ghibli link, the film is imbued with a deep respect for nature. Dudok de Wit will talk about the work at a special presentation at the Annecy International Animated Film Festival in June.
In the meantime, Wild Bunch will show a 50-second extract at Cannes and a promo-reel created from the animatic as well as artwork.
Elle Fanning and Soko
Other new titles on the Wild Bunch slate include Stephanie Di Giusto's debut feature The Dancer, based on the true story of Loïe Fuller, the US creator of the so-called "Serpentine Dance" who was the toast of the Folies Bergères at the turn of the 20th century and an inspiration for Toulouse-Lautrec and the Lumière Brothers.
The film will revolve around her complicated relationship with protégé and rival Isadora Duncan.
"The film is set against the backdrop of Paris at time when the city was in ferment artistically," said Maraval.
French pop star and actress Soko – much-praised for her performance in Alice Winocour's Augustine – will co-star as Fuller opposite Elle Fanning as Duncan.
The picture, which is due to shoot this summer, is produced by Alain Attal at Productions du Trésor.
Jacques-Yves Cousteau biopic
The company will also commence sales on Jérôme Salle's The Odyssey, starring Lambert Wilson as the famous deep-sea diver Jacques-Yves Cousteau and Pierre Niney as his eldest son Philippe who died tragically in an airplane crash in 1979.
"It's not so much a biopic as the tale of Cousteau and his son, and a tragedy which changed Cousteau's life and the direction of his work which initially had little to do with conservation," said Maraval.
The film will revolve around their deep but often argumentative relationship – as they fought about the implications of progress and pollution on the submarine world.
The film, produced by Pan-Européenne and Fidélité Films will shoot, this summer.
Festival titles
Wild Bunch is also selling a slew of titles in Official Selection including Palme d'Or contenders Marguerite and Julien, Our Little Sister, The Assassin, Chronic and the provisionally titled Dheepan, which it is co-handling with Celluloid Dreams.
Other Official Selection titles include The Treasure in Un Certain Regard, Noé's Love which will premiere in a midnight screening, and The Little Prince which will debut Out of Competition.
Wild Bunch is also selling Directors' Fortnight titles Arnaud Desplechin's My Golden Days and Philippe Garrel's In The Shadow of Women, which is opening the parallel section.
It is also handling Critics' Week opener, Elie Wajeman's second film The Anarchists set in Paris in 1899 and starring the reportedly sizzling on-screen couple of Tahar Rahim and Adèle Exarchopoulos.