New projects from Evgeny Ruman [pictured], Lav Diav, Ian Fitzgibbon and Frances Bodomo to attend.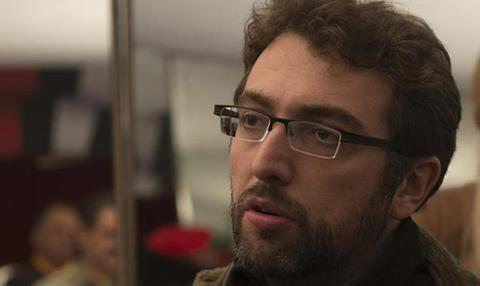 Scroll down for full list of projects
Evgeny Ruman, Lav Diav, Ian Fitzgibbon and Joko Anwar will be among the directors presenting new projects at the third edition of the Paris Co-production Village in June.
A joint venture between Les Arcs European Film Festival and Champs Elysées Film Festival, the event will unfold June 8-10 in Paris as part of the latter event's Industry Days. Its aim is to connect international film-makers and producers with French production and sales partners.
The line-up for US in Progress has also been unveiled featuring seven projects including Easy Living by Adam Keleman who was assistant director on Brooklyn.
The central Co-production Village selection features 12 projects, hailing from Europe, Asia and Latin America, the US and Israel.
Israeli film-maker Evgeny Ruman will present Golden Voices, his third film after The Man In The Wall which played at the Rotterdam International Film Festival this year.
Filipino director Lav Diav will unveil When The Waves Are Gone, his second feature after A Lullaby To The Sorrowful Mystery which won was in Competition in Berlin this year.
Indonesian Joko Anwar, whose 2009 psychological thriller Forbidden Door won over critics worldwide, will also be looking for partners for Remarkable Things During A Killing. It is his latest film after A Copy of my Mind, which premiered in Venice's Horizons section in 2015.
Other projects include Irish director Ian Fitzgibbon's Dark Lies The Island. It is his first feature since Death Of A Superhero. In between times he has worked on a slew of TV drama, including the critically-acclaimed Moone Boy.
Turkish actress Derya Durma will also attend with her first feature project The Bus to Amerika and Ghanian director Frances Bodomo will present Afronauts, a feature-length version of her same-name short about a Zambian scientist's attempts to send Africans to the moon in 1969 which premiered at Berlin in 2014.
COLOMBIA FOCUS
This year's territory focus will be devoted to Colombian cinema in partnership with Proimágenes Colombia.
Under the focus, three Colombian projects have been invited to the village and there will be a conference to discuss French-Colombian co-productions.
In addition, the six residents of Cannes Film Festival Cinéfondation will also join the selection:
Paris Co-production Village Projects
Afronauts
dir: Frances Bodomo
Nomadic Independence (US)
Blood-Drenched Beard dir: Aly Muritiba
RT Features (Brazil)
The Bus to Amerika dir: Derya Durma
Mars Production (Turkey)
Dark Lies the Island dir: Ian Fitzgibbon
Grand Pictures (Ireland)
God Exists, her Name is Petrunija dir: Teona Strugar Mitevska
Sisters and Brother Mitevski Production (Macedonia)
Golden Voices dir: Evgeny Ruman
United Channel Movies (Israel)
Prince dir: Sebastian Muñoz produced
Niña Niño Films (Chile) Le Tiro Films (Argentina)
Remarkable Things During a Killing dir: Joko Anwar
Lo-Fi Flicks (Indonesia)
When the Waves are Gone dir: Lav Diaz
Epicmedia (The Philippines)
Almost Never Too Late dir: Alfonso Acosta
Cabecitanegra Producciones (Colombia)
The Stone dir: Rafael Martinez Moreno
Miramar Entertainment (Colombia)
The Tailor dir: TBC
Corte Film, Tree House Film (Panama) and Diafragma (Colombia)
Cannes Film Festival Cinéfondation projects:
Feathers of a Father

-

Omar El Zohairy (Egypt)

Fronteira

-

Nuno Baltazar (Portugal)

Letters from the Land of the Tarahumara

-

Federico Cecchetti (Mexico/France)

Tinnitus

-

Gregorio Grazios (Brazil)

The Users

-

Ivan Ikic (Serbia)

Disappearance

-

Ali Asgari (Iran)