French screenwriter Thomas Bidegain - who debuted his first feature Cowboys in Directors' Fortnight this Cannes - talks about his long and winding route to the director's chair.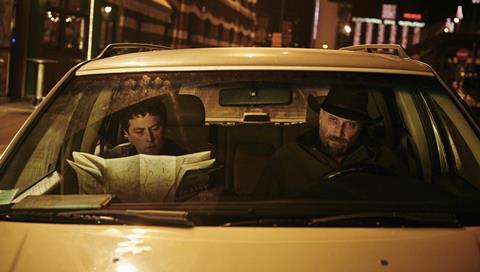 It has been a busy Cannes Film Festival for celebrated French screenwriter Thomas Bidegain.
Aside from premiering his directorial debut Cowboys in Directors' Fortnight, he also co-wrote Jacques Audiard's Palme d'Or contender Dheepan and collaborated on Clément Cogitore's Critics' Week screener The Wakhan Front.
Seller, distributor, producer, screenwriter and, now, director, Bidegain has done just about every job in the film production and distribution chain.
"I was a very bad producer and an ok distributor," says Bidegain in impeccable English.
His love of film was sparked by the fact that his childhood best-friend's mother was an usher at the Paris repertory cinema Action Christine, now the Christine 21.
"From the age of eight to 20, I saw all the films screened there – all classic, old American films from the 30s, 40s, 50s and 60s. I love Raoul Walsh, John Houston and Michael Curtiz. When my friends talked about Spielberg, I would say you've got to see Michael Curtiz — he was the Spielberg of the 40s," recalls Bidegain. "I once watched The Night of the Hunter three times in a row - at four, six and eight o'clock."
Los Angeles
Discouraged from going directly into cinema, Bidegain instead studied business.
"Every time I did an internship, I would make sure it was related to cinema in some way. I interned at MK2 for example," says Bidegain.
On his finishing studies, Bidegain was hired by late Spanish producer Elías Querejeta to audit his Los Angeles-based film library sales company Connoisseur Films.
"The company was in such bad shape that within a few months I was the president of the company. We had a catalogue of a few hundred films from Breathless to Shoot the Pianist," says Bidegain.
"I had to buy a car, so I bought a second-hand Volvo and around the same time I renewed the rights for Breathless for five years in America. The Volvo was more expensive. It was before DVD, when there was only VHS," he recalls.
Bidegain ran Connoisseur for two years, before heading to New York in 1994, following its sale.
There, still working for Querejeta, he helped produce Spanish director Manuel Toledano's Shampoo Horns, revolving around three fame-seeking habitués of the New York club scene.
"It was a time when you could still produce a little film in New York for $500,000," he says.
Return to France
In the second half of the 1990s, Bidegain returned to France, where MK2 founding chief Marin Karmitz made him head of distribution at his company.
While there, Jacques Audiard brought him the script for Lodge Kerrigan's Claire Dolan, which Karmitz would go on to finance.
The film, about a prostitute who decides to change her life and have a child following the death of her mother, premiered in Competition in Cannes in 1998.
"I was a friend of Jacques' wife," says Bidegain, explaining their initial connection.
Failed Producer
At the end of the 1990s, Bidegain left MK2 to produce Michael Walker's Chasing Sleep, starring Jeff Daniels as a professor looking for his missing wife.
This, in turn, led to a job with Pascal Caucheteux's Paris-based Why Not Productions, initially with the aim of producing a low-budget US feature.
"For several months I tried to pull a film together… but I didn't succeed and I even made the company lose money… I was a bad producer, a very bad producer," says Bidegain.
"The market had changed, independent cinema was not a label anymore and there were new companies in America — so it was different," he explains.
Writing
Around this time, however, a cinematographer friend returned to France from a shoot in Los Angeles.
"He told me he had shot a film in a week. I'd been in development hell for eight months. It got me thinking about how it could be done," says Bidegain.
This question led to his first screenplay about a group of Americans who inherit a French chateau.
It would become the 2001 film The Château directed by his friend Jesse Peretz and produced by New York-based Scott Macauley with Paul Rudd and Sylvie Testud in the cast.
"It's a small film but it made me realise that when writing films you shouldn't focus on the story but the film. That was a discovery for me," says Bidegain who never had any formal screenwriting training.

Audiard connection
In the meantime, Bidegain had also introduced Audiard to Caucheteux.
"Jacques was looking for a subject for his next film and Pascal said why don't you do a remake," reveals Bidegain.
The conversation would result in the 2005 The Beat That Stopped My Heart, a remake of James Toback 1978 Fingers, about a man torn between a life in crime or a career as concert pianist.
Aside from overseeing development, Bidegain ended up watching the dailies for Audiard.
"I'd make one or two pages of notes… we became really close during this time. While we were editing we received the screenplay called Le Prophète.
It would become the basis for Audiard's A Prophet (Un Prophète), starring Tahar Rahim as a petty criminal of Algerian origin navigating his way through the fiefdoms of a prison population.
"In the original screenplay only about 20 pages were set in the jail but I thought that was the most interesting section so I suggested we set the whole thing in jail. We decided to write it together. It was a long process, taking almost three years," says Bidegain.
The film went to premiere at Cannes in 2009, where it won the Grand Prize of the Jury, before picking up an Oscar nomination in the Best Foreign Language Film Oscar nomination and winning a BAFTA in the same category.
Lasting Relationship
Bidegain has worked on Audiard's subsequent films, Rust and Bone and this year's Palme d'Or contender Dheepan as well as found the time to pick up credits on a Bertrand Bonello's Saint Laurent, this year's hit La Famille Bélier as well as a raft of other titles.
"We've seen one another every day for the past 10 years, except for the past fews months because he was shooting Dheepan at the same time as I was shooting Cowboys. Even then, we would have dinner once a week. He would tell me of his misery as a director and I would do the same. He came on the set when we were shooting in Rajasthan and had dinner with John C. Reilly," reveals Bidegain.
Cowboys
Bidegain's much praised directorial debut revolves around a father's obsessional search for his daughter after she vanishes as a teenager with a classmate with secret Jihadi aspirations.
Within this contemporary tale, the influence of all those afternoons spent at the Action Christine are plain to see in the film, from the fact the lead character is into Americana to the storyline revolving around two seemingly opposing cultures and an obsessive search for a lost girl.
"People have suggested its inspired by The Searchers," says Bidegain, referring to John Ford's 1956 classic starring John Wayne as a Civil War veteran who goes looking for his niece after she is abducted by an Indian tribe.
"I guess the first part of the film has something to do The Searchers but I was also thinking about films like The Missing and The Pledge in which people with an obsession go crazy and absent themselves from the world."
The film's timely Jihadi bride storyline, says Bidegain, is purely by chance. When he first started the screenplay some five years ago with Noé Debré, he was originally inspired by tales of Jihad linked to the Bosnia War.
The oroginal idea was that it would take place over 15 years, kicking off with the Bosnia War. No-one was talking about the issue when we started developing the film. Then things started popping up int the press," says the writer and director.
"We were scared the subject would eat up the film and that people would think it's a film about Jihad. But if you go thinking you're going to see a film about Jihadists you'll be disappointed - it's not that - if you're going to see a movie about a father looking for his daughter, then you'll get your money's worth."