EXCLUSIVE: Psychological thriller tells the story of a loner who imprisons a girl in a cage.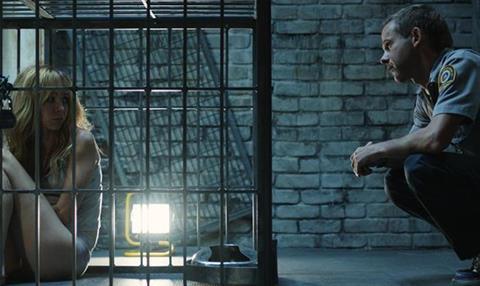 Paris-based genre specialist WTFilms has taken world sales on Spanish director Carles Torrens psychological thriller Pet, starring Dominic Monaghan as a creepy loner who goes to extreme lengths to woo a girl he is obsessed with.
Based on a Jeremy Slater, whose credits include the upcoming The Exorcist TV remake and Fantastic Four, the US-set thriller premiered at SXSW in the Midnight section in March.
Lost and Lord Of The Rings star Monaghan co-stars as Seth, a loner who works in an animal shelter, who is obsessed with former classmate Holly, played by Ksenia Solo. After she spurns his advances he locks her up in one of the animal cages. But Holly is not your average victim, and starts turning tables on her assailant.
Torrens describes the film as "an ironic look at the ruthlessness of today's dating scene young men and women, a cross between Silence Of The Lambs and 500 Days Of Summer." It is his the second feature after Apartment 143.
The film was produced by Revolver Picture Company and Spain's Magic Lantern. WTFilms is selling all territories apart from North America which is handled by UTA Independent Film Group and Paradigm Talent Agency
"Pet is a very smart and twisty thriller which keeps surprising you. It has two important things for me in a genre movie: you never stop caring for the characters, however good or bad they are, and it has a terrific ending. Without spoiling too much, it's easy to say I haven't seen such an interesting female character since Sharon Stone in Basic Instinct" says WTFilms co-chief Gregory Chambet.
Other films on the WTFilms Cannes slate include Jean-Claude Brisseau's Tempting Devils, about a woman who embarks on an erotic journey after discovering a lost cellphone, and Helena Taberna's thriller The Cliff about a promising young attorney investigating the disappearance of his sister following her initiation into a sect.
It is will also show first footage for Christophe Deroo's Sam Was Here, starring Rusty Joiner as a door-to-door salesman travelling through the desert in search of clients, who is mistaken for a child killer. It is the first production Paris-based Vixens.