Dir/scr: Aaron Wilson. Australia-Singapore. 2013. 83mins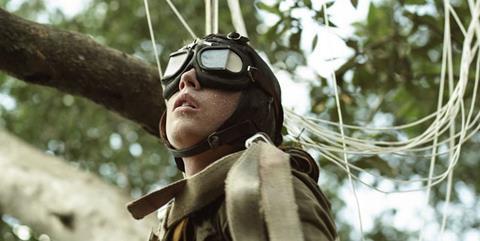 Basically a wordless two-hander, this lost-in-the-jungle wartime thriller relies heavily and effectively on its excellent sound design. As the two stranded combatants — they are virtually boys — struggle to survive under the dense canopy of Singapore's swampy jungle in director Aaron Wilson's debut feature, it's the sounds we hear that provide the historical context and ratchet up the considerable tension. Premiered in the Discovery section at TIFF, the uncommon Australia-Singapore coproduction is a strong contender for international festival showings.
Canopy is a short feature but it delivers authentic suspense and a powerful conclusion.
An opening caption gives the date: 9 February 1942, the day following the devastating 'Fall of Singapore' to a take-no-prisoners advancing Japanese army. Jim (Khan Chittenden), an Australian pilot who has parachuted from his disabled plane, regains consciousness hanging from a tree. Cutting himself down, he begins a directionless slog through the muddy mangrove swamps and thick featureless jungle. Planes dogfight above the canopy, Japanese soldiers stalk below.
When Jim literally bumps into Chinese-Singaporean Seng (Mo Tzu-Yi) the two frightened youths have no means of communication beyond the urgent need to stay clear of their common enemy. It's to director Wilson's credit that the tensions of this simple situation build so relentlessly. Both actors do some powerful close-up work, dripping sweat, tears and, soon enough, blood.
At 83 minutes Canopy is a short feature — and the running time includes a few too many jungle montages, plus a lengthy end roller that shows evidence of the production's successful crowd funding - but it delivers authentic suspense and a powerful conclusion.
The camerawork of Stefan Duscio is impressive: it's his second Australian feature (after the rural drama Galore) to be premiered within weeks. Unusually, it's the terrific soundscape that lingers — aircraft, distant explosions, a Billie Holliday record from Jim's family home, jungle birds, mosquitoes, heartbeats.
Production companies: Finer Films, Chuan Pictures
International sales: Odin's Eye Entertainment
Producers: Katrina Fleming, Aaron Wilson
Executive producers: Shaun Miller, Dao Minh Hung, Lou Yates, Nerida White, Andrew Miles, Anthony King, Craig Hutchinson, Evan Mynard
Cinematography: Stefan Duscio
Editor: Cindy Clarkson
Production designer: Tim Burgin
Website: www.canopythefilm.com
Main cast: Khan Chittenden, Mo Tzu-Yi