Dir: Costa-Gavras. France. 2012. 114mins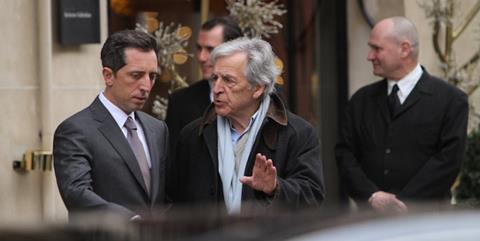 Costa-Gavras is back in familiar form with a bank boardroom thriller in which French finance comes under threat from American invaders. The story is off the rack, but the plotters' suits are well-tailored.
The hero of Capital ends up only slightly less compromised than his elders.
Inspired by the French novel by corporate insider Stephane Osmont, Capital (Le Capital) will be swimming with big fishes as it vies in the marketplace with Wall Street's many children. Interest in the US and UK for such themes in the French language – even with lots of English here - will be limited, and Costa-Gavras's ardent fans are aging. Another risk with any financial melodrama is that it can be overtaken overnight by real events of greater drama. Still, anything by Costa-Gavras has a shelf life.
Capital opens as sex, wealth and power collide. The CEO of Phenix Bank collapses in agony on the golf course. The cause is a testicular tumor. As colleagues gather like vultures, the dying man names a provisional successor, Marc Tourneuil (Gad Elmaleh), a media savvy tactician with a sneer that doesn't change through almost two hours of non-stop backstabbing.
Elmaleh exudes total sang froid as Tourneuil fights to stay at the top, but Costa-Gavras has more in mind than a one-note character study of an embattled French manager targeted for removal on the day he becomes a CEO. Phenix has been acquired by American investors, and Tourneuil's challenge is to keep his bank, corrupt and nepotistic as it might be, from going the way of American institutions that fire employees en masse and starve those who still have jobs.
Costa-Gavras is no stranger to conspiracy tales. This one bobs and weaves with sudden editing to bring some visual movement to dull corporate meetings and to follow the innumerable knives that the unsavory ensemble of financiers stick into each other.
Most of those characters come right off the rack of corporate slime stereotypes. Gabriel Byrne is a greedy cost-cutting investor, determined to call the shots from Miami in a boat filled with bikini-clad girls. Hyppolite Girardot is a weak executive scrambling to avoid the chopping block. The model Liya Kebede plays Nassim, a runway siren without a genuine bone in her body, who strings a willing Tourneuil along. Based on this performance, Kebede doesn't have much acting talent in that beautiful body.
Filmed by Eric Gautier with solid thriller production values, the boiler-plate intrigue does experiment with story-telling. We see explosions of emotions, acted out, that Tourneuil suppresses before he responds with composure. In a meeting of all the bank's employees, an entire wall behind Tourneuil and his team is composed of dozens of video streams of the participants. It's a vibrant effect.
Yet the battle for control of Phenix Bank builds to an unsurprising maneuver that might be called a Margin Call moment, as Tourneuil calls his enemies' bluff when he lets shares drop intentionally.
Costa-Gavras's CEO protagonist is younger and trimmer than his corrupt colleagues, although the uncharismatic Elmaleh isn't helped by his resemblance to the conservative American presidential candidate Rick Santorum or by his efforts to speak in an American accent, which sounds like a Richard Gere imitation.
The hero of Capital ends up only slightly less compromised than his elders. His real nemeses are stockholder demands and an uncontrollable lust for Nassim that might make Dominique Straus Kahn blush (or chuckle) in at least one scene.
More than suggesting it, Costa-Gavras is bludgeoning the audience with the message that executives can't be expected to preserve their values, given the system in which they're working. His movie doesn't tell us much more than that, and a lot less than what we can read in the newspaper.
Production companies: KG Productions, France 2 Cinema
International sales: Elle Driver, www.elledriver.fr
Producers: Michele Ray-Gavras
Screenplay: Jean-Claude Grumberg, Karim Boukercha, Costa-Gavras, based on a book by Stephane Osmont
Cinematography: Eric Gautier
Editors: Yannick Kergoat, Yorgos Lamprinos
Music: Armond Amar
Main cast: Gabriel Byrne, Gad Elmaleh, Natacha Regnier, Céline Sallette, Liya Kebede, Hyppolite Girardot, Daniel Mesguich, Bernard Le Coq