Dirs: Anthony & Joe Russo. US. 2014. 136mins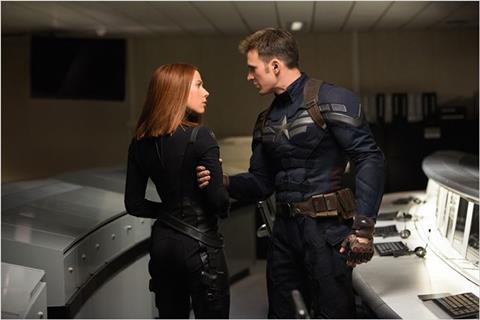 An action-packed sequel that is closer to an 1970s conspiracy thriller than a muscle-bound superhero effects-driven romp, the much-anticipated Captain America: The Winter Soldier delivers big-time in terms of thrills and entertainment and should deliver hefty returns as one of the first genuine tent-pole releases of the year.
Captain America: The Winter Soldier may surprise out-and-out action fans with its subtle conspiracy plotting and wealth of extra background information lurking around the edges but it is a deceptively smart film that also really delivers some seriously cool fantasy adventure.
Hot on the heels of Captain America: The First Avenger and Avengers Assemble (plus a wee 'blink-it-and-you'll-miss-it' cameo in Thor: The Dark World) the film consolidates the Captain America franchise to great effect. That fact that he is a patriotic hero without a cape, metal suit, hammer or really spectacular superhero powers makes him all the more accessible to audiences…plus this time round he is formerly teamed up with the lithe and lethal Natasha Romanoff aka Black Widow (Scarlett Johansson), which helps its marketing push more than a little.
Running well over two hours – and in effective 3-D – the film mixes wonderfully staged action sequences with old-fashioned conspiracy drama (the casting of Robert Redford helps consolidate the link, given his lead roles in films like Three Days Of The Condor) and with its strong support cast and astutely structured story it should appeal to Marvel fans. In truth without the larger-than-life 'superhero' element its storyline could as easily have been a Bourne movie as it ruminates on identity, loyalty and betrayal while also layering in a goodly amount of gunfire, explosions and general mayhem.
The film very much carries on from the climax of Avengers Assemble. Just as in Iron Man 3, where Tony Stark/Iron Man is suffering from the after-effects of the alien invasion of New York, so in Captain America: The Winter Soldier Steve Rogers/Captain America is still adjusting to a modern world (he was frozen in ice since World War II after all) with the serviceman in him pledging loyalty to protection agency S.H.I.E.L.D., but finding it hard to come to grips with the organisation's innate lack of transparency and duplicitous nature.
As film opens, Cap is still the loyal soldier, heading off on another mission for S.H.I.E.L.D. to try and rescue hostages on board a S.H.I.E.L.D. ship. It is a smartly directed sequence that reinforces the fact that Cap has extended his martial arts skills and allows a little banter between him and the Black Widow. It also sees him display his fighting skills against lethal French mercenary Batroc (Georges St-Pierre) – or 'Batroc The Leaper' as he was in the comic books – in a beautifully choreographed scene.
But after the mission he starts to doubt S.H.I.E.L.D., despite reassurances from director Nick Fury (Samuel L Jackson, the glue the binds together so many of the Marvel films) that a plan to develop a new defense system – essentially three heavily armed helicarriers, named Project Insight - is needed, he feels he is being misled and perhaps manipulated. But after an attack on S.H.I.E.L.D., and Fury in particular, Cap and Black Window find themselves on the run and have to find a way to get to the bottom of an increasingly deadly conspiracy while fighting for their lives every step of the way.
With the resurgence of an old enemy from his WWII days, Cap and Black Widow also find themselves under attack from The Winter Soldier, a shadowy and lethal character who has killed for decades, has his face covered and sports a metal arm. In a desperate need for help, Cap turns to Sam Wilson (Anthony Mackie), a former soldier he has met and who handily once used special flying equipment – called Falcon – for search and rescue and is happy to join up again.
Without revealing too much about the conspiracy, just let it be said that Cap and his friends have to find a way to stop world domination by a deadly organisation, setting the scene for a thrilling and exhilarating showdown inside S.H.I.E.L.D. headquarters as many are called upon to show their true allegiance. In a lovely reference to the past, Cap even has to steal his old WWII costume from a museum for the battle…time to show his true colours indeed.
Co-directors Anthony and Joe Russo (the brothers were born a year apart), whose previous work in includes Welcome To Collinwood and Arrested Development, have taken to the grand scale of the film with aplomb, allowing for pauses in amidst the action and explosions and structuring the film at a pace that allows the story to properly develop and for support characters not to get lost.
The casting of Robert Redford as Alexander Pierce, a senior leader within the S.H.I.E.L.D. organisation and head of the World Security Council, helps add gravitas to proceedings. He is a suit-and-tie leader, driven and intelligent, with Redford showing he can bring his own brand of charisma to hold his own in amongst the leather suits, explosions and gunplay. The film also allows a bigger role for Samuel L Jackson as Nick Fury is explored in greater depth and shows he is no simple bombastic leader.
Chris Evans – as we well know – has just the right amount of square-jawed enthusiasm to play Captain America. Plus he looks ripped and absolutely convinces as a honourable man caught up in a dishonourable business. His relationship with Black Widow is delightfully handled – flirtation but no romance – with Scarlett Johansson at ease in a role that is getting more and more complex the more films she features in. Anthony Mackie is perfect as Sam Wilson, not so much a superhero partner as the character was in the comic books, but more a man driven by similar values to Captain America.
The hefty support cast all have moments to shine – Cobie Smulders makes a welcome return as Agent Maria Hill; Emily VanCamp (from television's Revenge) is striking as possible Cap love interest, Agent 13, and Jenny Agutter has a wonderfully surprising action scene – and the film smartly never forgets its roots, and expertly emphasises its links to Cap's World War II origins with brief cameos from Hayley Atwell and Toby Jones.
No Marvel superhero film is complete without the odd credits sting or two. Without revealing too much, the first – mid-credits sting – will excite fans of The Avengers comic books and foster anticipation for 2015's Avengers: Age Of Ultron, while the post-credits closer simply reinforces the fate one of the characters. Captain America: The Winter Soldier may surprise out-and-out action fans with its subtle conspiracy plotting and wealth of extra background information lurking around the edges (check out Cap's notebook, or spot a quick reference to Stephen Strange aka Doctor Strange), but it is a deceptively smart film that also really delivers some seriously cool fantasy adventure.
Production company: Marvel Studios
Distribution: Walt Disney Pictures
Producer: Kevin Feige
Executive producers: Louis D'Esposito, Alan Fine, Victoria Alonso, Michael Grillo, Stan Lee
Screenplay: Christopher Markus, Stephen McFeely
Cinematography: Trent Opaloch
Editors: Jeffrey Ford, Matthew Schmidt
Production designer: Peter Wenham
Main cast: Chris Evans, Scarlett Johansson, Samuel L Jackson, Robert Redford, Sebastian Stan, Anthony Mackie, Cobie Smulders, Frank Grillo, Emily VanCamp