Studio 7 showed off its new Virtual Camera System to journalists and industry on Friday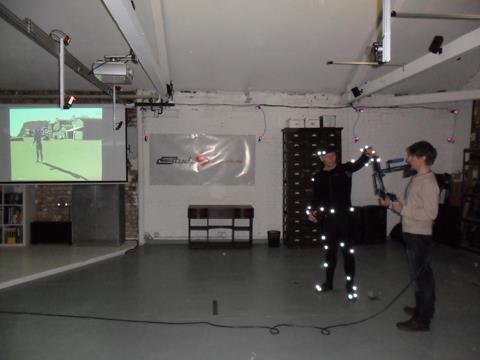 Recently re-launched motion capture facility Studio 7 invited us down to a demo of their cool new virtual camera system and motion capture kit today.
It's not exactly Avatar scale but it was fascinating to see one of only two such cameras available for hire in the UK in operation.
The subsidiary firm of Shoreditch-based production outfit Atticus Finch took delivery of the motion capture system last week, including full body system, face capture and a data glove for capturing finger movement.
The VCS allows animators to physically bring a camera into their virtual environment, tracking their real camera moves from within an animated scene. Directors and animators can therefore shoot extra scenes in post production without having to actually go back and shoot.
The camera has already been much in demand and Studio 7 has been working with it on the new George Michael video. A relatively small space, the studio's clients are primarily in the animation and video world, but films could be an area it moves into. And it's always interesting to check out expanding production companies operating outside the Soho golden mile.