GUEST BLOG: Nneka Luke, external relations director at the trinidad+tobago film festival, on why Cannes showed there are reasons to be cheerful in the Caribbean.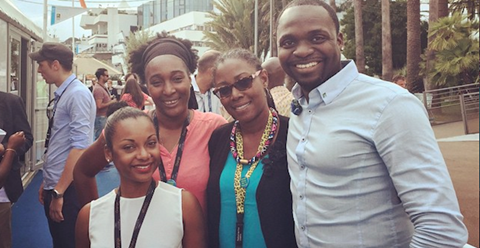 Representatives from Guadeloupe, Martinique, Trinidad and Tobago, Jamaica, the Dominican Republic and Cuba brought the blazing Caribbean sun to the Croisette for the 68th edition of the Cannes International Film Festival.
In the last ten years, efforts to establish more formalised film industries in several Caribbean countries have been gathering steam.
How? Through the creation of production incentives and activity to attract foreign productions (Trinidad and Tobago, Dominican Republic, Guadeloupe, The Bahamas); the establishment or revival of film festivals (Trinidad and Tobago, Dominican Republic, Bahamas, Curaçao, Aruba, with new festivals in Jamaica and St Lucia in 2015); the creation of film degrees and workshops; and through the sheer will of talented Caribbean filmmakers to create interesting work with limited support.
While Cuba has been light-years ahead – hosting the largest and oldest film festival in the Caribbean through the Havana International Film Festival and already putting Cuban film on the world map – other countries in the region have suffered from many hindrances to progress.
But there are signs that the Caribbean is consolidating for greater success in the future.
The trinidad+tobago film festival (ttff) provides a platform for the development of Caribbean and diaspora filmmakers through an increasingly robust industry programme, while simultaneously developing local audience tastes for home-grown, Caribbean and world cinema.
At this year's festival, which will run from September 15-29, the Caribbean Film Mart and Caribbean Film Database will be launched.
This is a timely and welcome development. FEMI in Guadeloupe welcomes the French market every March to expose them to films from the French, English and Spanish Caribbean, while programming international festival and Oscar-winning hits to audiences across the island.
The Dominican Republic has invested heavily in the establishment of a big-budget-style industry on home soil, while travelling to festivals worldwide to promote their benefits and growing dominance in this area.
And in Curaçao they have benefitted from the professional experience and art house cachet of the International Film Festival Rotterdam in the creation of a festival there that not only screens international films, but also supports Caribbean filmmakers through a special award.
And while individual work continues, these and other countries are also acknowledging the value of pooling resources.
In the last two years, both the Caribbean Association Of Film Festivals and the Caribbean Association Of Film Commissioners have been formed. There have been ongoing visits to each other's film festivals, resulting in closer professional relationships and better understanding of each other's film landscapes.
The presence of the Caribbean in Cannes this year therefore felt like the right moment to externalise our intent to join forces.
I was there to promote ttff, to unearth new opportunities for Caribbean filmmakers, to meet sales agents for films, to continue to extend the ttff network and to meet potential guests for the 10th edition in September.
Priscilla Delannay of FEMI and Patricia Monpierre and Marie Claude Pernelle of APCAG – both from Guadeloupe – and Steve Zebina of Rencontres Cinéma from Martinique were there to see films and meet with partners and distributors.
The Dominican Republic, with film festival director Omar de La Cruz and Film Commissioner Yvette Marichal, hosted a stand in the International Village where they welcomed the world to explore the opportunities for producing films in their country.
Apart from these Caribbean film administrators, several Caribbean filmmakers also made their presence felt on the Croisette: Jil Servant and Maharaki from Martinique, Yanilis Perez and Natalia Cabral from the Dominican Republic, Claudia Calviño from Cuba and Adjani Salmon from Jamaica all took advantage of the opportunities in Cannes to shop and promote their projects.
While there is a lot of work to do in all these countries to establish successful, thriving and beneficial film industries, the signs are certainly heartening.
There is increasing understanding at government level of the importance and value of creative industries and private companies are beginning to see brand integration and support for local films as viable.
Furthermore our international network of support, encouragement and resources continues to expand and there is an emerging group of promising Caribbean filmmakers who will provide the stories and content that will put us on the world stage.
The future is indeed bright for Caribbean cinema.
Nneka Luke is pictured in main photo second from right. L-R: Priscilla Delannay, FEMI film festival; Patricia Monpierre, APCAG; Luke; Bahamian filmmaker and 'The Cinema' series host Travolta Cooper.
ttff is scheduled to run from September 15-29 this year.