Dir: Adam Blaiklock. Aust. 2010. 92mins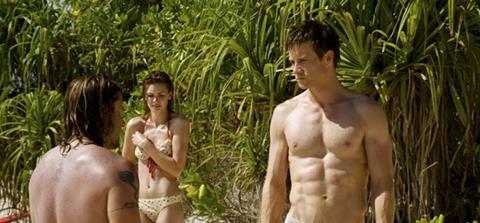 This small-scale, lost-at-sea-with-a-maniac thriller made its mark in the 'Freak Me Out' genre section of the Sydney Film Festival. A self-funded independent production, it's the confident debut feature from established commercials and short film director Blaiklock.
This handsomely shot movie looks set to punch beyond its weight.
There's a yacht-load of good actors - especially the 'Monster' and the 'Damsel In Distress' character - and the tense situation is well established with the breathless climax delivering plenty of thrills, though perhaps not as much blood and gore as modern genre fans have come to expect. With Darclight signed as world sales agent and interest coming from international festivals, this handsomely shot movie looks set to punch beyond its weight.
The Hedonist, a beautiful ocean-going yacht, heads for the Maldive Islands in the equatorial Indian Ocean with a party of six Australians on a 12-day chartered cruise of renowned surfing sites at remote islands. The captain (Peter Phelps) reminds them that on board he is the dictator.
The two women holidaymakers are the only non-surfers: practical Alex (Leeanna Walsman) is making a video documentary of the cruise; glamorous Sam (Daisy Betts) is escaping a bad online experience where her privately videoed striptease was leaked to MySpace and scored over a million hits. Standing out from the men is Bull (Ben Oxenbould), a mighty-muscled, lank-haired misfit, at first apparently sweet-natured and helpful, but soon revealed as a sociopath and stalker with a volcanic temper.
Oxenbould is terrific as the King Kong of this island paradise, and Betts is nicely equivocal as the potential victim who sometimes enjoys employing her sexual attraction. A climactic meal scene where the fearsomely calm Bull serves up uncooked fish is particularly powerful. The actors clearly do their own surfing in some rousing on-and-under-the-waves sequences.
Production company: Flying Fish Corporation
International sales: Darclight Films
Producers: Paul S. Friedman, Adam Blaiklock
Screenplay: Joe Velikovsky, Matt Tomaszewski, Adam Blaiklock
Cinematography: Damian Wyvill
Production Designer: Eli Faen
Editor: Lou Kan
Music: Tom Schutzinger
Main cast: Ben Oxenbould, Daisy Betts, Leeanna Walsman, Simon Lyndon, Harry Cook, Sam Lyndon, Harry Cook, Peter Phelps