Dir: Diego Luna. US. 2103. 101mins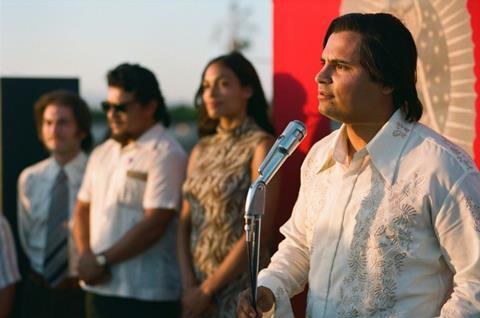 With a documentary and feature behind him, and having his own, busy production company Canana, Diego Luna's career as a multi-hyphenate filmmaker has been shaping up nicely. That said, Cesar Chavez, his sophomore feature as director, playing in the Berlinale Special, is hardly a step forward.
Luna's approach, complete with archive material, suffers from dry fidelity. Perhaps this ought to have been a documentary.
A biopic of renowned trade union leader and civil rights activist Cesar Chavez, it's a committed but lifeless affair, seriously hampered by a stolid lead. And while it has a US release in March, its commercial potential there and elsewhere must be limited. The film charts the five-year period in the 1960s during which the Mexican-American Chavez (Michael Peña), successful organised migrant farm workers in the California vineyards.
He starts by forming a credit union, slowly encouraging the scared and vulnerable workers to muster the courage to unionise and fight for their rights. The growers have no intention of bowing to the demands, resorting to numerous dirty tricks to undo the new union; they also have the local sheriff in their pocket.
But Chavez's imagination starts to turn the tide. A 300-mile "pilgrimage" across the state by striking workers draws media attention, as does his decision to go Ghandi, fasting until the angrier members of his new union agree to non-violent protest. Most effectively, he campaigns for a boycott, discouraging millions of Americans from buying table grapes.
Throughout this, we see major American politicians help or hinder. Robert Kennedy proves a passionate advocate for their cause; but on becoming president, Richard Nixon predictably throws the growers a lifeline by buying their grapes for the military and exporting them overseas. Even here, Chavez turns the topsy-turvy battle his way by visiting Europe and finding support for his boycott.
Chavez's chief adversary is the intransigent grower Bogdanovich (played with unusually reined-in malice by John Malkovich), an immigrant himself, from Croatia, but with the lack of compassion that sometimes comes from self-made men. America Ferrera plays Chavez's wife and fellow-activist, Dolores Huerta. Chavez's avoidance of his parental duties, particularly towards his eldest son, forms the film's emotional undercurrent.
This is an important chapter in US labour history, which only adds to the disappointment of its telling, which is chronological, apparently sticks rigidly to the record, and edited without vigour; the changes in fortune on the way to union recognition are managed in so lacklustre a fashion that they become tiresome rather than dramatic. Peña pretty much sleep walks through the whole thing.
One thinks of Ken Loach's Bread And Roses, based on the real-life fight for better pay and conditions by immigrant cleaners in the US. By fictionalising the events, Loach and his scriptwriter Paul Laverty injected some useful personality and melodrama into the mix. Luna's approach, complete with archive material, suffers from dry fidelity. Perhaps this ought to have been a documentary.
Production companies: Canana, Image Nation, Participant Media, Dream Management & Entertainment, Mr Mudd
International sales: IM Global, www.imglobalfilm.com
Producers: Pablo Cruz, Diego Luna, Lawrence Meli, Keir Pearson
Screenplay: Keir Pearson, Timothy J. Sexton
Cinematography: Enrique Chediak
Editors: Miguel Schverdfinger, Douglas Crise
Production designer: Ivonne Fuentes
Music: Michael Brook
Main cast: Michael Peña, America Ferrera, John Malkovich, Rosario Dawson, Jacob Vargas, Wes Bentley