Dir: Phil Traill. UK. 2011. 96mins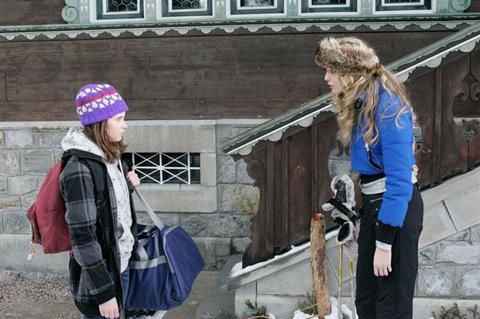 There's a lot of snowbound fun to be had in the engaging British rom-com Chalet Girl, which confirms the leading-lady qualities of Felicity Jones (who received much kudos for her role in Sundance success Like Crazy) and shows that that the old-fashioned romance'n'romping in the snow movie genre still has a lot to offer.
Chalet Girl feels engagingly old-fashioned in the great comedy traditions of the Ealing comedy.

The film opens in mid-March in the UK, and should well appeal to other territories fond of British comedies and appreciative of the good-looking young cast. The sublime comedy talents of Bill Nighy also help give the film a bit of extra class.

The film rather stumbles in the opening scenes to get to get its right sense of momentum, but once it hits the snowy slopes it finds an easy sense of fun and occasional sophistication in amidst the obligatory tumbles on the piste and pratfall comedy moments.

When she was a youngster, Kim Matthews (Felicity Jones) was a skateboarding prodigy, but when her mother died in a car crash she gave it all up. Two years later and Kim is working in a fast food restaurant, but urgently needs cash to help out her depressed dad (comedian Bill Bailey).
Against all of the odds, she wangles a job as a chalet girl - cooking and cleaning in a private, super-expensive chalet in the stunningly beautiful ski resort of St. Anton.

She is welcomed with less-than-open arms by glamorous chalet girl Georgie (Tamsin Egerton, who gets better and better) who helps look after the home, and who grudgingly shows her the ropes. Before long she is helping host the wealthy owners the Madsen family - banker Richard (Bill Nighy), his wife Caroline (Brooke Shields) and son Jonny (Gossip Girl star Ed Wetswick) - and their friends, and increasingly confused by their lifestyle.

When they go off skiing, Kim decides to try her hands at snowboarding. After all, she skateboarded…how hard can it be. After plenty of collapsing into the snow, she is eventually shown the ropes by crazy Finn Mikki (Ken Duken), and to their surprise gradually begins to show that she is something of a natural.

She enters the resort's biggest snowboarding competition, and as the event grows closer also starts a tentative romance with Jonny. Just as if it looks as if her life is changing, his parents force Jonny into announcing his engagement to society girl Chloe (Sophia Bush). Naturally enough, there are some romantic twists-and-turns before the climactic snowboarding event.

Felicity Jones makes for a charming and feisty lead - nicely playing up the working-class girl characteristics, bemused and sarcastic about the antics of her posh bosses, but also blossoming as a confident individual and a would-be snowboarding star. Also excellent is Tamsin Egerton (who starred in both of the St Trinians films), brimming with sexuality but also warm and funny as the more sophisticated chalet girl.

The film is at its best out on the slopes and in the first half as Kelly struggles to get used to her new environment and environment. Oddly Ed Westwick and Felicity Jones never quite click as a would-be couple, though given the rom-com element isn't the real driving force of the film this doesn't impact on the pace or fun. Bill Nighy - as usual - gets the very most out of his comic lines, while Brooke Shields is perfectly cast as his bitchy trophy wife.

Chalet Girl, despite its young cast and snappy direction, feels engagingly old-fashioned, in the great comedy traditions of the Ealing comedy. Fun, frothy and with a smart cast, it is enjoyable entertainment with no real cinematic pretentions…and all the better for it.

Production companies: CrossDay Productions Ltd., Kaleidoscope Films, Neue Bioskop Film, Prescience
International sales: Metropolis International sales, www.metropolis-sales.com
Producers: Pippa Cross, Harriet Rees, Dietmar Guntsche, Wolfgang Behr
Executive producers: Tim Smith, Paul Brett, James Swarbrick, Anthony Day, Reno Antoniades, Ralph Kamp, Phil Hope, Dan Shepherd
Screenplay: Tom Williams
Cinematography: Ed Wild
Editor: Robin Sales
Production designer: Benedikt Herforth
Music: Christian Henson
Website: www.facebook.com/chaletgirl
Main cast: Felicity Jones. Ed Westwick, Tamsin Egerton, Ken Duken, Sophie Bush, Bill Bailey, Brooke Shields, Bill Nighy