Dir: Burr Steers. US. 2010. 99mins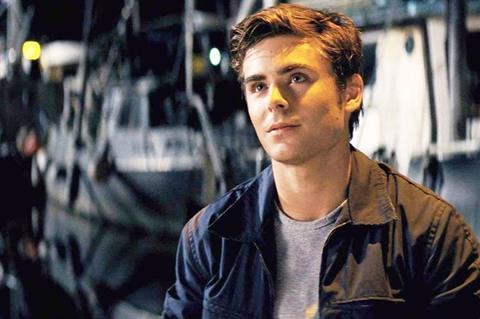 Adapted from a novel by Ben Sherwood, Charlie St. Cloud is a passably effective melodrama that should play like catnip to its star's core female audience but hardly anyone else. An inoffensive, worshipfully photographed, yet at times dramatically stolid interpretation of swelling adolescent feeling, the movie wrings maximum consequence out of Zac Efron's dewy-eyed, cherry-lipped, pin-up sensitivity.
Efron and Crew each deliver solid performances, and have a nice rapport together.
The fantasy comedy 17 Again and the third installment of the High School Musical series each connected heartily, especially internationally, but this movie — much more a traditional star vehicle — will test Efron's drawing power overseas. Universal will be hoping that the film tracks along the line of fellow sensitive-guy literary adaptation Dear John ($80 million domestic, $32 million abroad).
Five years after the death of his 11-year-old brother Sam (Charlie Tahan) in a tragic accident, once-promising Charlie (Efron) has given up his college scholarship and his dreams of sailing. Instead, he tends the grounds at the local cemetery, and every day at sunset treks to a secluded spot in the woods, where he plays catch and chats with Sam, whom he still sees. As an ex-high school classmate, Tess Carroll (Amanda Crew), prepares for a long open-sea race, Charlie finds himself drawn into a relationship with her, and torn between seeing where it leads and sticking to his commitment to Sam.
Efron displayed nice range in Richard Linklater's regrettably underseen Me And Orson Welles, but this film asks less for any heavy emotional lifting than just the teen-friendly, peddled pantomiming of same. Ergo, Charlie St. Cloud features plenty of pensive stares and onion tears, but little in the way of gripping drama.
This isn't to say that the film comes across as wildly phony. It's just all very familiar. There's one minor twist, arriving like clockwork two-thirds of the way through the movie, but otherwise nothing to quicken a pulse or raise an eyebrow.
Efron and Crew each deliver solid performances, and have a nice rapport together. Enrique Chediak's cinematography tips the movie's hand early on; the lighting isn't always naturalistic, but instead designed to bathe its two attractive stars in warm hues, and pump up the heartthrob factor.
Director Burr Steers (Igby Goes Down, 17 Again) tries to slip in a few curveball moments, but just as often as not they're a bit tonally jarring, as with some boisterous, thunderstorm-set merriment between Charlie and Sam set to the Ramones' "California Sun."
Composer Rolfe Kent, who has previously delivered some indelible scores, including for Sideways and Up in the Air, doesn't let an instant pass without underlining in sweeping fashion the targeted emotion of the moment.
Production companies: Universal Pictures, Relativity Media, Marc Platt Productions
Domestic distribution: Universal Pictures
Producer: Marc Platt
Executive producers: Michael Fottrell, Ryan Kavanaugh, Ben Sherwood, Jared LeBoff
Screenplay: Craig Pearce and Lewis Colick, based on the novel The Death and Life of Charlie St. Cloud by Ben Sherwood
Cinematography: Enrique Chediak
Production designer: Ira Random
Editor: Padraic McKinley
Music: Rolfe Kent
Main cast: Zac Efron, Amanda Crew, Charlie Tahan, Augustus Prew, Donal Logue, Ray Liotta, Kim Basinger