Dir: E.L. Katz. US. 2013. 88mins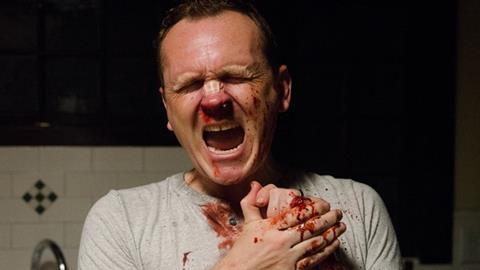 A shaggy dog story (a guy walks into a bar …) which turns into a 'conte cruel', Cheap Thrills has the sort of neatly twisted premise which used to be tailored for Alfred Hitchcock Presents episodes, but is has a very contemporary undercurrent as its horrors arise from the widening gap between rich and poor in America.
The story, informed by the reality TV stunt craze, links that brand of exploitative abasement to the current, desperate state of anyone in America who isn't rich.
It trails associations with an emergent generation of interesting genre filmmakers: co-screenwriter Trent Haaga (who wrote with David Chirchirillo) has been an actor in low-budget, sometimes ambitious horror films (The Ghouls, Bonnie & Clyde vs Dracula) and written a Toxic Avenger movie and the admired-by-some Deadgirl, while debuting director E.L. Katz scripted Autopsy and got a thanks on The House Of The Devil.
The cast includes a cameo for Amanda Fuller, from Red, White And Blue and Creature, but also reteams (in very different roles) the stars of The Innkeepers, Pat Healy and Sara Paxton, and gives Ethan Embry and David Koechner more to play with than their more mainstream credits. The film has played at several genre festivals, and screens in the UK at FrightFest.
Craig (Healy) needs to cover the rent and support his wife Audrey (Fuller) and new baby. Spurred by an eviction notice, he asks his boss at the garage where he works as a low-level mechanic for a raise. only to be regretfully laid off. He decides to have a stiff drink before giving the bad news to Audrey and is slapped on the back by Vince (Embry), a high school skateboarding buddy who has become a bruised-knuckles debt collector.
Vince corrals Craig into a reunion bender, though it's plain that they didn't get on in school – Craig stayed on and nurtured hope of being a writer while Vince cut up and dropped out. They are picked up by Colin (Koechner), a coke-snorting, glad-handing, jovial rich guy with a calculating tease of a wife, Violet (Paxton).
Colin starts laying out cash for pranks – offering the economically distressed guys hundreds of dollars for slapping a stripper's ass or punching a bouncer. The party goes back to Colin's apartment, where a battered Craig is persuaded by an excited Vince to attempt a heist that's undone because the flabby-seeming Colin is a martial arts expert.
However, rather than call the cops, Colin ups the stakes and suggests more and more gross, self-harming, dangerous or odd stunts with bigger and bigger cash prizes. When Vince sucker-punches Craig to win a hold-your-breath contest, hostility between the two escalates, and goes into overdrive when it's Craig who gets paid to have sex with the detached, creepy Violet.
Underlying all this is the fact that the two guys have unfairly ended up in the same boat – trying hard at school and having ambitions didn't get Craig in a better life situation than loser-from-the-off Vince – and will turn on each other to net cast-off cash (much of it literally bloody). Some of the stunts are comically gross (aptly paying back a neighbour whose dog fouls Colin's garden), but others are just cruel (when Colin offers Vince $25,000 to cut off his own finger, Craig underbids him …).
The ultimate contest – which is perhaps guessable – is capped with a subtle punchline as Colin, having spent hundreds of thousands of dollars, peels off a fifty to settle a side-bet. The story, informed by the reality TV stunt craze, links that brand of exploitative abasement to the current, desperate state of anyone in America who isn't rich.
Koechner, usually a comic boob, is a genial villain, the modern incarnation of Roald Dahl's 'Man From South America'; he keeps the horrors amusing even as the character business begins to bite. Healy and Embry don't descend into caricature as the good guy who goes bad and the bad guy who goes worse.
Production companies: Snowfort Pictures, New Artists Alliance
Producers: Gabriel Cowan, Travis Stevens, John Suits
Executive producers: Curtis Raines, Jonathan Schurgin, Gena Wilbur
Screenplay: David Chirchirillo, Trent Haaga
Cinematography: Andrew Wheeler, Sebastian Wintero
Editor: Brody Gusar
Production designer: Melisa Jusifui
Website: www.facebook.com/CheapThrillsMovie
Music: Mads Heldtberg
Main cast: Pat Healy, Ethan Embry, Sara Paxton, David Koechner, Amanda Fuller