Dir/scr: Jon Favreau. US. 2014. 115mins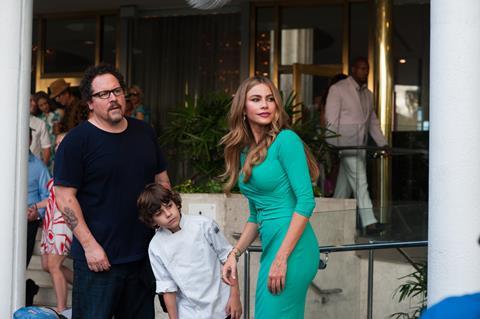 There is life after caviar in Chef, Jon Favreau's food farce about a trendy cook being forced downmarket. The ensemble comedy, built around Favreau as a celebrity chef done in by his restaurant owner (Dustin Hoffman) and a nasty food blogger (Oliver Platt), has so many marketing buttons to push that its audience won't be limited to Favreau fans.
Chef can seem like a reheated mid-budget studio comedy, yet the light Favreau-and-friends romp (which morphs into a road movie) goes a long way on charm.
The cast of Favreau chums includes Sophia Vergara (the chef's ex) and a brunette Scarlet Johansson (a restaurant hostess), plus a magnificently understated burlesque turn from Robert Downey, Jr., playing an ex of Favreau's ex. John Leguizamo and Bobby Cannavale as sous chefs round out the ensemble that should whet the public's appetite for a star-laden spoof.
Chef is harmless fun with a likeable cast, and enough suggestibility in the food on the screen to boost sales at the concessions stand. The table is set for a strong theatrical opening in North America.
Favreau leads the way as paunchy Carl Casper, famous for adventurous cooking, now divorced from his Latin bride after falling out with a martinet of a restaurant owner (Hoffman) and a worse martinet of a critic (Platt). Broke and hungry, he accepts to travel with his gorgeous ex-wife to Miami as nanny to their son (Emjay Anthony). There his ship comes in, in the form of a decrepit food truck, which Casper and pal Leguizamo spruce up, stock with Cuban food, and drive West through New Orleans and Austin with waiting customers at every stop.
Complete with a chocolate cake contretemps that reminds you of Stanley Tucci in Big Night, Chef can seem like a reheated mid-budget studio comedy, yet the light Favreau-and-friends romp (which morphs into a road movie) goes a long way on charm. Neither its food gags nor its dialogue show Favreau at his best (nor does a cloying father and son sub-plot), and its nod to social media's role in fueling culinary trends is a table scrap thrown out to seem current. The acting and camaraderie, however, give the comedy the infectious appeal of vaudeville performed by a troupe that's having fun together.
Don't expect the gastronomic wit of Michael Winterbottom's two versions of The Trip with Steve Coogan and Rob Bryden or the whimsy of Roddy Doyle's The Van, another food truck folly.
Yet Johansson has the languorous feel that keeps customers coming back more than the food does (an open secret in the business), and Vergara, although under-supplied with clever lines, conveys the frustration of a marriage with a mad foodie whose real interest is his stomach.
Chef has the generic look of a mid-budget commercial comedy, with the added flavoring of cinematographer Kramer Morgenthau's flair for filming food. The soundtrack comes alive when the story hits the road, with music from Miami, New Orleans and Austin fueling a party atmosphere.
No one will bust a gut watching Chef, but the low-budget warmth of its cast makes it a lot easier to swallow than Favreau's unwieldy Cowboys And Aliens. Small and mildly satisfying, it leaves you wanting more.
Production companies: Open Road Films, Aldamisa Entertainment, Kilburn Media, Fetisov Teterin Films, Fairview Entertainment
International sales: Aldamisa Entertainment jhausfater@aldamisa.com
Producers: Jon Favreau, Sergei Bespalov
Executive producers: Karen Gilchrist, Molly Allen, Mark C. Manuel, Ted O'Neal, Gleb Fetisov, Oleg Teterin, Marina Bespalov, James D. Brubaker, Jere Hausfater, Philip Elway, Tim Smith, Paul Brett, Anne Sheehan, Jerry Fruchtman, Peter Fruchtman, Craig Chapman, Boris Teterev, Scott Steindorff, Dylan Russell, Jason Rose
Cinematography: Kramer Morgenthau
Editor: Robert Leighton
Production designer: Denise Pizzini
Main cast: Jon Favreau, Sofia Vergara, John Leguizamo, Scarlett Johansson, Dustin Hoffman, Oliver Platt, Bobby Cannavale, Amy Sedaris, Emjay Anthony, Robert Downey Jr