Dir: Marjane Satrapi & Vincent Paronnaud. France. 2011. 91mins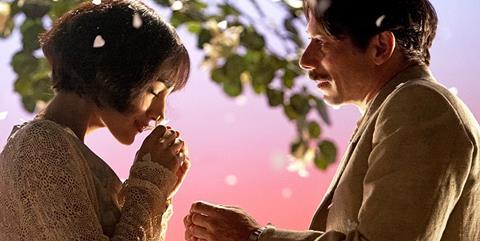 Delight and boredom vie for supremacy while watching Marjane Satrapi and Vincent Paronnaud's pretty but ultimately empty follow-up to their breakout animated feature Persepolis. Paradoxically, that cartoon was more of a dramatic film, while this live-action feature about a Persian violinist who reviews his past life and great lost love as he pines to death in bed is more the whimsical cartoon, the cinematic doodle. There's still plenty to like here along the way, not least the stylised Arabian Nights mise en scene, which uses painted backdrops and animated sequences to give the film a fairy-tale veneer of Persian romance.
Chicken With Plums fails to make a convincing case for its own cinematic adaptation.
But although it has similarities to the work of Jean-Pierre Jeunet, this period tale is never going to be Amelie in Tehran. The directors seem unable to get very far away from their source material - Satrapi's own graphic novel Chicken With Plums. So many of the things that work in the book - flashbacks and flashes forward, a mix of character and caricature, the protagonist's existential meanderings - serve only to weigh down the film's dramatic movement and freshness. In the end, for all the film's wry humour, magic-carpet moments of visual ravishment, seductive Persian fatalism and tugs at the heartstrings, Chicken With Plums fails to make a convincing case for its own cinematic adaptation.
Perhaps the core script problem lies in the graphic novel's premise and the film's central conceit. One day in 1958, Nasser Ali Khan (Amalric), a talented Iranian violinist, decides to take to his bed in the Tehran apartment that he shares with his schoolteacher wife Faringuisse (De Medeiros) and two small children Cyrus (Bour) and Lili (Balland). Life no longer holds any meaning for him, and he is determined simply to pine away until he dies. We watch him do so over the following eight days.
However colourful these days are made by dreams of Nasser's past, present and future, many of them presented in seductive hyper-real or animated insets, they never really awaken our interest in a story whose end is revealed at the beginning, or a main character whose selfish gesture is never quite made okay by the fertility of his imagination. Neither is his broken heart of much use to the audience as a dramatic motor - as its causes, in an early love affair with a jeweller's daughter called Irane (Farahani), are revealed only at the very end.
Faringuisse tries to give her man the will to live by cooking him his favourite dish of guess what - but Nasser has never been able to return the love of his shrewish but (in her way) devoted wife, who the violinist was forced to marry by his stern matriarch of a mother (a cameo by Rosellini). His younger brother Abdi (Caravaca), who at school was the model schoolboy to Nasser's disruptive layabout and is now a leading light of the Iranian Communist party, also tries to talk Nasser out of his lazy, lingering suicide, to no avail.
Nasser's kids feature too - his cheeky scamp of a son Cyrus in the film's most delicious Arabian-Night-style fable insert, involving the purchase of a violin from an opium smoking antique dealer (Debbouze, camping it up beautifully). Both are seen in later life, daughter Lili (played now by Mastroianni) as a hard-drinking gambler and nightfly, Cyrus as an Iranian immigrant in the US in a TV soap parody sequence that begins hilarious but ends with a faintly offensive tang. An ironic, avuncular voiceover - revealed late on to be that of Azrael, the Angel of Death - pastes together these episodes as best it can.
The production design, costumes and retro studio sets are ravishing, and some of the more comic, fable-bound episodes - like Azrael's appearance on the scene - do magic the film into a charmed space. For an easy evening in - if you overlook the downer of a man slowly dying and focus on the visuals and Olivier Bernet's lush orchestral soundtrack. - Chicken With Plums may hit the button. But for many, it will be a disappointment after the exhilarating Persepolis.
Production companies: Celluloid Dreams
International sales: Studio 37 & Celluloid Dreams, www.celluloid-dreams.com
Co-production: The Manipulators, uFilm, Studio 37, Le Pacte, Lorette Productions, Film(s), Arte France Cinema, ZDF-Arte
Executive producer: Hengameh Panahi
Screenplay: Marjane Satrapi & Vincent Paronnaud, based on Satrapi's graphic novel of the same name
Cinematography: Christophe Beaucarne
Editor: Stephane Roche
Production designer: Udo Kramer
Music: Olivier Bernet
Main cast: Matthieu Amalric, Maria de Medeiros, Edouard Baer, Eric Caravaca, Golshifteh Farahani, Enna Balland, Mathis Bour, Jamel Debbouze, Isabella Rossellini, Chiara Mastroianni