Dir: Ilinca Calugareanu. UK-Romania-Germany. 2014. 80mins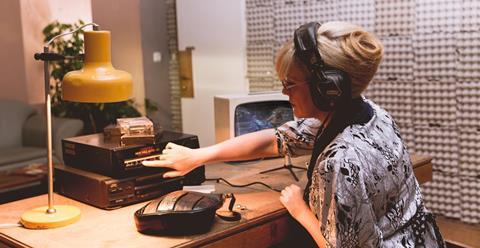 Chuck Norris may have been a down-market movie fantasy, but to Romanians who watched bootleg videos in secret in the waning years of communism, he was a prophet from the forbidden West of big cars, Coca Cola, and cleavage.
Chuck Norris vs Communism fills out the broader picture of how forbidden fruit entered Soviet-dominated Eastern Europe, and how people battled repression and boredom with the materials at hand.
This documentary ode to wish fulfillment revisits the dark days of the dictatorship of Nikolae Ceausescu, yet its warmhearted glimpse into an improbable realm of resistance takes it out of boilerplate Romanian pessimism.
With its campy attention-grabbing title, Chuck Norris vs Communism should be a quirky favorite at festivals and then on television, although subtitles could blunt its impact in the US. Its selective survey of commercial films that cracked Romanian censorship could also win some VOD cult status among young renegade cinephiles who don't know Karl Marx from Carl Reiner.
There are odd affinities with Giuseppe Tornatorre's Cinema Paradiso in this account of how some Romanians imagined and laughed themselves beyond dismal circumstances, thanks to VCRs and VHS videotapes of 1980s action movies.
Secret videos were an escape, but also a window onto a proscribed world which their government despised, say Romanians who look back on that time. They tell of Zamfir, a smuggler who obtained VCRs, which at the time in Romania could cost as much as a house. He and others organised gatherings to watch VHS tapes of mostly commercial films, with dialogue read in one single recorded female voice, the same voice for almost every film – it would become the second best-known voice in Romania, after that of Ceausescu, we're told.
Police were bribed to leave the secret meetings alone – video cassettes were a prized currency. The films also traveled. Like all desirable goods, tenth-generation VHS dubs found their way into the country's hinterlands, and found willing consumers.
The doc's visual texture blends ordinary elements – interviews are filmed in pro forma doc style, low-lit re-enactments reconstitute the monochrome era, and the archival clips of Norris, Sylvester Stallone, Jean-Claude van Damme and company are worse for wear. In that grey time, a clip of Stallone leading children up the steps of the neo-classical Philadelphia Museum – which resembled official Romanian buildings – could have looked like a miracle.
The stories of screen epiphanies, as those watching the films experienced them, are reminders that Romanians in those days were grasping for anything that broke the lock on expression. The results could be comical, as we hear from a man who recalls trying to dress, in Bucharest, like Stallone in Rocky 3 and 4. Some interviewees even seem nostalgic for those moments, although Ilinca Calugareanu's debut film doesn't suggest that watching action kitsch videos enabled a country to will itself out of poverty and repression.
Yet memories of the voice in those videos are vivid evidence of their power of suggestion. Men who were teenagers back then remember Irina Nistor, whom they never saw, as a gorgeous blonde. Some see her as sultry, with dark hair, as they describe how she gave voice to a multitude of characters in the pop culture cosmology.
Nistor, a translator for state television, speaks of asking for a fee per film that would buy her a smuggled Austrian chocolate bar. She went on to translate 3000 films. Her memories of the shady Zamfir also assemble evidence of an unlikely business that reaped profits in Romania's closed society. If the autonomous viewing groups are precursors to protests in 1989, it's suggested, then Zamfir was a pioneer of Romanian capitalism.
That may be a stretch, even by Chuck Norris standards, but Chuck Norris vs Communism fills out the broader picture of how forbidden fruit entered Soviet-dominated Eastern Europe, and how people battled repression and boredom with the materials at hand.
Production companies: Ratpac Documentary Films, Impact Partners, HBO Romania, WDR, Arte Present, Vernon Films, Passion Pictures
International sales: United Talent Agency/Rena Ronson, ronson_r@unitedtalent.com
Producers: John Battsek, Brett Ratner, Dan Cogan Nicole Stott, Jenny Raskin, James Packer
Cinematography: Jose Ruiz
Editor: Per K. Kirkegaard
Music: Anne Nikitin, Rob Manning