Dir/scr: Andrew Adamson. US. 2012. 97mins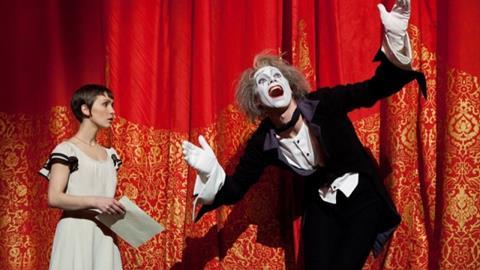 A visually stunning dance and performance treat, the beautifully staged 3-D film Cirque Du Soleil: Worlds Away, which opened then Tokyo International Film Festival and is set to open theatrically before the end of the year, may be too dreamy and surreal to work for family audiences, but for fans of the sheer spectacle of Cirque Du Soleil it will be a welcome cinematic arrival.
For sheer vibrant spectacle Cirque Du Soleil: Worlds Away really does deliver.
With James Cameron on board an as executive producer and Shrek and Narnia director Andrew Adamson handling direction and screenplay (such as there is), the pedigree of the film is clear to see. The 3-D cameras and lush, colourful, cinematography really get inside the amazing physical feats that the Cirque Du Soleil troupe accomplish, leading to a truly immersive dance experience.
There are moments when the ambitious structure gets a little too dreamy and mesmeric, but just when it looks like it is heading into pretentious dance territory the screen suddenly gets electrified by a daringly dynamic piece of performance that exemplifies the Cirque Du Soleil's trademark blend of daredevil athletic physicality and elegantly beautiful dance.
The film opens in a clichéd small-town, where elfin fresh-faced Mia (Erica Linz), clearly an outsider with her short dark hair and white dress in contrast to a pack of fresh-faced blonde girls, visits an intriguingly shabby circus. She becomes obsessed with high-wire performer The Aerialist (Igor Zaripov), but when she catches his eye in mid-performance he falls. She rushes onto sandy rink of the circus, but both end up vanishing down through the sand (down a rabbit hole of sorts in typical Alice in Wonderland style) and to a strange unreal world.
What follow is a visually lavish trip through the weird and wonderful world of Cirque Du Soleil as Mia and The Aerialist encounter a series of people, dancers, beasts and circumstances that allow for some stunning dance performances (plus the music of Elvis and The Beatles) as they try and find a way to meet up with each other.
Adamson shot in 3D at a series of different themed Cirque Du Soleil shows in Las Vegas, as well as shooting linking scenes in New Zealand, and has sensibly constructed the only plot that could work – a journey through the vibrant world of Cirque Du Soleil with the tantalising prospect of love at the end of the journey.
But in truth Cirque Du Soleil: Worlds Away is all about the stunning dance visuals. Sometimes funny (trampolining superheroes for example), often thrilling (amazing high wire acrobatics) and often thrilling (a chase around a massive vertical slab, with performers leaping from one handhold to the next), but always driven by sense of visual splendour and verve.
Though the 3-D is magnificent, it is hard to replicate the sheer physicality and sense of awe and danger that defines each performance, and the concept of linking different shows by its nature tends to mean that some are more impressive than others.
But for sheer vibrant spectacle Cirque Du Soleil: Worlds Away really does deliver. With more than 100 million tickets sold around the world for the Cirque Du Soleil stage shows in 300 cities and six continents there is clearly an audience out there for the brand…the trick will be getting them into the cinema.
Production companies: Cirque du Soleil Burlesco, Strange Weather Films, Reel FX Creative Studios
Domestic distribution: Paramount
Producers: Andrew Adamson, Martin Bolduc, Aron Warner
Executive producers: James Cameron, Jacques Methe, Cary Granat, Ed Jones
3D Executive producer: Vincent Pace
Cinematography: Brett Turnbull
Editors: Sim Evan-Jones, Dirk Westervelt
Music: Stephen Barton
Website: www.worldsaway3d.com
Main cast: Erica Linz, Igor Zaripov