Dir: David D. Kim. US. 2012. 81mins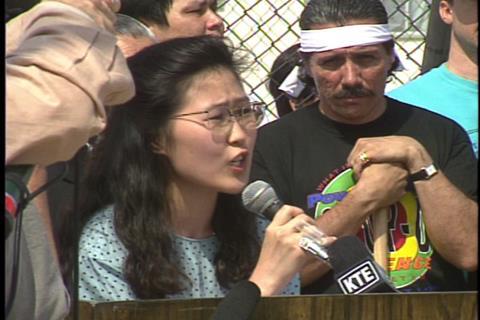 Releasing on the eve of the 20th anniversary of the riots that shook Los Angeles in the wake of the "not guilty" verdict in the police-beating case of Rodney King, documentary Clash Of Colors analyzes the complex political, economic and social factors before, during and after the racially infused catastrophe which claimed 55 deaths, thousands of injuries and more than $1 billion in property damage. Filtered specifically through the lens of the riots' impact on the Korean-American community, the movie — the significance of its subject matter winning out over staid presentation — tells a story often relegated to the sidelines of most mass media accounts of the event.
The crucial context Clash Of Colors provides, however, outweighs its lack of slickness.
Offering up this niche overview, Clash Of Colors is inarguably best suited for ancillary markets, and as an educational aide. Yet it will certainly have lasting resonance with especially Korean-American audiences, as well as those eager to both understand and prevent similar strife and violent flare-ups.
The film's first twenty-plus minutes are devoted to a joint recap of America's dwindling economic prosperity and the factors that led such a large percentage of the Korean immigrant population — more educated than their European immigrant peers of the 1800 and early 1900s, but blocked from many white-collar professional occupations by language barriers — owning small businesses. The movie then addresses tension between the African-American and Korean-American communities, and the media's ill-defined and often harmful packaging of it.
Neophyte director David D. Kim, a lawyer and businessman who was Vice President of the Korean Chamber of Commerce at the time of the riots, assembles an engaging and thought-provoking collection of interview subjects, including author Lou Cannon, ex-Los Angeles Times columnist Bill Boyarsky and former pastor Cecil Murray, among many others.
While critics might dismiss it as canted in focus, the diversity of viewpoints in Clash Of Colors mark it is a serious-minded exploration of race and class in America. Especially interesting is its depiction of how ethnic radio served as a lifeline and de facto command post for the Korean community during the riots, providing valuable information and updates in a miasma of lawlessness.
In its aerial view of the early 1990s recession and the destabilisation of particularly the extremely poor section of South Central Los Angeles before the riots, Kim shines a light on nuance and grey, where others have historically peddled black-and-white absolutes. In this regard, Clash Of Colors strikes a chord as a deceptively simple project with outsized ambitions, similar to Garrett Scott's 2002 docu-feature Cul de Sac: A Suburban War Story, which focused on the decades-long suburban decay and rise of methamphetamine use and their relationship to a 35-year-old plumber who infamously stole a tank from a National Guard Armory and went rampaging through the streets of San Diego.
Production value is fairly meager throughout, with interview subjects shot in a straightforward manner and archival footage sometimes less than smoothly integrated. The crucial context Clash Of Colors provides, however, outweighs its lack of slickness.
Domestic distribution: DDK Productions
Producer: David D. Kim
Screenplay: David D. Kim
Cinematography: Emmanuel Berlini, David D. Kim
Editors: Michael Wohl, David D. Kim
Music: Michael Mouracade
Website: www.LARiotsDocumentary.com
Narrator: Michael Vogelsand