Dir/scr: Hadi Hajaig. UK. 2012. 107mins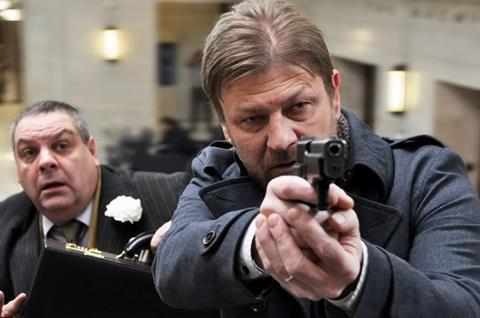 War-on- terror conspiracy thrills may be en vogue at the moment given the small screen success of Homeland, but while there are a smattering of well-staged action scenes in UK thriller Cleanskin, its release will depend more on the fan base for star Sean Bean than it will those looking for a shrewd action-thriller that delves into terrorism.
Sean Bean and Abhin Galeya at least take it all very seriously and have a gravitas that Cleanskin badly needs.
Picked up by Warner Bros for a UK release, Cleanskin – produced/directed/scripted and edited by Hadi Hajaig – attempts to favour character development over explosions, but despite solid performances never really gets to the core of the subject, and relies far too much on some clumsy flashbacks that hamper the flow of the story.
Ewan Keane (Sean Bean) is a secret service agent who is on the trail of a terrorist cell headed by Ash (Abhin Galeya), a young Muslin who was led towards extremism while at University by Nabil (Peter Polycarpou). Ash steals a shipment of Semtex explosives – shooting Keane in the process – and sets about planning a series of bombings.
Secret service chief Charlotte (Charlotte Rampling) sends Keane on a mission to terminate the cell, though as his investigations develop he comes to realise there is more to her agenda that first appears.
Sean Bean imbues Keane with his expected gloomy determination and menace, and though his backstory briefly mentions how his wife was killed in a London bomb attack this never really feeds into his character. Quite simply he is a tough killer and once set on a path will do all he can to succeed.
Similarly Ash is also a man on a mission. Abhin Galeya (perhaps the real star of the film) does a good job portraying a driven man who still has lingering thoughts of his past as a student when he was in love with Kate (Tuppence Middleton, who starred in Chatroom and Tormented), though quite why he turns to extremism is never really explained.
Despite the fact that Keane and his gun-toting agent colleague Mark (Tim Burke) are rather inept at tackling the bad guys – they blunderingly use a prostitute (Shivani Ghai) to gain access to one house when kicking down the door would have been easier, and whenever Keane seems to enter a room there is a guy behind the door ready to jump him – some of the fight scenes are nicely staged, and the casting of Charlotte Rampling and James Fox as secret service heads helps give the film a bit of class.
Upcoming actress Tuppence Middleton is rather poorly used – she is there simply for some sex scenes and the offer up the notion that Ash once loved rather than was obsessed with violence – while Michelle (Bionic Woman) Ryan has a rather thankless cameo as a waitress at a restaurant targeted by the bombers.
There are moments of grim violence, with Silas Carson making an impact as a terrorist sent to the UK to kill a former soldier (and who giggles at Mr Bean on television), though as the film heads off into a subplot towards the end it loses its momentum and veers into clichéd conspiracy territory. Throughout the film, though, Sean Bean and Abhin Galeya at least take it all very seriously and have a gravitas that Cleanskin – the term refers to a terrorist unknown to security services – badly needs.
Production company: The UK Film Studio
International sales: The Salt Company, www.salt-co.com
Producer/editor: Hadi Hajaig
Co-producers: Harry F. Rushton, David Sumnall
Cinematography: Ian Howes
Production designer: Humphrey Jaeger
Music: Simon Lambros
Main cast: Sean Bean, Abhin Galeya, Charlotte Rampling, Tuppence Middleton, Tom Burke, Peter Polycarpou, Michelle Ryan, James Fox