Dir: John Crowley. UK-US. 2013. 96mins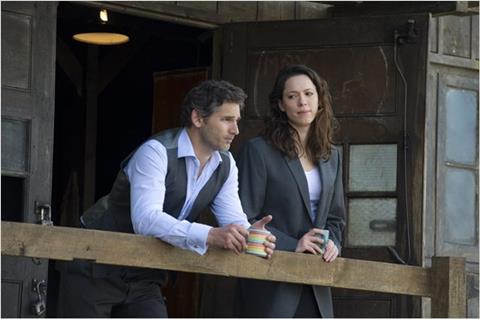 You would expect a mostly British legal thriller to be somewhat reserved, but Closed Circuit, while predictably classy and intelligently topical, is a little too chilly for its own good. With Aussie Eric Bana starring and some notable Brit character actors in the supporting cast, this age-of-terror-themed drama has its best chance of connecting in the UK and Australia and then later in ancillary markets.
Bana and Hall are oddly impassive and don't have enough chemistry to sell the romantic angle.
In the US, the Working Title production opens wide through Focus Features on August 28, just ahead of the Labor Day holiday weekend, a slot that has previously worked for Focus thrillers The Debt, The American and The Constant Gardener. Later in the autumn, independent distributors and Focus parent Universal will be looking to lure upmarket adult audiences in international territories.
CCTV surveillance does play a part in the plot, but the title also refers to the 'closed session' court hearing at which the authorities plan to use classified evidence against a suspected terrorist thought to have been involved in a fatal explosion at a London market. Because of the nature of the case, the defendant is represented by both high-flying barrister Martin Rose (Bana, last seen in Deadfall) and Special Advocate Claudia Simmons-Howe (Rebecca Hall, from Iron Man 3 and UK TV's Parade's End).
Already on thin ice for failing to reveal a past romantic relationship, Martin and Claudia soon realise that the powers that be, embodied by the creepy Attorney General (a brief role nicely played by Jim Broadbent), are prepared to go to extreme lengths to keep the truth about the defendant hidden.
The script by Steve Knight (Eastern Promises) explains the legal niceties without getting bogged down and raises some questions about the UK's criminal justice system in the multi-cultural post-7/7 (the UK's 9/11) world.
Director John Crowley (Boy A) makes good use of unusual London locations but takes a long time to build tension and then releases it in a pretty brief burst of climactic energy.
Bana and Hall are oddly impassive and don't have enough chemistry to sell the romantic angle. In the supporting cast, Julia Stiles (The Bourne Ultimatum) appears fleetingly as an American journalist and Ciårán Hinds (Tinker Tailor Soldier Spy) and Kenneth Cranham (Made In Dagenham) do enjoyable work in their (also brief) roles.
Production company: Working Title Films
US distribution: Focus Features
International sales: Focus Features International, www.filminfocus.com
Producers: Tim Bevan, Eric Fellner, Chris Clark
Executive producers: Tim Owen, Liza Chasin, Amelia Granger
Screenplay: Steve Knight
Cinematography: Adriano Goldman
Editor: Lucia Zuccetthi
Production designer: Jim Clay
Music: Joby Talbot
Website: www.ClosedCircuitMovie.com
Main cast: Eric Bana, Rebecca Hall, Ciårán Hinds, Riz Ahmed, Jim Broadbent, Julia Stiles, Anne-Marie Duf