Dir/scr: Fernando Eimbcke. Mexico. 2013. 82mins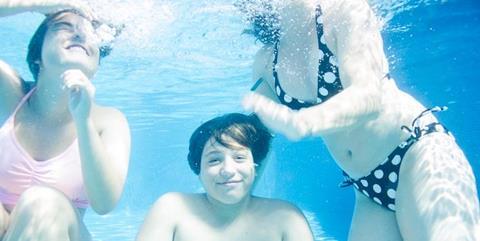 A delightfully mannered and off-beat take on the oft-told 'coming of age' story, Fernando Eimbcke's charming film is both poignant and laugh-out-loud funny as the relationship between a 15 year-old boy and his loving mother is tested by the arrival on the scene of a girl his own age.
A delightful twist adolescent coming-of-age story, brimming with subtle but extremely funny sequences and directed with compassion and delicacy.
It may all sound familiar, but in the safe hands of writer/director Eimbcke – whose films Duck Season(2004) and Lake Tahoe (2008) were firm festival favourites – it is a different take, and one which should appeal to savvy art house distributors, while further festival screenings will be a must.
The charm of Club Sandwich is that 35 year-old single mother Paloma (María Renée Prudencio) and her fifteen year-old son Hector (Lucio Giménez Cacho Goded), who are vacationing at a resort near the beach, are the very best of friends. They relish their warm and tender relationship, spending all of their time together – whether it be rubbing sun tan lotion into each others backs; bombing into the pool, playing rock-scissor-paper to decide who has the first shower, and simply laying quietly on their twin beds watching television in their hotel room.
But while their relationship is wonderfully close, Hector is also changing. Hair is faintly growing on his upper lip; he is keen to keep applying deodorant under his arms; he has started masturbating and – unusually for him – one day he opts to stay in hotel while his mother heads off to the beach.
The arrival of Jazmin (Danae Reynaud) at the resort complicates matters further. She there with her aged father and his new wife/nurse, but is more interested in getting to know Hector. With their facial expressions rarely changing, the teens start to spend time together – sat side-by-side on a bed, sat by the pool, basking in the water (until, rather amusingly, Paloma 'bombs' them – with the sexual chemistry between the two teenagers becoming more and more palpable.
The joy of the film is Paloma's reaction to the prospect of her son/best friend being entranced by Jazmin. Reacting almost like a jealous lover, she seeks to gently sabotage their time together (her face a picture of mixed emotions, while the expressions in the teens' faces rarely changes) but her best efforts come to nothing –especially funny is a game consequences that she sets up, but turns out to work against her - as the pair kiss and sexually explore, which is all handled in a very tasteful and funny way.
Mexican filmmaker Fernando Eimbcke's third feature film is a delightful twist adolescent coming-of-age story, brimming with subtle but extremely funny sequences and directed with compassion and delicacy. Hector may be growing into adulthood but he is never the butt of any jokes, instead the humour comes from the gentle changes in the complex relationship between mother and son, with María Renée Prudencio a real delight as the gently needy Paloma.
Production company: CINEPANTERA
International sales: Funny Balloons, www.funny-balloons.com
Producers: Christian Valdelièvre, Jaime B. Ramos
Cinematography: María Secco
Editor: Mariana Rodríguez
Production designer: Eugenio Caballero
Main cast: María Renée Prudencio, Lucio Giménez Cacho Goded, Danae Reynaud