Dir: Brett Morgen. US. 2015. 132mins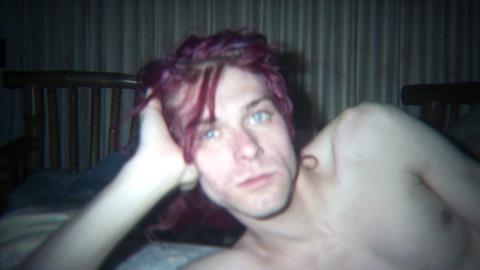 Brilliant, self-destructive rock musician Kurt Cobain, who committed suicide on April 5 1994 aged just 27, has generated reams of newsprint, books and video footage. This first ever 'authorised' documentary of Cobain does two things that are new: it uses never-before-seen home movie footage and journal entries to present in a more ordinary, human light a man who has too often been either deified or vilified; and it reveals Cobain as a restless creative soul whose often disturbing drawings and raw confessional writings were as much a part of his artistic self as the songs he wrote and performed with Nirvana.
The film is edited to convey the comet-like arc of a talented, troubled, sensitive soul, but also as a driven, concert-length tribute to that man's creativity.
Eight years in the making, Brett Morgen's HBO/Universal documentary looks and sounds great on a big screen – something demonstrated both by its well-received Sundance premiere and its Berlin Panorama repeat performance. HBO is planning a US theatrical release ahead of the documentary's TV airing on May 4; internationally, Universal will also likely want to capitalise on the film's good audience vibe before that date.
Morgen, whose previous docs include Hollywood saga The Kid Stays In The Picture and Rolling Stones portrait Crossfire Hurricane, was given permission to delve into the Cobain archives and discovered over 200 hours of unreleased songs and audio, plus home movies, boxes full of artworks and over 4,000 pages of writing (it's probably no accident that the film was co-executive-produced by Cobain's daughter and main heir, Frances Bean Cobain). Morgen was also given interview access to Cobain's mother, father and siblings, as well as the singer's wife, Courtney Love.
But the director wisely chooses to keep the formal interview segments short, aware that the real rush and fascination for anyone with even a passing interest in Cobain will come from those home videos, audio footage (including the mixtape that gives the film its title), writings and sketches – some of which are animated. A more painterly style of animation with shades of Richard Linklater's Waking Life or A Scanner Darkly is used to give visual form to scenes that only exist in audio format, such as a lone jam session recorded at the house of Cobain's first girlfriend, Tracy Marander (the girl of the song About A Girl), which is interrupted by a phone call while the tape's still running.
Cute home movie footage of baby Kurt and the smart but increasingly hyper kid he would become is interspersed with interviews with his family and even his early drawings (thank god for families that keep stuff) to build a picture of an overactive but basically happy boy who was devastated by his parents' divorce when he was nine.
Morgen is clearly treading delicately here owing to the 'authorised' nature of the project, but the portrait that emerges in particular of Cobain's mother, Wendy O'Connor, is not unshaded – perhaps precisely because she never offers much of an explanation for kicking the young Kurt out of the house when he was in his early teens.
Thereafter, shuttled between parents and relatives and shunned at school, he went into a low self-esteem spiral that ended only when he discovered that his complexes could be channelled into music. With Nirvana drummer Dave Grohl absent (apparently he was interviewed too late to make the Sundance and Berlin cut of the film), it's left to bassist and early friend Krist Novoselic to take up the slack before a typically punchy (but also refreshingly frank) Courtney Love takes up the story.
But in a documentary that has plenty of humour and touching romantic or family moments mixed in with the angst, it's curious that what we're left with at the end of an over two-hour journey is a sense of life-affirming energy, mixed with regret for the waste of a life, and talent, that ended too soon. The film is edited to convey the comet-like arc of a talented, troubled, sensitive soul, but also as a driven, concert-length tribute to that man's creativity. Some of the best scenes here are still of Cobain on stage: we're reminded of how good the music was and is, and how deeply he cared about it. It's also fascinating to hear so much unreleased material here – including a tender, solo version of the Beatles' And I Love Her. One hopes that a soundtrack spin-off is in the works.
Production companies: End of Movie, Universal Pictures, HBO
International sales: Universal Pictures, www.universalpictures.com
Producers: Brett Morgen, Danielle Renfrew Behrens
Executive producers: Frances Bean Cobain, Lawrence Mestel, David Byrnes
Cinematography: James Whitaker, Eric Edwards, Nicole Hirsch Whitaker
Animation: Stefan Nadelman, Hisko Hulsing
Editor: Joe Beshenkovsky, Brett Morgen