The first feature to come out of James Harris and Mark Lane's production outfit The Tea Shop & Film Company is a zombie comedy adventure which is being distributed in the UK by Optimum Releasing.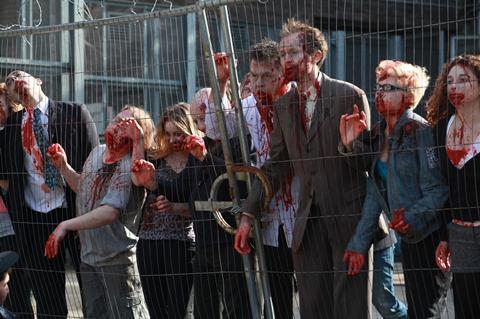 Synopsis: A family rob a bank in order to stop the closure of their grandfather's care home only to be confronted by a 350-year-old vault full of hungry zombies.
Director: Matthias Hoene
Writer: James Moran
Producers: James Harris and Mark Lane (whose background is as a sales agent for SC Films International) for their production company The Tea Shop and Film Company which they set up two years ago. Deepak Nayar (Bend It Like Beckham) is executive producing.
Fnanciers: Molinare, Limelight, Optimum Releasing
Budget: £2.25m
Cast: Michelle Ryan, Harry Treadaway, Georgia King (a Screen Star of Tomorrow 2011), Alan Ford, Richard Briers, Honor Blackman, Jack Doolan, Rasmus Hardiker, Ashley 'Bashy' Thomas
Countries of Production: UK
Shoot locations: In and around London (Canary Wharf, Isle of Dogs, Wandsworth, Sutton)
Shoot dates: March and April 2011. Currently in post.
International sales: SC Films International (who have a non-exclusive deal with The Tea Shop And Film Company)
Distribution: UK (Optimum Releasing)
Release date: Delivery at end of 2011, release early 2012.
Next up: Tea Shop has several projects in development including a creature feature set in a ski resort also penned by James Moran which they are structuring with a Swiss co-production partner, a commercial self-contained thriller from a UK writer, and an animated adaptation of their favourite kids book for which they are seeking an experienced co-producer.
On how the project came together:
Mark Lane: James and the director Mattias [Hoene] had the idea for the film and brough it to me at SC Films International two years ago.
James Harris: Mark then went out to AFM in 2009 with the project and had interest immediately off the back of the title and the outline. Optimum came onboard as a co-producer. But then we were in the weird position of having to make a script as good as the idea and the pre sales.
Optimum brought James Moran [the screenplay writer whose credits include Severance and the BBC TV series Dr Who] on and made it work. We had a finished script April/May time last year. Mark had worked with Deepak Nayar before and he came on board as our exec producer and he introduced us to Limelight and Molinare. That started the ball rolling.
On pre-selling the film:
Lane: From my experience as a sales agent I haven't [previously] seen pre-sales being done just on the back of the title, especially as we are first-time film makers. I think it's the commercial appeal of the title. When we came up with the title we were mindful that people would either love it or hate it. Most buyers in the market responded to the fact that it's commercial and it sums up the story and it speaks to a 15-25 mainly male demographic.
The challenge was making the script ironic and good. There are a lot of sub £200,000 movies that go straight to DVD. Our end budget was £2.25m and we had to really make the script work.
Harris: We could have just cashed in after AFM and done it in a very low-rent way, but we were mindful that it wasn't particularly good for anyone's careers.
On the cast:
Lane: The film was financed without cast so it meant we could really choose who was best for the role rather than who was going to sell the film. We've ended up with some really good names. It's got the crème de la crème of the British TV industry over the past however many years (who even my gran recognised). There is something in there for everyone!
On inevitable comparisons with Shaun Of The Dead:
Harris: We are always going to be compared to Shuan of the Dead because we are a zombie film, we are never going to out-funny Simon Pegg. So we've gone for more of an action adventure film, almost like Pirates Of The Caribbean. If you've seen Severance, James' other film, it's quite similar to that.
Lane: When we originally developed it we were going for Lock Stock with zombies, but when James Moran came on board he had a very different way of writing. He introduced the older crowd into the story [Honor Blackman, Richard Briers, etc] and it's become more of an adventure film. There is gore, there is action but it's a film about family values with an uplifting ending.
On the £2.25m budget:
Harris: My first feature as a line-producer was shot on £50.000, so having done that, I knew we could make this work. Optimum also has Attack The Block which is a much bigger budget, but production value wise we will be very similar in look and scale. It's the culmination of years of doing things a certain way and the crew really stepped up.
Lane: Molinare were one of the financers and they have been behind us all the way so they are really helping us to make sure that the visual effects are going to sing and to bring it in on budget. It has been refreshing to work with financiers who had a decent imput. I've met with financiers before who really don't care what they are financing. A lot of rich individuals get involved, not necessarily for the right reasons. As a production company with our first feature, it's been a great learning curve for us.
On working with German-born, UK-based director Matthias Hoene who comes from a commercials background:
Harris: He was really passionate about the project, so much so that he actually changed agents early on when they weren't supporting it. Some of his favourite films are classic comedy horror movies. He has a very English humour sensibility. It worked very well. Technically he is outstanding. Visual effects is like his second language so he shoots only what is needed and he knows how to do things economically.