Dir/scr: Maggie Peren. Germany. 2011. 95mins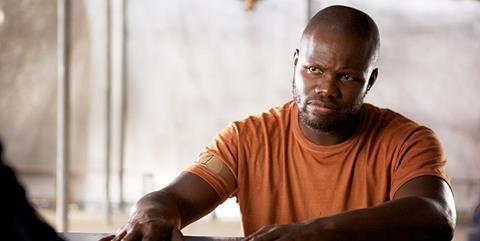 No good deed goes unpunished in Maggie Peren's immensely impressive Color Of The Ocean (Die Fabre Des Ozeanis), a compelling topical drama woven around attitudes to the waves of African refugees desperately seeking a better life in Europe. Peren illuminates important questions of responsibility, compassion and moral duty but within a collection of richly textured human stories.
There are small-scale echoes of Traffic or Syriana in the way Color Of The Ocean interweaves the fate of its different characters.
The result feels accessible and touching rather than worthy or overly didactic. Extensive Festival exposure should follow the world premiere at Toronto but enterprising arthouse distributors should also recognise theatrical possibilities.
Color Of The Ocean is set amidst the burning sunshine of the Canaries. Zola (Hubert Kounde) and his son Mamadou (Dami Adeeri) are among the ten survivors of a refugee boat washed up on the shore. Eighteen others have perished on the trip. German tourist Nathalie (Sabine Timoteo) is the first person to reach them and her instinct is to do everything she can to help them.
Border patrolman Jose (Alex Gonzalex) merely wishes to settle them in a refugee camp and begin a process that will see them automatically deported. He refuses to believe that Zola is from the Congo rather than Senegal and instinctively mistrusts every word that he utters. He has been bled dry of compassion by the demands of his drug-addicted sister Marielle (Alba Alonso). Is he callous or just realistic? Is Nathalie admirable or hopelessly naive?
Deren's script depicts them both as flawed characters struggling to do what they believe is the right thing regardless of the often-tragic consequences. When Zola and Mamadou escape from the refugee camp, Nathalie disregards the concerns of her husband Paul (Friedrich Mucke) to offer them money and hope.
There are small-scale echoes of Traffic or Syriana in the way Color Of The Ocean interweaves the fate of its different characters. Deren's skill lies in finding the perfect balance where everyone makes a real impact and nobody is shortchanged by a story that unfolds in a believable fashion.
The audience is invited to question how they would react to these circumstances, whether they would play the good Samaritan or the heartless bureaucrat? Thought-provoking material is delivered with mature composure in a film that should significantly raise Deren's international profile.
The film is also very strikingly shot by Armin Franzen making the most of the fierce sunlight and hot, dusty sand dunes of the Canaries. It also shows a fascination with water as a source of life and of pleasure. The camera becomes Mamadou's point of view as he slides down a water chute at a fairground and it swims alongside Nathalie in the ocean as she finds carefree relaxation in a place that brought death to the refugees.
Production Companies: SUDART Filmproduktion, Starhaus Filmproduktion, El Olivo Producciones Audiovisales, noirfilm produktion, BR, Arte, SWR
International sales: Telepool GmbH., www.telepool.de
Producers: Thomas Klimmer, Boris Jendreyko, Rainer Kolmel, Wasiliki Bleser, Gregorio Sacristan Gomez, Peter Welter Soler, Alfonso Garcia Lopez, Boris Michalski
Cinematography: Armin Franzen
Production designer: Julian Wagner
Editor: Simon Blasi
Music: Carolin Heiss, Marc-Sidney Muller
Main cast: Alex Gonzalez, Sabine Timoteo, Hubert Koundee, Friedrich Mucke, Nathalie Poza