Dir: Sam Esmail. US. 2014. 91mins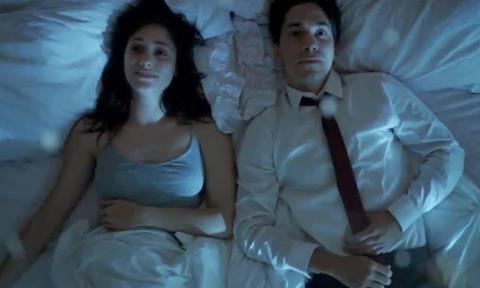 Enjoyability handily trumps intellectually rigorous believability in Comet, a fizzy yet pleasantly barbed romantic dramedy in which a pair of hyper-literate but difficult twentysomethings give a relationship a workout, and suffer the various emotional slings and arrows of talking past one another. Jumping back and forth between a series of vignettes spanning six years and different points in their connection, this little two-hander is an engaging cinematic disquisition about the white-hot passion and toxic exasperation of young love, as well as a rather wonderful showcase for Justin Long and Emmy Rossum.
What most keeps Comet interesting, and from ever tipping over into posed indie-convention preciousness, however, is the quality of the writing and the fierce commitment of its performances.
Theatrical box office will be minimal, but positive critical notices and especially strong word-of-mouth should give this Los Angeles Film Festival debut bonafide arthouse appeal and VOD punching power. In a just world, it will serve as a strong calling card for debut writer-director Sam Esmail, as well as the talent involved.
Dell (Long) is a self-slandering postdoctoral scientist working on cancer drugs when he meets sarcastic with Kimberly (Rossum) at a Hollywood Forever Cemetery event during an evening meteor shower. After she saves him from a passing car, he saves her from an awkward first date. Dell and Kimberly, each unhappy in their own ways, have an immediate chemistry, and are seemingly bonded by the manner in which they challenge each other. The rest of the movie, then, chronicles their first night together, a roundabout argument years later in a Paris hotel room during a trip for a friend's wedding, a train encounter that leads to a rekindling of their relationship, a long-distance phone fight and a final rapprochement.
In addition to tracking emotionally with (500) Days of Summer and Like Crazy, Comet has a pinch of the same sort of heightened emotionalism of that former film, wherein the aggrieved romantic central character spends considerable time and energy trying to reconcile the reality of his lover's behavior with an overly idealized version of her. There's more than a pinch of unsettledness to each of these characters, which the movie totally owns.
From a technical perspective, Esmail and his below-the-line collaborators deliver a smart, well-conceived package that makes good use of the movie's limited budget. Cinematographer Eric Koretz composes shots in the style of a music video, with faces frequently flush to the side and/or in corners of frame, but it visually communicates the various levels of slipping-knot detachment of its subjects. Similarly, Esmail and editor Franklin Peterson often break up their chronological jumps back and forth in time with a stylized cutting technique that recalls an old, overused VCR tape, with newer, dominant memories impinging on and erasing older ones.
What most keeps Comet interesting, and from ever tipping over into posed indie-convention preciousness, however, is the quality of the writing and the fierce commitment of its performances. Dell is nominally the protagonist, and given that he self-identifies as potentially suffering from narcissistic personality disorder, there's no shortage to the entertaining dialogue he gets to blurt out ("You have terrible taste in men because you're so superficial" is his idea of a pick-up line).
Esmail writes great banter and asides for both characters, however, whether it's a stoned Kimberly waxing philosophical on aging ("Are we old? Are we talking like old people? Are we on the verge of joining the sweatpants culture?") or Dell parrying Kimberly's dismissal of his pessimism as insincere with, "That's great, I hate people who think I'm too negative."
Over the course of his career, in movies like Accepted, Dodgeball and For a Good Time, Call…, Long has shown a talent for crackerjack comic timing. His characteristic verbal dexterity gets a good workout in Comet, but neither does he shortchange Dell's neediness and vulnerability. That gives the movie a strong emotional peg on which viewers can hang their sympathies. Rossum, meanwhile, is no mere sparring partner; she gets to showcase a much wider range than her previous film work has allowed.
Comet's third act stumbles a bit, folding in on itself somewhat during a sequence with a meta-tangent that flirts with a bold twist but ultimately feels too cute by about one-third. It recovers, however, and if it seems relationship movies can only end one of two ways—the parties either end up together or apart—the intriguing, low-fi Comet arrives at an ending that feels appropriately ambiguous.
Production companies: Anonymous Content, Fubar Films
US distribution: IFC Films

International sales: Content
Producers: Lee Clay, Chad Hamilton
Executive producers: Colin Bates, Peter DeGeorge, Steve Golin, Justin Long, Emmy Rossum, William Stetson
Co-producer: Farnaz Fahid
Screenplay: Sam Esmail
Cinematography: Eric Koretz
Production designer: Annie Spitz
Editor: Franklin Peterson
Music: Daniel Hart
Website: http://www.IFCFilms.com/Films/Comet
Main cast: Justin Long, Emmy Rossum, Eric Winter, Kayla Servi