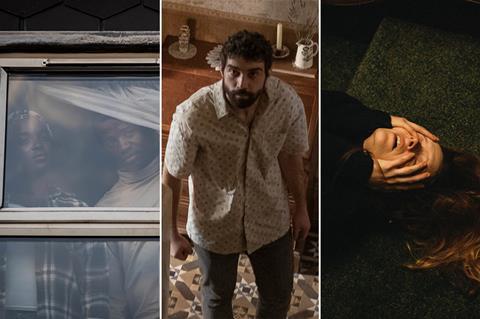 This country is terrifying. After a decade of austerity, race riots, the refugee crisis, Windrush, the rise of the right wing, the departure from the European Union, secrets, lies and a helplessly divided nation, could the UK's young filmmakers be connecting with the mood of the country?
Three debut filmmakers — two female, one black — have used genre to take a hatchet to racism, abuse and fanaticism in what they project as a hostile, bleak UK. Hiding under the covers of the midnight sections of Toronto and Sundance, the excellent Saint Maud, Amulet and His House will soon smuggle their political anger and condemnation onto UK screens, marking perhaps the start of a British new wave.
In the 1980s, Margaret Thatcher inspired the anger that brought Stephen Frears to make Sammy And Rosie Get Laid and My Beautiful Laundrette; Terry Gilliam unleashed his dystopian Brazil; Chris Bernard's Letter To Brezhnev — in which life behind the Iron Curtain was seen as preferable to living in the UK — drew crowds; while Mike Leigh's scouring Naked blasted all in its wake. The same country has now entered a year in which the UK's population will lose the right to live and work across Europe and a Tory austerity government is bedding down into a five-year term. After a Brexit campaign that exposed some seething social nastiness, what have our filmmakers got to say about it? And how?
Rose Glass's precision shriek of Saint Maud is a shockingly good first feature that dissects religious fanaticism in an uncaring, unforgiving UK. A searing performance by Morfydd Clark (The Personal History Of David Copperfield), shows the audience the truth of mental disintegration in the face of such harshness.
Romola Garai's Amulet takes a vengeful swing at abusers, with all of its storytelling poured into the service of rage. Amulet may be uneven in comparison with Saint Maud, but its unrestrained feminist fury makes for a bloody companion piece. Also directing his first feature, Remi Weekes has written a tale of migrants who are told how lucky they are to inhabit the cruddy council blocks of His House, where demons lurk at every corner.
These films know their genre conventions, but they are also British to the core: cut them and you can see the bones of Ben Wheatley, Alice Lowe or Peter Strickland, past that they ooze Ken Russell and Hammer Film. They are different, though, because they are more bloody-minded, current; they are tighter, angrier. Like Britain today.
In fast-moving times, the industry also needs to dance quickly. The swirling Bafta controversy over representation has blown a welcome wind up the pants of the industry, reinforced by Parasite's Oscar win. But Bafta may not be the only one that is out of sync. British film has been working within its comfort zone for years: a mix of Bond, period dramas with a heavy accent on Austen and Dickens, plucky stories from the two world wars, alongside biopics, cheerful Working Title crowd­pleasers, Ken Loach hymns of outrage and the tender personal tales of outsiders growing up/finding love. There is a suspicion that new entrants either feel obliged or are obliged to slot in. But the commercial landscape is changing, and it can all look very dated, very quickly.
If the industry wants new voices — and it desperately needs them — we should remember that, once given access, they won't have the same old stories to tell, and neither should they be expected to. It is time, maybe, to tear down the house, because diversity and access are vitally important. But the story you tell when you get that access is more important than anything else. Kitchen-sink drama be damned: Glass, Garai, Weekes — the class of the new decade is young, talented and pissed off. They've got things to say. British cinema, and its future, will be all the better for them.

Screen International's executive editor for reviews and new talent