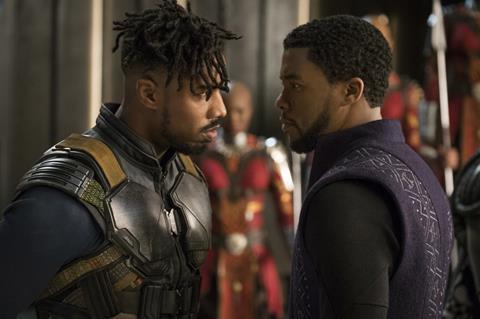 The past two years have featured a fairly diverse roll call of acting Oscar nods, including first-time nominees Daniel Kaluuya for Get Out, Mary J Blige for Mudbound, and Naomie Harris and Mahershala Ali for Moonlight (the latter winning for supporting actor).
It would appear the lessons from the #OscarsSoWhite furore in 2016 have percolated deeply through the Academy's membership — helped in no small part by the leadership, which launched a concerted drive to improve the optics around its diversity — to the point there seems little danger of a repeat of that embarrassing episode any time soon.
This year's group of early contenders for the four acting categories is packed with a robust list of non-white candidates including John David Washington for BlackKkKlansman, Chadwick Boseman, Michael B Jordan and Danai Gurira for Black Panther, Viola Davis for Widows, Regina King and Kiki Layne for If Beale Street Could Talk, Yalitza Aparicio and Marina de Tavira for ROMA, and Egyptian-American Rami Malek for Bohemian Rhapsody. Ali and Kaluuya are also in the frame again for their performances in Green Book and Widows respectively.
At these early stages, it's all to play for and the frontrunners will start to emerge as the critics' groups announce their best-of 2018 lists over the next few weeks. What will be interesting to observe is where Black Panther ends up fitting into the overall critics' list picture. It's entirely feasible these groups could overlook it in the main categories, not feeling particularly disposed to recognising a Marvel franchise entry no matter how culturally resonant Ryan Coogler's film has been in 2018.
But in the grand scheme, even if that scenario does come to pass, I don't think it's going to stop Black Panther's march to multiple Oscar nominations. As well as connecting with audiences on a global level and being an outstanding example of franchise cinema, it has the muscle of Disney behind it.
The studio was known to be unhappy when the Academy announced its popular film award, confident it had a potent contender on its hands and concerned that voters might be inclined to relegate the film to this lesser, populist section (which is what the initial conception implied, a space for films audiences paid to see in their droves but that voters don't tend to recognise outside of technical categories).
Having kiboshed the category as swiftly as it was introduced, Academy president John Bailey was recently quoted saying they plan to use this year as a test and if Black Panther is nominated for best picture, there won't be any need to introduce a popular film category.
It will, he said, give the Academy "a strong perspective on how to move forward" — which is sending a pretty clear message to Oscar voters to make sure they don't overlook it at ballot time. I'm not sure Bailey needed to state his case quite so obviously, but it only helps to lay a more direct path for Black Panther's awards journey.
This is a year in which another popular film, A Star Is Born, is also a safe bet to land a best picture nomination. And had the Academy stuck to its guns, a popular film category actually would have looked mighty impressive with potential candidates including Mission: Impossible — Fallout, Crazy Rich Asians and A Quiet Place.
But any existential soul-searching for Academy members worried about the future direction of the awards can remain parked for now, and meanwhile, with If Beale Street Could Talk, Green Book, ROMA and BlackKkKlansman all joining Black Panther as contenders, this year could see one of the most diverse best picture line-ups yet.

Screen International's editor, based in London.