Writer-director Joe Cornish talks Attack the Block and working with Edgar Wright on Marvel's Ant-Man.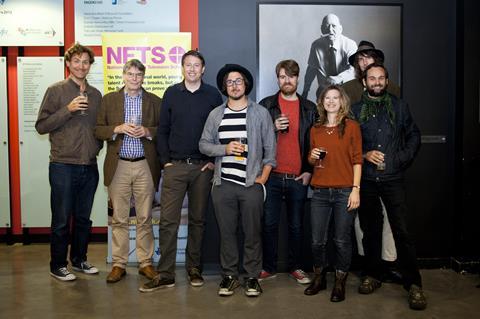 Joe Cornish, the award-winning writer and director, says his was inspired to write cult British monster movie Attack the Block after being mugged by five teenagers.
Speaking to an audience of film students at the National Film and Television School (NFTS) in conversation with writer-director Corin Hardy, Cornish told them: "I remember thinking the kids looked really nervous and that I recognised one of them.
"I thought 'We probably play Frisbee in the same park and we're probably on the same level of Grand Theft Auto' and although I was a bit scared…at the same time I thought 'Those kids look cool in those masks, that'd look great in a film'."
Attack The Block was Cornish's first feature film, which was executive produced by his friend and collaborator, Edgar Wright. The film won the Austin Film Critics award for best first film, LA audience award, SXSW award for best first film, Sitges Audience Award and special Jury prize, Toronto Film critics award, and was nominated for a BAFTA, BIFA and the Writers' Guild for best screenplay.
Cornish explained that he'd written Attack the Block at the same time as writing the script for Steven Spielberg's Tintin with Hot Fuzz and The World's End director Edgar Wright…in Quentin Tarantino's guesthouse.
Cornish had been asked put together a sizzle reel for Attack the Block at very short notice: "I was thankful I'd spent so much over the years on DVDs so I could go to my 3,000 disc collection to find the moments for the reel."
Cornish deliberately chose to make the film colourful: "The BMX chases were meant to feel like E.T, the costumes were designed to look like Manga ninjas. I chose to go for colourful 80s Spielberg look rather than a traditional gritty look."
When asked about the balance of comedy and horror in writing the film's script he replied: "I didn't set out to make a comedy. My personal feeling is that cinema is visual storytelling. I wanted things to be funny because they felt true or were well observed. Good movies are funny; Raiders has comedy and it has horror beats as well as action-adventure beats."
Asked by students about his approach to writing the script for Attack The Block, Cornish said he'd written a treatment but then researched the story by talking to groups of teenagers and asking what they would do in different situations. Then he transcribed their answers. "I ended up with two A4 binders of transcripts. A lot of the lines in the script are things kids really said."
Despite the success of Attack The Block and comedies including TV series The Adam and Joe Show, which won a Royal Television Society award, Cornish admitted writing wasn't easy: "The tough thing is writing. No-one can do anything without writers. Nothing is worth anything without a script. They're all amazing skills, but writing is the thing."
He credits Wright with helping him to develop his writing style: "Being with Edgar freed me up from being so anxious about my writing."
Noting that he and Wright have been working on the script for Marvel's Ant-Man for the past six years Cornish concluded: "Good scripts take a long time to write."
The NFTS recently launched the UK's first industry recognised Diploma in Writing and Producing Comedy in partnership with Channel 4. The deadline for applications is October 3. For more information go to http://nfts.co.uk/our-courses/diploma/writing-and-producing-comedy