Kate Cook and James Levison reflect on producing indie feature Leave to Remain, starring Toby Jones, the struggle to find an audience and an "impactful" distribution strategy.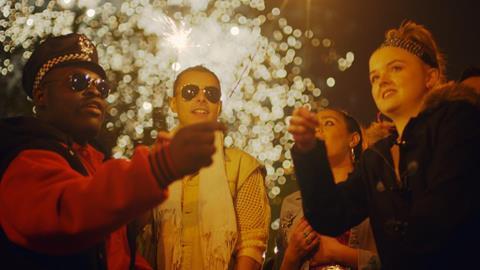 In November 2012 we found ourselves in a cold, run down former orphanage in East London ready to turn over on the first of many scenes rammed into a 22-day schedule. What better way for two producers to embark on their debut feature, 'Leave to Remain'?
Glamorous it was not. However, it felt like a massive achievement to have reached that point, our journey having started three years prior when, with a small amount of development money in our back pocket, we set about pulling together the finance package for our small independent film.
With talented writer/director Bruce Goodison debuting in the theatrical world and a cast of unknown actors working alongside young asylum seekers, whose real stories formed the basis for the script, we had no "normal" pitch to take down the traditional funding paths.
Following a succession of knock back's we found ourselves swiftly moving into new territories with a business proposal that focused on the film's social relevance, projected impact and a funding model that incentivized the mix of private equity, charitable grants and crowd funding. Bingo – we were in business, albeit by the skin of our teeth.
With the last minute additions of the brilliant Toby Jones, playing our only lead adult role, a deal with the band Alt-J before they went global and the serendipitous availability of the award winning editor Andrew Hulme we were surely going to now prove our commercial cache? What's more we'd been accepted into LUFF (London UK Film Focus), so what better way of finding a sales agent to represent us?
Finding an audience
But, now at the height of summer, we were again back in the cold. With no commercial genre the sales agents found us too risky and needed to minimize this risk with a major festival win, but of course with no sales agent behind the scenes our film would just be a drop in the ocean.
Fundamentally there was a difference between what we wanted to achieve and what the traditional sales people felt the film was capable of. Clichéd as it may sound, we had made this film to give a voice to those with none but the harsh reality appeared to be that nobody cared to listen – we had to find our audience.
Still licking our wounds from pains of production, we were now looking at having to distribute the film ourselves. Given how difficult it had been to raise the finance, the prospect of entering into an arena we knew little about quite frankly, filled us with dread.
As though responding to our lions roar, Film London accepted us onto their newly devised Audience on Demand scheme (titled Build Your Audience), which explored alternatives to the "traditional" distribution approaches. Thank the lord – there was another way that didn't involve us knocking on cinema owners doors with a DCP tucked under our arm!
Distribution strategy
With an LFF premiere on the horizon we were buoyed by the prospects and set about assembling ourselves a team to distribute our film with our small amount of left over Tax Credit.
With a distribution strategy that mirrored the principles of our finance strategy we were introduced to new company Together Films whose prime focus was to both distribute and devise "impact" strategies around films with a social/political action agenda like ours. Leave to Remain was to be their first narrative film.
The recent response to the film has been incredible. Having now travelled the world and won international festivals, Leave to Remain has:
been part of Into Films schools' Film Festival;
toured UK Universities;
released around the UK's independent cinemas (were we ever going to ask the multiplexes!);
a transmission on the BBC in 2015; and
a hugely important screening in Brussels to UN delegates assessing the rights of child asylum seekers.
Our film has become a piece of cinema and has managed to capture the hearts and minds of the elusive but highly sought after "youth" audience – not only is it helping to understand a hugely complex topic it is also being paid for.
Objectives achieved, maybe not to the heights of a win in Cannes (don't be fooled, we would have loved it!) or box office success to rival 'Frozen' but we still succeeded.
The beginning
This of course has taken an immeasurable amount of commitment from everyone involved, but sometimes film means more than box office figures and huge marketing campaigns. But could we afford to do it again?
This is a question so many independent filmmakers ask themselves and its why this feels like the beginning of our journey as producers.
Our skills have had to stem from development through to production and distribution. Perhaps expert of all and master of none? Maybe, but that is what independent producing is all about; fulfilling your objectives by understanding how all the elements fit along with a serious amount of perseverance. But most of all there's a love for film.
Each film has its own unique model and if told with style, authenticity and vision like Bruce achieved on Leave to Remain then surely cinema goers also deserve the choice to see these films?
There's a lot to be said for the fact that after all, there really was an audience in waiting ready to listen to the voiceless.
Producers Kate Cook and James Levison
UK Distribution: Together Films Ltd … International Distribution: High Point Films & TV Ltd