BBC science presenter says: "Einstein would've loved it."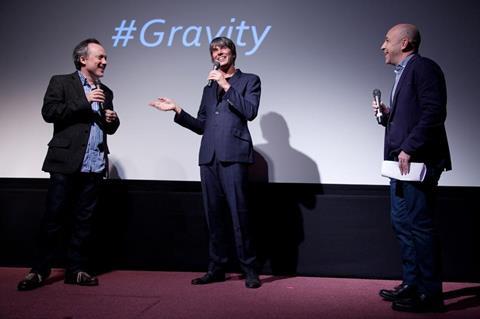 Ahead of the release of Gravity in the UK, science presenter Professor Brian Cox hosted a special screening in London's Mayfair.
Alongside Framestore VFX supervisor Tim Webber, they introduced the film to special guests including Jamie Oliver, Tim Minchin, John Culshaw, Peter Serafinowicz and Robert Llewellyn.
There was also an assembly of space experts including members of the UK Space Agency, CEO David Parker and Professor Richard Crowther, Sir Martin Sweeting OBE, exec chairman of Surrey Satellite Technology Ltd (SSTL), David Southwood, retired director of Science and Robotic Exploration at the European Space Agency (ESA) and BBC science presenter Dr Kevin Fong.
Cox, who worked with Danny Boyle on space thriller Sunshine and presents science series for the BBC, later said on Twitter: "It's bloody awesome. Einstein would've loved it."