Day of the Locust, Sunset Boulevard, Touch of Evil to screen at 'Hollywood studio'.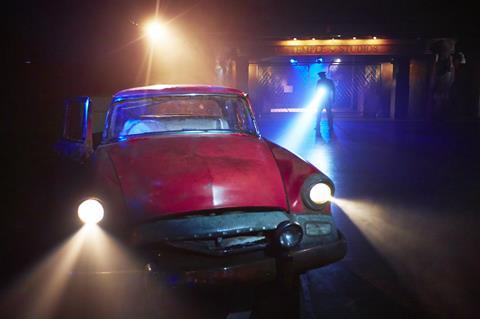 Film spectacularly meets theatre in Punchdrunk's immersive extravaganza The Drowned Man, in which audiences are let loose to explore the hallucinatory and eerie world of Temple Studios, an imaginary Hollywood studio fallen on hard times.
Running for a year in London from June 2013, Punchdrunk's latest and largest project – inspired by filmmakers including David Lynch, Nic Roeg, Stanley Kubrick and Georges Franju - is a marvel that all film lovers must experience.
Six months in the making, the Paddington-based show comprises 150 rooms, covering 200,000 sq ft., catering for up to 600 audience members per show with a cast of nearly 40. It includes a treasure trove of sets and memorabilia sourced from all over the country.
"Everything you touch has to be authentic," Punchdrunk's artistic director and founder Felix Barrett tells Screen. "We are the antidote to museum rules. We want the audiences to touch and rifle through the drawers in every room."
The film studio scenario represents a homecoming of sorts for Barrett and his team, which approach each of their shows as though they were making a film:
"When we build shows I imagine them as films more than live action," he says. "We talk about the wide shot, the close up and imagine the audience as having its own Steadicam so that you're creating a director's cut of the space. It's a filmic vernacular."
The theatre troupe is now extending its offering to include screenings of classics that inspired the show, including The Day of the Locust, Sunset Boulevard, Eyes Without A Face, Touch of Evil and Woyzeck.
16mm prints of each were sourced from the BFI and screen in Temple Studio's own bespoke vintage cinema.
"We've taken characters and settings from these films so to honour their influence we thought we'd screen 16mm prints," explains Barrett.
Punchdrunk's The Drowned Man is a spectacular home run and its series of film screenings looks like an inspired addition to the event cinema landscape. But book your seats now, as the cinema only has a capacity of around 40.