This week the BFI hosted an industry forum exploring the creative possibilities of virtual reality (VR).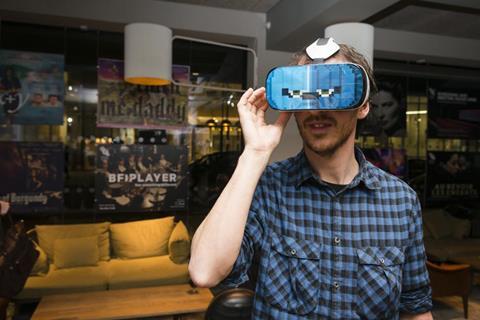 With VR the talk of Park City at Sundance in January, and the recent news that Ridley Scott is developing a VR short to be distributed alongside his upcoming feature, The Martian, this event was an exciting opportunity to bring together UK-based filmmakers and storytellers with those at the cutting edge of these new technologies.
The first in an on-going series of BFI digital events, '360 Degree Storytelling' included speakers from the worlds of film, videogames and the arts, providing a fantastic exploration of this emerging area of practice.
Experimentation with VR has been happening in research labs for at least two decades, financially out of reach for most creative people. With development of new platforms like the Oculus Rift, Samsung's Galaxy Gear and Sony's Project Morpheus we are seeing rapid creative development happening in this area.
Videogames publishers and developers are currently making rapid developments in VR.
Patrick O'Luanaigh CEO of nDreams is launching videogame titles across a number of VR platforms and talked through the key issues in developing story and character in environments which the player directly inhabits.
Dave Ranyard, Director of Sony Studio, London talked about the visceral impact of VR and its ability to create emotionally engaging experiences, literally positioning the viewer inside the narrative.
Mike McGee from Framestore picked up on importance of VR for filmmakers and explored a number of the narrative VR experiences Framestore have been making to accompany films including Christopher Nolan's Interstellar and TV series Game of Thrones.
Framestore are now able to offer filmmakers realtime animation using motion capture technology and McGee imagined a time when mocap technology combined with VR could allow the viewer to become a physically controlled animated character in a virtual world. You don't just watch Gollum, you are Gollum.
The final speaker, Robin Nicholas Creative Director of Marshmallow Laser Feast (MLF) and co-organiser of this event explored the creative possibilities of virtual and augmented reality in live performance and advertising. He challenged the VR community to come together and share experiences so that the creative possibilities of VR can be fully realised.
BFI Digital Futures is a series of professional events for the film, videogames and arts communities. We're aiming to bring people together to explore the creative possibilities that new technologies are offering screen practitioners, and judging by the enthusiasm and ideas on display at our first event this rapidly evolving area is ripe with potential for storytellers.
Conrad Bodman is the BFI's head of international relationships: programme and archive