The 2017 Oscar nominations featured the most diverse list of nominated films and actors in years.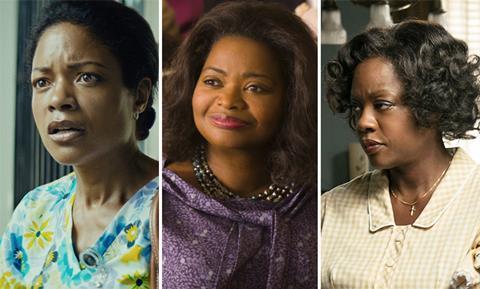 Any chance of a 2017 sequel to #OscarsSoWhite was well and truly snuffed out when US Academy voters surpassed their Bafta counterparts in the acting categories by nominating seven (out of 20) non-white actors.
That's an impressive tally - and it wasn't driven by tokenism, but rather the quality of work.
Many of these nominees have been front-runners since the start of awards season.
Joining the four who were also nominated by Bafta voters - Mahershala Ali and Naomie Harris for Moonlight, Viola Davis for Fences and Dev Patel for Lion - are Davis's co-star Denzel Washington, Octavia Spencer for Hidden Figures and Ruth Negga for Loving.
That makes this year's Oscar nominations truly historic.
It's the highest number of black nominees ever, topping the previous record of five, which has happened twice before (in 2004 and 2006).
In 2004, four actors scored five nominations: Jamie Foxx for Ray and Collateral, Morgan Freeman for Million Dollar Baby and Don Cheadle and Sophie Okonedo for Hotel Rwanda.
In 2006, five actors were recognised: Forest Whitaker for The Last King Of Scotland, Will Smith for The Pursuit Of Happyness, Djimon Hounsou for Blood Diamond, and Eddie Murphy and Jennifer Hudson for Dreamgirls.
This year, Negga might be the most surprising inclusion in the acting categories.
While her performance in Loving has been highly acclaimed, her chances had seemed to dissipate over the course of awards season, especially as Jeff Nichols' film faded as a contender, and most pundits were predicting the fifth best actress slot would go to Amy Adams for Arrival or Annette Bening for 20th Century Women.
It now becomes one of this year's most satisfying and symbolic nominations given that the character Negga portrays in the film, Mildred Loving, played such a monumental role in the US civil rights movement with her long struggle to invalidate state laws prohibiting interracial marriage.
Alongside fellow nominee Octavia Spencer's portrayal of an African-American woman who played a crucial role in the NASA space programme, Negga's nomination is an affirmative counterpoint to the ugly mood in the US fostered by the new man in the White House - a reminder the right to be treated equally was a hard-fought victory but one that should never be taken for granted in a country where civil rights continue to be under threat.
Breaking new ground
This year's nominations contain other firsts too.
It marks the first time three black actors have been nominated in the same category, with Spencer, Davis and Harris vying for best supporting actress, and the first time a category has featured three black contenders for different films.
Moonlight's Barry Jenkins also becomes the first black filmmaker to have his film nominated for best picture, writer and director in the same year.
The eight nominations for A24's film - including three in below-the-line categories of cinematography, editing and original score - are a superb result for a drama that has rivalled Lionsgate's La La Land and Amazon Studios' Manchester By The Sea for rapturous acclaim throughout awards season.
In the documentary feature category, three of the five nominees focus on black themes: I Am Not Your Negro, O.J.: Made In America and Ava DuVernay's 13th.
Fire At Sea, Gianfranco Rosi's documentary on the European migrant crisis, also made the cut in this category.
The US Academy can be proud of the variety among this year's nominations and breathe a sigh of relief that, for 2017 at least, #OscarsSoWhite will not be this year's big takeaway.