Dir/scr: Andrew Bujalski. US. 2013. 91mins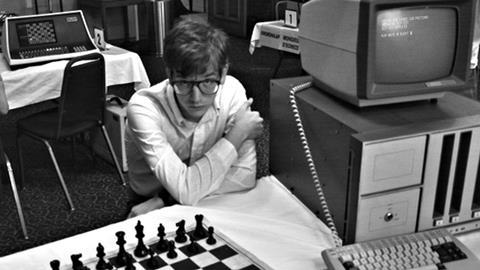 With Computer Chess, Andrew Bujalski, the American indie auteur known for no-budget gems Funny Ha Ha and Mutual Appreciation, has made a profoundly idiosyncratic and strangely offbeat movie about a computer programming convention circa 1980. Not only is the story set more than 30 years ago, but the movie looks it, too: Shot with old analogue black-and-white video-cameras and edited together as if, it sometimes appears, by a community college video class, Computer Chess could be viewed as a long lost record of a bygone era.
The film is likely to confound viewers, but it's also a bizarre and fascinating retrograde portrait of an eccentric people and a faraway time.
While Bujalski is not a filmmaker working completely outside of the mainstream (bigwig producer Scott Rudin recently hired him to write a book adaptation), Computer Chess is the writer-director's most avant-garde project, a defiantly non-commercial movie that nevertheless is fascinating to behold. With a few ardent critical admirers, the film could see some very limited theatrical playdates in the US and Europe, but it's more likely to remain a kind of cult oddity passed around by cinephiles, if it were possible, on old VHS or Betamax tapes.
The film opens as a small annual computer chess convention and competition is about to begin in a low-rent Super 8 hotel. The teams consist of maverick lone programmers or students from elite educational institutions, like CalTech and MIT, who have all crafted computer programs that play chess against other computers. To put it lightly, they are super-nerds, with thick glasses, tucked-in dress shirts, and awkward social graces. And this year for the first time, we are told by convention host and master chess player Pat Henderson (played by Boston film critic Gerald Peary), there is a woman on one of the teams. The stakes in the competition are high: Not only do the designers of the winning program receive a $75,000 check but they also get bragging rights.
But while Computer Chess covers the three days of the technology tournament, it doesn't unfold like any sort of conventional film structured around a competition. For example, the film follows one of the programmers, a curly-haired blowhard named Michael Papageorge, who is denied a room at the hotel, wandering around the halls at length looking for a place to sleep, and repeatedly stumbling upon stray cats.
Bujalski is clearly less interested in the game itself than the larger philosophical questions it brings up about artificial intelligence and the mind-body problem. During the first night of the competition, a handful of men from the conference smoke pot and debate the ramifications of sentient computer beings. Are humans learning from the computers, or more ominously, are the computers learning from us?
Things get weirder. First, there is the arrival of a group of hippies undergoing some kind of primal couples' therapy lead by an African man. Then one of the CalTech programmers, a young man named Peter, comes up with the hypothesis that their losing programme, Tsar 3.0, may actually be better at playing chess against humans than other computers. Is the future of AI already upon them?
At certain points in the film, the two worlds coexisting inside the hotel—the spiritual and the logical—collide with humorous results. When Peter ends up in a hotel room with a free-loving husband and wife from the therapy group, the shy, shifty-eyed brainiac is pushed into a situation that tests the limits of his knowledge and experience. The scene is the most vivid expression of what Bujalski is known for, conveying the supreme social anxiety that can exist between people, particularly when it's underlined by sexual tension. It's funny and also a bit sad.
But Computer Chess is ultimately unlike anything Bujalski has done before—and unlike just about anything anyone has done before. The film is likely to confound viewers, but it's also a bizarre and fascinating retrograde portrait of an eccentric people and a faraway time.
Production Companies: Computer Chess LLC
International Sales: The Film Sales Company, www.filmsalescorp.com
Producers: Houston King, Alex Lipschultz
Cinematography: Matthias Grunsky
Production designer: Michael Bricker
Website: www.computerchessmovie.com
Main cast: Patrick Riester, Myles Paige, James Curry, Robin Schwartz, Gerald Peary, Wiley Wiggins