Dir: Sylvie Verheyde. France-UK-Germany. 2011. 121mins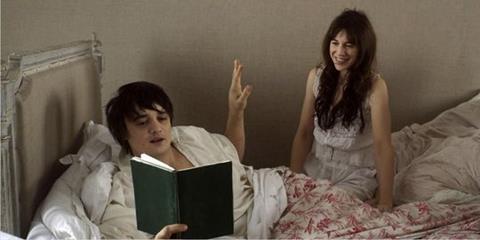 The calamitous miscasting of UK indie rock singer Pete Doherty is, to give Mr Doherty credit, not the only flaw in this turgid adaptation of a semi-autobiographical novel by French nineteenth-century writer Alfred de Musset. This is the second cinematic version of De Musset's novel after Diane Kurys' Les Enfants du Siecle (1999).
Rarely has decadence seemed so dull.
But whereas that Binoche and Magimel starrer focused squarely on the scandalous relationship between De Musset and female writer and saloniste George Sand, on which the novel is based, Verheyde rewrites the characters in order, one can only guess, to big up the decadent post-Romantic mood and not distract us with real historical people. The problem is that we're left with little except mood; precious little drama or audience-engaging emotion ripple the surface of this extended style exercise.
The Doherty tie-in might be expected to raise some interest in English-speaking territories for this English-language film, but actually the opposite could be true. With the lead actor's mumbled lines dubbed or subtitled, audiences have a slightly better chance of not constantly being beaten about the head by his wooden performance.
A modicum of theatrical action is inevitable in the film's co-production territories, and spot-on costumes, some nicely grainy handheld photography and a pleasant enough soundtrack at least make the film worthy of the big screen on a purely audiovisual level. But distributors elsewhere who embraced Verheyde's previous, the delicate coming-of-age story Stella, are unlikely to rise to the bait this time.
Period and place are initially difficult to pin down in a film that dispenses with excess baggage like dates or recognisable geographical references. The characters are in France, that much is sure: but they speak English and at one point carouse to an Irish jig. Doherty plays Octave, a listless young man with no obvious source of income; but he must be doing okay for himself as life is a round of balls, parties and male camaraderie.
When he discovers his fiancé Elise (Cole) playing footsie with another man, a duel ensues, in which Octave is wounded. After expounding his ennui to best friend Degenais (Diehl), the languorous youth meanders into some rather prettily-shot debauchery in a series of receptions that descend into decorous orgies.
When his father dies, Octave heads for the country, where he bonds over a baby goat with Brigitte (Gainsbourg), a widow ten years his elder. After a struggle between passion and conscience which only ever seems believable on Brigitte's part, the two become lovers. They go on being lovers for quite a long time, occasionally agonising about whether one really loves the other.
With a more or less permanently bored expression, Doherty looks like he'd rather be somewhere else; he only really comes alive in a few passages of what look like improvised laddish dialogue. If the intention was to play on Doherty's notoriously chaotic lifestyle in casting him as a libertine (also playing on the name of his former group, The Libertines) the effect is to show him up as a rather timid schoolboy. At least Gainsbourg gives the role her best shot, mining depths of emotion that occasionally persuade us that there is something tragic going on beneath the surface.
But the episodic script does nothing to back this up; Verheyde's decision to focus claustrophobically on her lovers' tiffs and bondings to the exclusion of the rest of the world means that the dramatic stakes are set low. There's little suggestion that Brigitte is compromised by her relationship with this younger man; even the aunt she lives with seems to melt away as soon as Octave comes onto the scene. Rarely has decadence seemed so dull.
Production company: Les Films du Veyrier
International sales: Wild Bunch, www.wildbunch.eu
Producer: Bruno Berthelmy
Screenplay: Silvie Verheyde, based on the novel by Alfred de Musset
Cinematography: Nicolas Guerin
Editor: Christel Dewynter
Production designer: Thomas Grezaud
Music: NousDeux the Band
Main cast: Charlotte Gainsbourg, Pete Doherty, August Diehl, Lily Cole, Volker Brunch