Dir/scr: Alice Rohrwacher. Italy-France. 2011. 98mins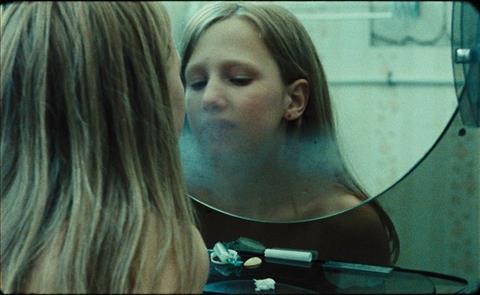 Grittily real but somehow dreamlike at the same time, coming of age tale Corpo Celeste is a quietly impressive feature debut for documentary maker Alice Rohrwacher, sister of actress Alba. It plays like a southern Italian Dardenne brothers fable, mashed up with a critique of Catholicism that recalls a certain strand of neo-Neapolitan auteur cinema.
The director's combination of documentary rigour with a more resonantly symbolic treatment of the passage into adulthood is convincing.
Though there's less dramatic tension and less of a character arc than the Dardennes generally supply, the story at least feels fresh and authentic, sticking close to soignée but also stubbornly independent 13-year-old Marta (a feisty Yile Vianello) as she adjusts to life in the messy and menacing urban jungle of Reggio Calabria, where her family has returned after 10 years in Switzerland.
With its handheld camerawork and its deliberate probing of ugliness in a degraded city suburb and the degraded church that serves it, Corpo Celeste is not always a pretty film to watch, and will inevitably play at the more resilient end of the arthouse market both at home and abroad - where it should nevertheless chalk up a handful of sales, with co-production territory France looking like its safest berth.
The title, which translates as 'Heavenly Body', seems to have a double reference - to the otherness of Marta, whose pale complexion and strawberry blonde hair mark her out from the rest of her family and neighbours in Italy's deep South; and to the body of Jesus, which dominates the film's finale, and its open-ended argument about Catholicism.
We are told next to nothing about why Marta's family has moved back to the southern city or what they did in Switzerland; but it's clear from the jerry-built house they live in, overlooking a spaghetti junction, that they're not well off. Affectionate but passive mother Rita (Caprioli) seems to have some energy-sapping illness and spends most of her time at home; she encourages Marta to join the catechism class at the local church so as to make friends. Run by plump Santa (Scuncia), who treats her adolescent charges as children and seems alarmed when they answer back as teenagers, the class prepares for confirmation with quizzes, and embarrassingly 'up to date' songs with words like "I'm tuning in to God - he's on the right channel".
Like the boxy modern church itself, with its vile neon cross, the classes force us to pose the question of whether spirituality be expressed in the language and the forms of a value-free TV-obsessed generation. The adults responsible for grooming the younger generation to embrace Jesus hardly even seem aware of the problem. Short-tempered local priest, Don Mario (Cantalupo, excellent), spends his time angling for promotion and canvassing votes for the church's favoured candidate in the forthcoming mayoral elections.
The film sides with Marta to document these horrors: like the camera, she is a mostly silent observer, rebelling only when adult hypocrisy becomes too much to bear. Yet there is an odd beauty too in the urban decay that she observes from her favourite rooftop perch: distant groups of kids salvaging the detritus that people have abandoned seem to signal some fragile hope.
The director's only real misstep is the occasional brief abandonment of Marta's point of view. But mostly her combination of documentary rigour with a more resonantly symbolic treatment of the passage into adulthood is convincing - thanks also to the sensitive cinematography of cinematographer Helene Louvart, fresh from her work on Wim Wenders' Pina.

Production companies: Tempesta, JBA Production, AMKA Films Productions, Rai Cinema
International sales: Rai Trade, www.raitrade.com
Producer: Carlo Cresto-Dina
Co-producer:s Jacques Bidou, Marianne Dumoulin, Tiziana Soudani
Cinematography: Helene Louvart
Production designer: Luca Servino
Editor: Marco Spoletini
Main cast: Yile Vianello, Salvatore Cantalupo, Pasqualina Scuncia, Anita Caprioli, Renato Carpentieri