At the recent AFM, there was a new breed of buyer seeking innovative means to bring Asian product to American audiences. Liz Shackleton investigates.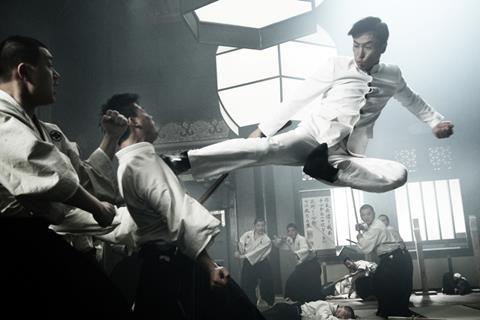 With the US market such a tough nut to crack for foreign-language product, it's been encouraging to see so many Asian sales companies recently land US deals.
At the recent AFM, Well Go USA snapped up two titles from Jackie Chan's Jackie & JJ Productions – historical drama 1911 and Little Big Soldier – along with CJ Entertainment's The Man From Nowhere. The Weinstein Co pounced on Media Asia's Bruce Lee, My Brother and Indomina acquired Detective Dee And The Mystery Of The Phantom Flame from China's Huayi Brothers.
A new buyer, Asian Media Rights, was also in town scooping up product to package and sell to VoD platforms across North America. In addition, China Lion Film Distribution was scouting for Chinese-language product to funnel through its partnership with US exhibitor AMC Entertainment.
With a few exceptions, these are not deals that are likely to result in theatrical releases on hundreds of prints – the fever around martial arts epics such as Hero and Crouching Tiger, Hidden Dragon has long subsided. But they do represent a new breed of buyer which is seeking innovative means to bring Asian product to American audiences. Working across a range of platforms and aggressively marketing to key demographics, they're providing interesting alternatives to the wide theatrical release.
China Lion, a joint venture between China-based producer Jiang Yanming and New Zealand-based distribution veteran Milt Barlow, is a leading advocate of this new approach to the US market. Launched in October, the company has an exclusive deal to supply AMC with around 15 mainstream Chinese movies a year which will be released on the exhibitor's screens in areas with a large Chinese-speaking audience.
Barlow, who also supplies Chinese movies to Event Cinemas in Australia and New Zealand, is sticking to the same strategy of opening films day-and-date with their Chinese release in order to reduce piracy. On the marketing front, China Lion is working with multicultural marketing agency Ameredia to reach the key demographic of around three million Chinese.
"Our plan is to focus on the Chinese audience and if we also attract the mainstream audience then that is a bonus," Barlow says. "In that respect our strategy doesn't change much from Australia and New Zealand where after two years only about 15% of our audience is European. The US audience doesn't like reading subtitles and I don't think that because these films are Chinese it will be much different."
China Lion's first release was Feng Xiaogang's Aftershock, China's biggest ever home-grown hit, which opened on 24 screens on October 29. The film opened fifth among 15 new releases, but the numbers were small, highlighting the importance of day-and-date releasing. Barlow made an exception in this case as the film is so high-profile and was also selected as China's entry to the foreign-language category of the Oscars.
Barlow has higher hopes for upcoming releases, which will open day-and-date with their China release, including Feng's If You Are The One 2 later this month and Chen Daming's remake of What Women Want next spring.
Asian Media Rights (AMR) is eschewing theatrical altogether to focus on the emerging VoD window in North America. Founded by Michael Hong and David Chu, the former heads of cable channel ImaginAsian TV, the company has acquired close to 200 Asian titles that it packages under its "Asian Crush" label for VoD platforms owned by cable and telco companies across the US. AMR also packages event programming under the "Asian Motor Sports" label and plans to expand both brands to Canada next year.
AMR acquires product directly from Asian sales companies, and also North American DVD distributors who need help exploiting their Asian acquisitions on VoD. Hong and Chu say 95% of their acquisitions are current or recent library titles that were released in their home territories from 2007-2010.
"The sad situation is that most Asian films rarely get shown theatrically, with the sole exception being Bollywood films which enjoy a robust theatrical marketplace in North America," says Hong. "In fact, only a small percentage of Asian features get picked up for even DVD release."
He adds that sellers are naturally wary of carving out VoD rights, as they're seeking the holy grail of an all-rights offer from a North American distributor with a large minimum guarantee. "But most companies at this point are realistic about how the North American market is changing and that VoD is quickly emerging as a bigger revenue stream than DVD. It makes all the sense in the world to carve out the VoD for us instead of handing out this right to a DVD distributor that will never even properly exploit this avenue anyway," Hong says.
In marked contrast to China Lion, the VoD operators are not only targeting Asian audiences as the demographics are reversed on digital platforms and DVD. Barlow also found that when it came to the DVD release of Chinese films in Australia and New Zealand, more than 80% of the audience was non-Chinese.
Well Go USA is another company that is entering theatrical distribution of Asian movies. Originally a video distributor, the company had a big hit on DVD this summer with Ip Man, a biopic of Bruce Lee's kung-fu master starring Donnie Yen. Following that success, Well Go is planning a theatrical release for the film's sequel, Ip Man 2, on 20 screens in 15 major to mid-sized markets on Jan 28, followed by Legend Of The Fist: The Return Of Chen Zhen next March.
Both Ip Man and its sequel were big hits in Asia and due to the Bruce Lee connection and the appearance of Yen – arguably Asia's leading action star – have a high appeal for anyone interested in kung-fu. So while the Ip Man 2 release will be fairly small, it won't be limited to Chinese audiences.
"We're targeting kung-fu/action film enthusiasts and marketing mainstream," says Well Go executive vice president, acquisitions, Doris Pfardrescher. "We're still finalising the markets for the initial release, however you can expect major to mid markets and the film will be playing in chain theatres."
Pfardrescher adds that the film will expand to 40 screens, with the potential to go wider, depending on demand.
Well Go joins a handful of other distributors who see potential in the theatrical release of Asian action titles. Magnolia and IFC Films have enjoyed success with simultaneous theatrical/VoD releases and a new distributor, Indomina, has recently stepped into the breach.
In addition to Tsui Hark's Detective Dee, acquired at AFM, Indomina has picked up Teddy Chen's Bodyguards And Assassins, Yuen Woo-ping's True Legend and Dante Lam's Fire Of Conscience. The company is aiming for theatrical releases for at least some of these titles, although at the time of writing was tight-lipped about its plans.
For anything other than mid-budget action films and festival award-winners, the US market remains as tough as ever. There are also some projects at the very top end – big-budget action titles with stars that are known internationally – that will still aim for the big theatrical opening on 200 plus prints.
But for all those other films that are being produced to feed box office growth in Asia, there are a growing number of options. America may not like to read sub-titles, but the most innovative business models and distribution technologies are emerging in the US.