Aussie thriller Crawl proves to be the highlight of FrightFest day one at the Glasgow Film Festival.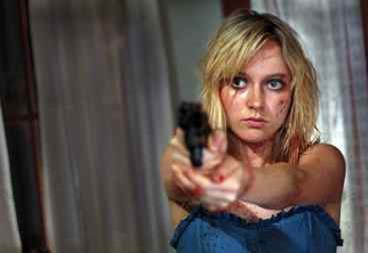 After a traumatising hard-hitting documentary double bill of Werner Herzog's Death Row project Into The Abyss and the assisted suicide story How To Die In Oregon, it was time to turn to the FrightFest strand of GFF to grant myself some light relief.
That came in the form of the tense slow-burning Aussie thriller Crawl with director/writer Paul China and producer Ben China on hand for a chat following its UK premiere.
The project, about a waitress named Marilyn Burns (do you see what they did there?) who is taken hostage in her own home by a mysterious Croatian hitman (a superb, near-wordless turn from George Shevtsov), came about out of necessity.
"Originally it was another film entitled Howl that we were going to shoot in Canada, but the financing fell through at the last minute on that one so we ended up reshaping into a suspense thriller that we could shoot on a lower budget in Australia," said Ben.
When it came to hiring the cast and crew for their debut effort, the duo weren't about to set their sights low. "The way we got a lot of our crew members was we had a list of the top people working their way down and we started to call them, the worst they were going to say was no," explained Paul.
One such person was Lynda Stoner, famous for Australian TV series The Young Doctors and Prisoner: Cell Block H, who returned to acting after twenty years for a one-scene cameo at the bar where Marilyn works. But this method also led to the likes of The Adventures Of Priscilla, Queen Of The Desert cinematographer Brian Breheny (who also co-produced) and Christopher Gordon, who has worked on the likes of Moulin Rouge! and Master And Commander, joining the project.
Those two proved vital to a film that has just 18 pages of dialogue for its 80-minute running time, with Breheny working extensively with Paul on the shot list to ensure the film flowed correctly and was coherent, while Gordon understood what the duo were after when it came to crafting the tension in the soundtrack.
"He got the idea that we wanted the strings – Hitchcock influence there – but many of the scenes should play out without music. We'd have just diegetic sounds and we have silence," added Paul.
Another key influence on the project was the Coen brothers with a homage to No Country For Old Men taking place in the pre-credits sequence and fittingly, their next project – the duo said they'd always work together when asked during the Q&A – was described by Paul as a dramatic thriller with a mix of No Country For Old Men and A History Of Violence.
"The next one, it's set in America so hopefully we'll get to shoot there next year and that's a bigger project."