A madcap close-encounter comedy caps Ning Hao's lucrative 'Crazy' trilogy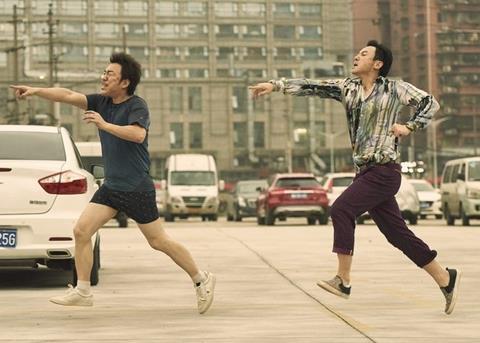 Dir: Ning Hao. China. 2019. 116 mins
A short story by award-winning Chinese science fiction writer Liu Cixin may seem unlikely source material for comedy purveyor Ning Hao to cap his 'Crazy' trilogy, which kicked-off with the trendsetting Crazy Stone (2006) and continued with Crazy Racer (2009). However, this is literary adaptation of the extremely loose variety. Taking Liu's 2001 story "The Village Teacher" as a jumping off point, Ning has fashioned a boisterous comedy with a sci-fi bent which finds a hapless theme park employee trying to make the best of a close encounter. Cheekily flaunting a level of production value that has become rare in comedic fare, Crazy Alien is jam-packed with lunacy but struggles to spin much of a story from its concept despite having five credited screenwriters.
In terms of scale and technique, this is giddily ambitious stuff
Still, Ning's unerring knack for illustrating the absurdity of contemporary China through popular genre iconography somewhat compensates for a repetitive second half.
As the lucrative lunar new year holidays get underway in China, Crazy Alien is leading a packed field at the local box office with the savvy casting of comedy sensation Shen Teng alongside Ning regular Huang Bo furthering its appeal. Whether it can hold off rival holiday titles depends on word of mouth but Crazy Alien should handily out-gross Ning's last smash hit Breakup Buddies (2014) which took $195 million domestically. Despite allocating ample screen time to international cast members, notably Matthew Morrison of Glee fame, overseas prospects should be limited to diaspora audiences.
The hijinks occur in an unnamed coastal city where Geng Hao (Huang) plies his monkey act at a theme park featuring replicas of the world's landmarks. His mundane existence is interrupted by the arrival of a short, stick-like alien that crashes into his humble residence following a botched intergalactic DNA exchange with selfie-fixated US astronaut Captain Jack Andrews (Morrison). As his monkey has been injured in the debris, Geng takes the alien (voiced by and facially modeled on frequent Ning collaborator Xu Zheng) as a replacement, much to the chagrin of his opportunistic friend Da Fei (Shen) who has bigger ideas. The alien seems to comply as Geng trains it to perform on bikes and stilts but sneakily eyes escape opportunities.
Geng's efforts are paralleled with those of the US government, which is aiming to locate the alien and complete the mission. Spearheaded by careerist agent John Stockton (a preening Tom Pelphrey), the team relies on misleading visual communications sent by the alien (which is trapped in a theme park full of imitations of famous places) that send them ricocheting around the globe until they eventually wind up in China.
A culture clash predictably ensues with Ning stressing a shared capacity for fabrication while pointing out that China is immeasurably better at it.
The foreign side of the cast gamely throw themselves into the silliness but their enthusiasm can't overcome the leaden nature of Ning's swipes at the US, which come complete with the now obligatory Trump-like President (Daniel Hugh Kelly). Fortunately, the alien is a fully realised character thanks not only to seamless CGI work supervised by special effects veteran Joel Hynek but a distinctive personality that is alternately sympathetic and spiteful. The perpetually scruffy Huang and the flashily attired Shen are an endearing double act while their inter-actions with the alien range from the rambunctiously amusing to the downright cruel as the visitor gets a crash course in Chinese culture (broadly represented by rice wine, fire cupping and wads of cash).
In terms of scale and technique, this is giddily ambitious stuff. An early chase sequence thrives on an anarchic, cartoon quality enhanced by boldly colorful production design while Ning provides Liu's legion of fans with a reference to his 2006 breakthrough novel 'The Three Body Problem' in the form of the alien's strikingly designed, teardrop-shaped spaceship. Ning has trouble taking the alien/humans dynamic in a particularly meaningful direction, though, instead mocking Hollywood spectacle by laying waste to miniature monuments. There's a message here since the film's title refers to the humans as much as the alien – both seem "crazy" to one another and assume the right to dominate – but it's buried in the rubble.
Shortcomings aside, there's plenty of irreverent fun to be had with a typically percussion-heavy score by ace composer Nathan Wang (in collaboration with Liang Long and Song Nan) making for a suitably energetic accompaniment.
Production companies: Dirty Monkey Films Group, Huanxi Media
Producers: Zhou Difei, Hu Jingxuan, Wang Yibing, Jeffrey Sharp, Ning Hao
Screenplay: Dong Runnian, Liu Xiaodan, Pan Yiran, Sun Xiaohang, Wu Nan
Production design: Ryu Seong-hi, Zhang Xiaobing
Editing: Aidan James
Cinematography: Ni Liao, Du Jie
Music: Liang Long, Nathan Wang, Song Nan
Main cast: Huang Bo, Shen Teng, Matthew Morrison, Tom Pelphrey, Kat Ann Nelson, Xu Zheng