Dir/scr: Frederick Wiseman. France. 2011. 128mins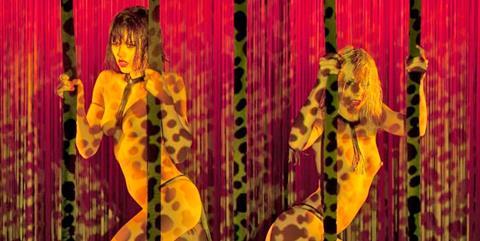 Don't expect venerable American documentarist Fredrick Wiseman to take anything lightly, not even the Crazy Horse, the celebrated Parisian night spot which claims to put on the best nude show in the entire world. The notion that the filmmaker who reached fame years ago with such films as Titicut Follies and Welfare bothers at all with a frivolous nudie review would certainly elicit a smile of amazement from his fans, even if that review is put on by as prestigious an establishment as The Crazy Horse, now 50 and rated incomparable in its line of business.
It's show business drama at its most typical.
But observed through Wiseman's camera it is certainly a painstaking, carefully assembled and highly professional affair, so much so, that some of the curious who will imagine they're in for a prurient, sexy collection of strip tease acts, might end up being disappointed. Still, given Wiseman's reputation and the nature of the subject, expect this to hit all the regular art houses and get plenty of play on the air.
To prevent any possible misunderstanding, there are plenty of girls in the buff parading through the film - they are all beautiful, perfectly built, unselfconsciously naked and thoroughly dedicated to their profession, despite its nature. They may not be prima ballerinas, but they certainly are first class gymnasts capable of the remarkable physical contortions they are required to perform.
However, if you expect them to embark on introspective interviews and revelations about their intimate nature and their eventual reticence to disrobe every evening before an audience, forget about it. That's' not the subject of this film. It's more about how hard everybody works to put together the show and how much effort is involved in it.
The girls, as lovely as they are, have no identifiable personality. They are called Zoula or Lumina - hardly the names they were born with – and they are all likeable and are all treated as exquisite raw material which the choreographer Philippe Decoufle decoratively arranges on his stage, to produce with substantial help of lights and artifacts, mirrors play an important role, all kinds of colorful kaleidoscopic effects.
Their bodies, revealed entirely or only in part, are essential ingredients, but not the only ones, to compose images that can be often humorous, always pleasant and intriguing to look at, sometimes even devilishly inventive. But they are never vulgar nor terribly lascivious, which may explain why one of the show's authors argues that women enjoy it as much as men do. As a matter of fact, to prevent any suspicion of sexual deviations often raised in this case, specific mention is made of the fact the girls hate touching each other on stage.
Actual acts and rehearsals, gorgeously shot but not always easy to tell apart, combine with hectic behind the scenes preparations, numerous creative hesitations and frequent delays. Wiseman closely follows the procedures during ten weeks of intensive work and highlights not only the earnest labour involved or the minute attention paid to the smallest details, such as selecting the materials for the costumes, but also the conflicts between Decoufle and his artistic demands on the one hand and the Crazy Horse shareholders on the other hand, tired of the long rehearsals and demanding to see money in the till, the sooner the better.
It's show business drama at its most typical. It may not be on par with the Comedie Francaise (to which Wiseman dedicated an earlier film), nor the Ballets of the Paris Opera (featured in another one of his recent films), but it is quite likely that the patrons of those highbrow institutions are more often than not among the clients of the Crazy Horse cabaret. And just in case anyone complains Wiseman overstates his case once again, it's worth mentioning this is one of his shortest films in the last 30 years.
Production companies: Ideale Audiencde, Zipporah Films
International Sales: Celluloid Dreams, www.celluloid-dreams.com
Producers: Pierre Olivier Bardet, Frederick Wiseman
Cinematography: John Davey