The $65m Chinese-language film is shooting now.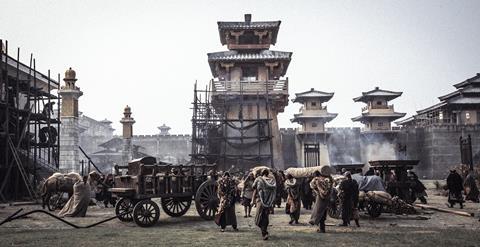 John Cusack and Adrien Brody have joined the cast of Dragon Blade alongside Jackie Chan.
The $65m production is the most expensive Chinese-language film ever. It has finished shooting at Hengdian World Studios and will soon start shooting on location in Dun Huang and Aksai.
Daniel Lee directs the story, which is inspired by a mission legion of Roman soldiers who travelled to China in 48 BC. Cusack will play Roman general Lucius; Brody plays another Roman.
Chan stars as the Commander of the Protectorate of the Western Regions who teams up with Lucius to protect China's borders and sovereignty.
The international cast also includes South Korea's Choi Si-won, member of K-pop band Super Junior.
Chan has been working on the project for nearly a decade.
"I'm really excited to be in a movie with two of the most respected actors working today," said Chan. "It gives me confidence that the decade we spent researching and developing the script has produced something of world class standard."
Brody said: "It is a dream to finally work with Jackie. Aside from my longtime appreciation for his many talents, he is a beacon of generosity, and an inspiration to me. Dragon Blade is a tale of mythical proportions - of good prevailing over evil - and an opportunity for me to explore a character whose ambition challenges his honor.
"I'm very much looking forward to collaborating with Daniel Lee and my good friends at Sparkle Roll and Huayi Brothers, and returning to work in China."
"China is the future of world cinema," added Cusac. "Having an opportunity to work with such film talents as Jackie Chan, Huayi Brothers, Daniel Lee and Susanna Tsang is a great privilege.
"I grew up watching Jackie Chan films and stood in awe of his talent, energy and spirit. This will be a great adventure for me."
Dragon Blade is financed by Sparkle Roll Media Corporation, Huayi Brothers Media Corporation, Shanghai Film Group, Home Media & Entertainment Fund, Tencent Video and Beijing Cultural Assets Chinese Film and Television Fund.
It is the first film to receive financing from the newly-formed Beijing Cultural Assets Chinese Film & Television Fund.
World sales are handled by Golden Network Asia. The film has already closed deals for Taiwan (Long Shong), South Korea (Joy N Contents), Singapore (Encore), Thailand (Mono Film), Indonesia (Prima Cinema), Middle East (Gulf Film), and GSC Movies for Malaysia, Brunei, Myanmar, Vietnam, Laos and Cambodia.
Dragon Blade will be released across Asia on Feb 19, 2015, the first day of Chinese New Year.