Dir: Matt Shakman. US. 2014. 93mins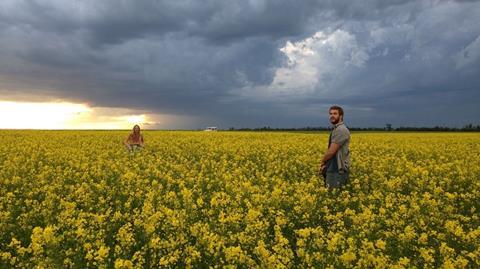 Cut Bank is a caper film set in the fertile American Heartland. The debut feature about small-town guys who run a scam to extract a reward from the Postal Service is a pile of knockoff flourishes which adds up to to a lot of manure in the fields of Montana.
In the town whose sole distinction is being "the coldest place in the nation," the celeb-studded ensemble cast is knee deep in offbeat references to Fargo, A Simple Plan, Twin Peaks, and to the television shows where first-timer Matt Shakman paid his dues, but even Bruce Dern, fresh from Nebraska honours (with no time to shave), can't save this one. Critics will be hard to rally for the film's theatrical release. VOD for diehard fans seems a natural platform.
As good guys, neither Malkovich nor Thornton weighs heavily enough in the ensemble to seize the day.
While the actors may want to forget this one, scenes from Cut Bank will surely haunt extended versions of Dern lifetime achievement reels.
Cut Bank is a town to escape for young Dwayne (Liam Hemsworth), who toils as a mechanic in the garage of the father (Billy Bob Thornton) of his pert blonde girlfriend, Cassandra (Teresa Palmer). Note the heartland allusion to restless small-town Duane, played by Jeff Bridges in The Last Picture Show (1971).
The young couple are filming a PSA to promote local tourism in a town that has none, when mailman Georgie Wits (Bruce Dern) is shot in the distance. Enter John Malkovich as the dutiful but hapless local Andy of Mayberry cop to solve the mystery.
In the script by fellow film newcomer, Robert Patino, the mailman's "killing" is a scam concocted by Dern, Dwayne, and a tall Indian accomplice from the nearby Blackfoot reservation (think Fargo) to pocket $100,000 in reward money from blustery postal inspector Joe Barrett (Oliver Platt). But to get the reward, they need a dead body – an odd dilemma, in this film with more talking bodies in its cast than a celebrity roast, including Michael Stuhlbarg, who plays a eccentric recluse taxidermy buff who's fixated on finding a parcel from a bundle of mail that Dern dumped when he staged his disappearance.
Another dilemma - the laughs in this Coen-clone comedy of errors don't rise to roast level, despite a rising body count.
That body count is part of the problem, since retribution among the plotters gets bloody before we know what's going on, which gives the film an unsettling narrative arrhythmia - probably less a result of willful ambiguity than of the filmmakers' inexperience.
Inexperience understates the challenges that Hemsworth faces here. His vocal approach to the role ranges from mumbling stiffly to mumbling stiffly. The hunky Hemsworth, conceived as the central character and its draw for a young audiences, is as monosyllabic as Benicio del Toro in No Country of Old Men, minus the Coens behind the camera. The film feels as if it was edited around him. You wonder, given what's on the screen, just how unusable that unused footage was.
The core of Cut Bank shifts by default to the stubbly-faced Dern, who looks as if he was lifted from Nebraska, dressed in a mailman's uniform, and dropped into the Montana fields. With lot more energy than his character needed to muster in Nebraska, the postman with the five-day beard is likeably and bumblingly diabolical. He still can't keep the ship afloat.
As good guys, neither Malkovich nor Thornton weighs heavily enough in the ensemble to seize the day.
Cinematographer Ben Richardson counter-poses hypnotic shots of the landscape and with surreal prairie everyday-ness, a big frame for a big enough troupe of plotters in a small enough town to sustain a series, if the writing were there. For that, Shakman and Patino may need to go back to their day jobs on television.
Production companies: Kilburn Media, Untitled Entertainment, MT Media
International sales: eOne Films International, CVanWeede@entonegroup.com
Producers: Edward Zwick, Laura Rister, Mark C. Manuel, Ted O'Neal, Dan Cohen, Mickey Barold
Executive producers: Brad Ferguson, Corinne L. Ferguson, Matthew Therrell, Vinny Pilegge, Larry Dorr.
Screenplay: Roberto Patino.
Cinematography: Ben Richardson
Editor: Craig Wood
Production designer: Laura Fox
Music: James Newton Howard
Main cast: John Malkovich, Billy Bob Thornton, Bruce Dern, Liam Hemsworth, Teresa Palmer, Michael Stuhlbarg, Oliver Platt